Yesterday was OK for food.
BREAKFAST: Breakfast sandwich 340 calories
SNACK: Dannon Light & Fit Yogurt, 80 calories
LUNCH: Smart Ones ziti and Rice Krispie Treat, 410 calories
SNACK: banana, 105 calories
DINNER: Baked Salmon with steamed cauliflower, 635 calories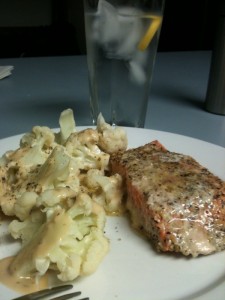 Salmon is one of my favorite foods and it's sooo healthy! Salmon has omega-3 fatty acids that are beneficial for your heart and reduces inflammation in your body (excellent for athletes). Don't be scared of the F word–FAT! Salmon has the GOOD FAT our body needs.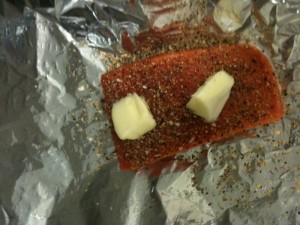 Salmon is also really easy to make. In the above left picture, it shows the raw salmon. I put it in foil, sprinkle pepper and Lemon Pepper seasoning and a little butter on top. Close up the foil loosely and baked at 350 degrees for about 15-20 minutes (depending on how thick the cut is). It's moist and tasty! I served it with steamed cauliflower and Goddess Dressing (my favorite). I drank 2 glasses of ice water and a lemon slice (trying to drink more water every day). It was yummy and filling. And I had room for dessert! (Dark chocolate squares!)