We needed a new recipe for pork chops. Michael bought a huge pack of thick pork chops at Costco recently and I've been collecting pork chop recipes to try. It's not that pork chops are boring, they just aren't as exciting as some other proteins. In fact, I didn't really like pork for most of my life (before I was a vegetarian).
This recipe had two components that made me pick it: 1) it was easy as hell and 2) we had all the ingredients and there weren't that many involved. Perfect.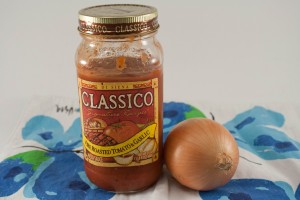 Here is the recipe we tried for dinner recently.
[amd-zlrecipe-recipe:17]
Michael cut our pork chops in half lengthwise because they are so damn thick. Cutting them makes them a much more accurate portion size. While he cooked the pork (seasoned with salt and pepper), I made us salads.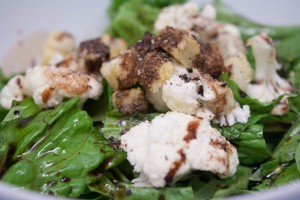 Green leaf lettuce, raw cauliflower, croutons, fresh pepper, olive oil and balsamic. I chopped the onions and shredded the mozzarella cheese for the dinner. Michael cooked down the fresh spinach (much better than frozen, I think) and let everything simmer together.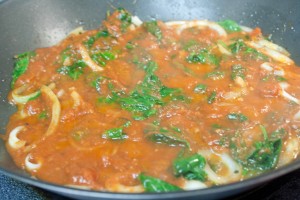 Michael put the pork chops back into the skillet and let it simmer some more. It smelled heavenly! But red sauce and simmering onions usually do.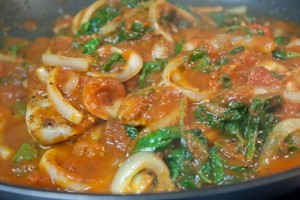 We topped the pork chops with the shredded cheese and let it melt a little bit and then dinner was served!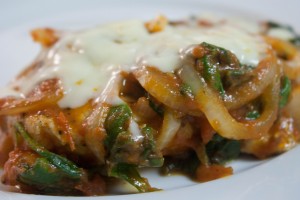 The flavors were really delicious and the dinner was super easy. I think it took a total of 20 minutes and the part that took the most effort was shredding the cheese. This is a good dinner to do on a night when you're too tired to make a big effort.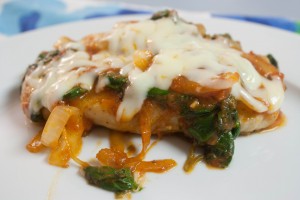 Michael said it tasted good and he liked it. But with further discussion he said he'd never make it again. His opinion: pork chops have enough flavor and making a dish that covers the flavor seems like a waste. He said that this recipe would be better with eggplant or maybe chicken. I thought chicken would work really well, too. I disagreed with his assessment because I feel like pork chops are kind of bland. I enjoyed it! Smother those chops!
QUESTION: Do you like pork? Or do you think it's bland?