There's an intense feeling of pride when you accomplish something you could never do before. I am in no way a good cook. I never really learned how to cook and for a long time, most of meals came out of a box or from the freezer. Learning how to eat in a healthy way started the evolution of food for me. Now, I want to eat healthy, real foods that provide me with the nutrients I need to be fit and active. Living with Michael, who can create recipes off the top of his head, has made me excited to cook things in the kitchen.
This weekend I created a recipe all my own. I was asked by Barilla again to create something with their pasta because they really liked my last recipe creation. The reason I said yes was because I was intrigued by their new product line: veggie pasta! They have three new pastas out that are made with vegetables. The rotini is made with zucchini and spinach, the penne is made with tomatoes and carrots and the farfalle is made with carrots and squash. They sent me a box of the farfalle and that's what I used for this recipe.
I was so fascinated by the concept. Pasta enriched with vegetable and providing a fill serving of vegetables? That's awesome! Especially for people who may not be veggie fanatics like myself. The farfalle was orange in color and I was curious if it would taste sweet like carrots and squash.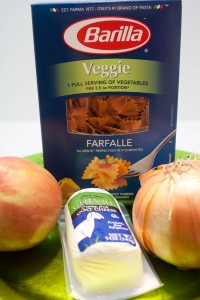 I created this recipe with foods I already had in my house: I had a bunch of gala apples and sweet Walla Walla onions. A plan was starting to form. I went to Trader Joe's to get some of their creamy chevre goat cheese and of course, a bottle of wine to go with dinner. 🙂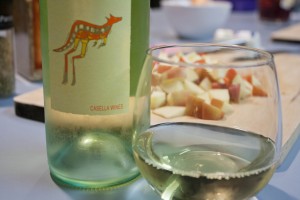 The original concept did not include sausage. I was going to chop up some toasted walnuts and mix that into the pasta but apparently 400 degrees was a tad too warm for roasting: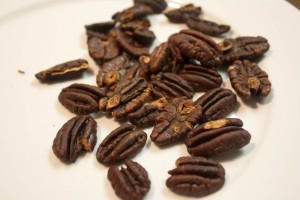 Ooops. Michael suggested we chop up some sausages as a replacement to the crispy walnuts to add some protein to the dish and to balance out some of the sweetness of the apples and onions. That was a good call. The apple chicken sausage we bought at Costco recently was delicious! I don't know that we'll buy anything else in the future!
[amd-zlrecipe-recipe:52]
The onions were caramelizing in the skillet while the sausage cooked and the pasta boiled. The aromas that were coming from the onions and apples were fantastic. According to Michael, whenever I make a new recipe I say "I hope it's edible." I never said that with this recipe because I could tell it was going to be delicious.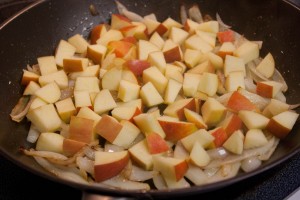 I mixed everything together in a big bowl and added the goat cheese and water from the pasta pot. The cheese melted into a creamy sauce and coated the pasta. I added a little bit of salt and pepper to balance the sweetness of the dish, as well as some dried herbs.
It isn't often that I make a recipe that I love so much that I cannot wait to eat the leftovers. I loved my dish! It turned out so great and it made me feel confident and proud that I could create something from scratch that actually tasted fantastic!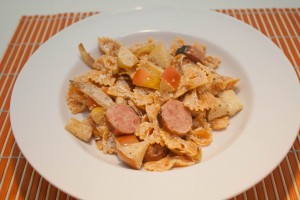 I loved the balancing act of the sweet and savory. The sausage had a hint of sweetness to it, but not too much and the goat cheese evened out the rest of the sugary flavors. It was not overpowering at all. I bet sauteed kale would be a great addition to this recipe, too.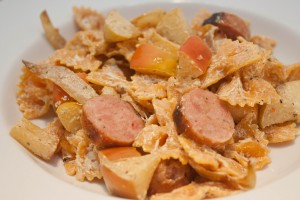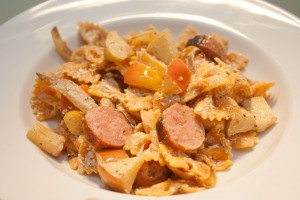 Give this recipe a try, you won't be sorry!
In addition to the giveaway I have below, there are more chances to win prizes from Barilla. Just download "Capture the Pasta" on your Android or iPhone and you can win tons of prizes! ("CAPTURE THE PASTA" PROMOTION from 09/22/2012 to 12/01/2012 (ET). Over $100,000 in total prizes. See official rules on Barilla.com/capturethepasta. No purchase or payment necessary to enter to win.)
Want to Try It?
Barilla asked me to share the love with some of my readers. I have one $25 VISA gift card to give out along with some coupons to try their new pastas. I will pick one winner on Friday, November 16th. You can enter three times to win:
1) Follow me on Twitter and tweet: "I want to create my own pasta recipe with @BarillaUS pasta from @lisaeirene at  http://wp.me/p116Lc-96j″ Then leave a comment here telling me you did so.
2) Join my Facebook page and leave a comment here telling me you did.
3) Leave a comment telling me what recipe you would create.
Good luck!
DISCLAIMER – WHILE THE PRODUCT WAS PROVIDED TO ME FROM BARILLA, MY REVIEWS AND OPINIONS ARE ENTIRELY MY OWN.