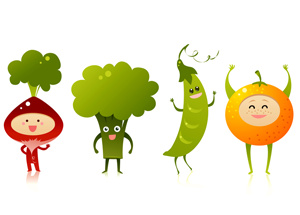 Lately I've been craving vegetables like crazy. I've always been a fan of veggies but for some reason I recently started craving them. I made a switch in my diet and started incorporating more veggies in my diet to satisfy that craving and I found that I was really enjoying roasted vegetables for lunch during the week.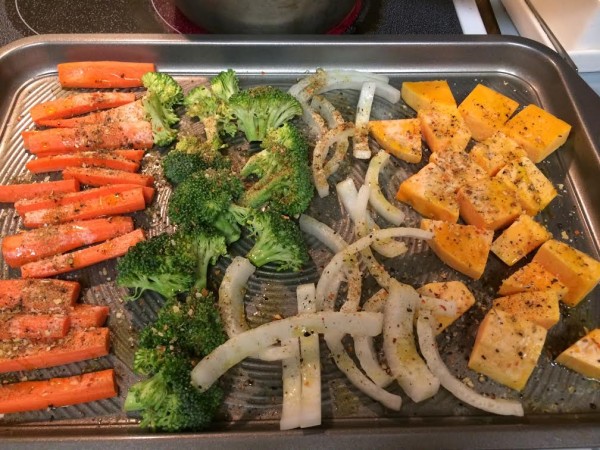 I've been rotating what I roast. For awhile I was doing carrots, onions, broccoli and pre-chopped butternut squash from Trader Joe's. Then I did carrots, sweet potatoes, broccoli and onions. I don't know why it took me so long to roast these babies. They are so good! I use a little bit of olive oil or the spray-on coconut oil from Trader Joe's, then use salt, pepper and the Costco no-salt seasoning. That's about it! And they come out delicious, perfectly cooked (although the sweet potatoes are often a little softer than the rest of the veggies).
This has been a base for my lunches at work lately. I love it! I tried it with some rice; for a few days I added some half a cooked spicy bratwurst (splitting one brat between two lunches); I also tried adding some cooked cubed chicken. All of those variations worked well and kept me fairly full for the rest of the afternoon.
One of the problems with the frozen meals (Lean Cuisines, etc) was that I would be hungry again in 1-2 hours after eating lunch. Then I'd start snacking on the candy at work. I was sabotaging myself by eating processed food that wasn't filling, wasn't enough calories and just made me hungry.
A tip that I learned a long time ago was to spend 1 hour doing food prep after grocery shopping. I am so glad I adopted this habit. I get home from the store and I take the time to chop the vegetables and on Sunday nights Michael and I cook up various meats (like pork sausage for breakfasts for the week, chicken breasts for lunches, etc). It makes it so much easier to make a good choice when looking to make something to eat quickly.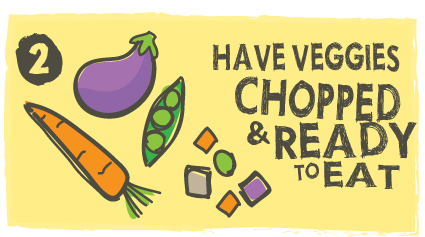 One night Michael and I went out for a date night dinner to Laughing Planet. It's a great restaurant, especially if you have kids. They have tons of really healthy options, a rotating menu and they post the nutritional information for the meals. You also have the option to put your burrito in a bowl to make it low-carb.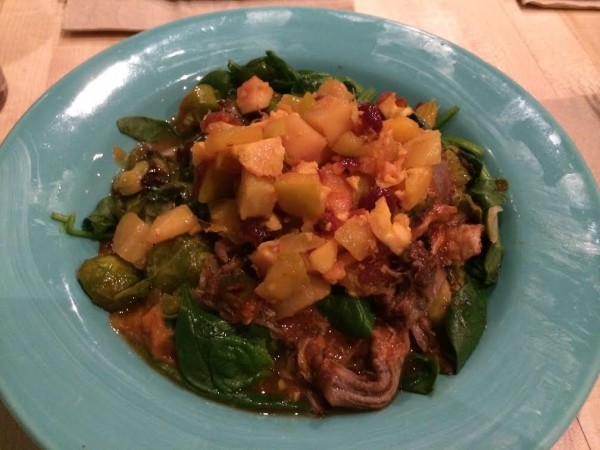 I ended up ordering the daily special. It was called the "Winter's Bounty Bowl." It was pulled pork with Korean BBQ sauce, spinach, roasted Brussels sprouts on top of a butternut squash puree. Then it was topped with an apple, ginger and mango relish. It was SO good! And it was really filling. I am totally going to try and recreate this recipe at home soon!
Back to lunches…I've been trying to look for some recipes and ideas for other lunch options. I've collected a few. Here is one:
[amd-zlrecipe-recipe:131]
I recently had the Thai carrot soup at Whole Foods from their soup/salad bar and it was OMG AMAZING. I immediately tried to find the recipe because I had to make it myself. I didn't find one specifically from Whole Foods but I found a bunch of options and settled on this one to try first. It was super easy to make and didn't have a ton of ingredients. The only thing I changed: I used the Light Coconut Milk instead of the full fat like the recipe said. It's what I had on hand and honestly,  I didn't want the extra calories from the full-fat version.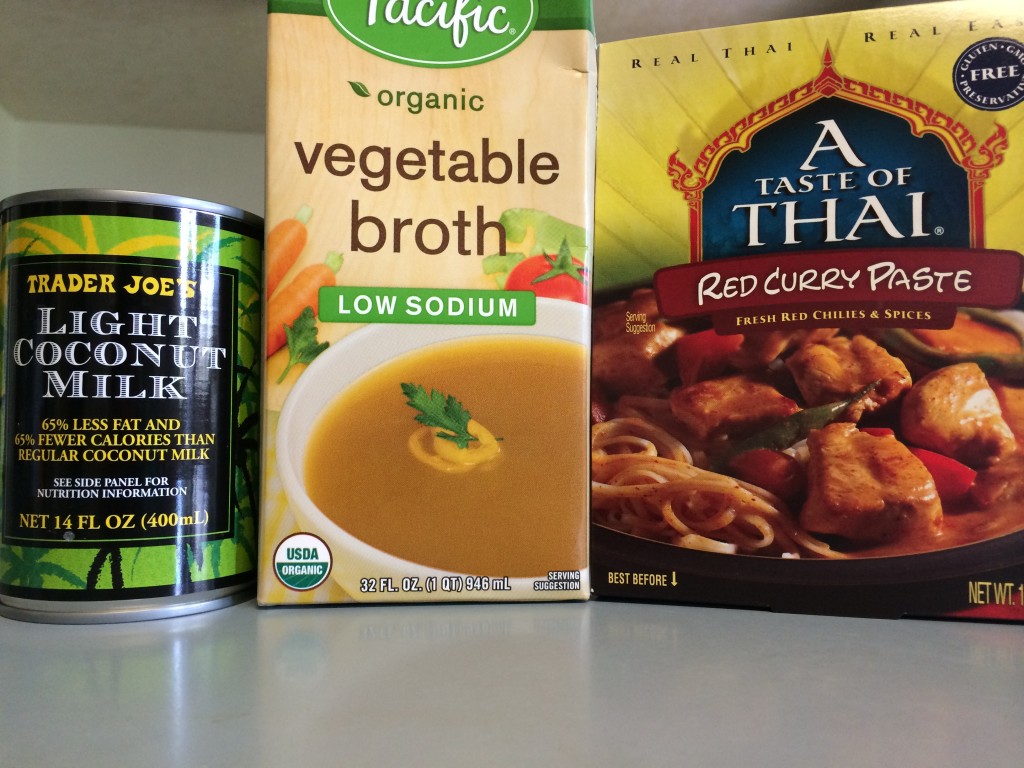 One thing I've learned making Asian dishes–never add extra salt. A lot of recipes call for a pinch or two of salt (sometimes more). But if you're using jars of curry paste, or chili paste, or other Asian ingredients from a can/jar/package–IT ALREADY HAS SALT! And sometimes a lot of it. I learned that lesson the hard way and now I almost never add salt to recipes I make when using these ingredients. It's just not necessary.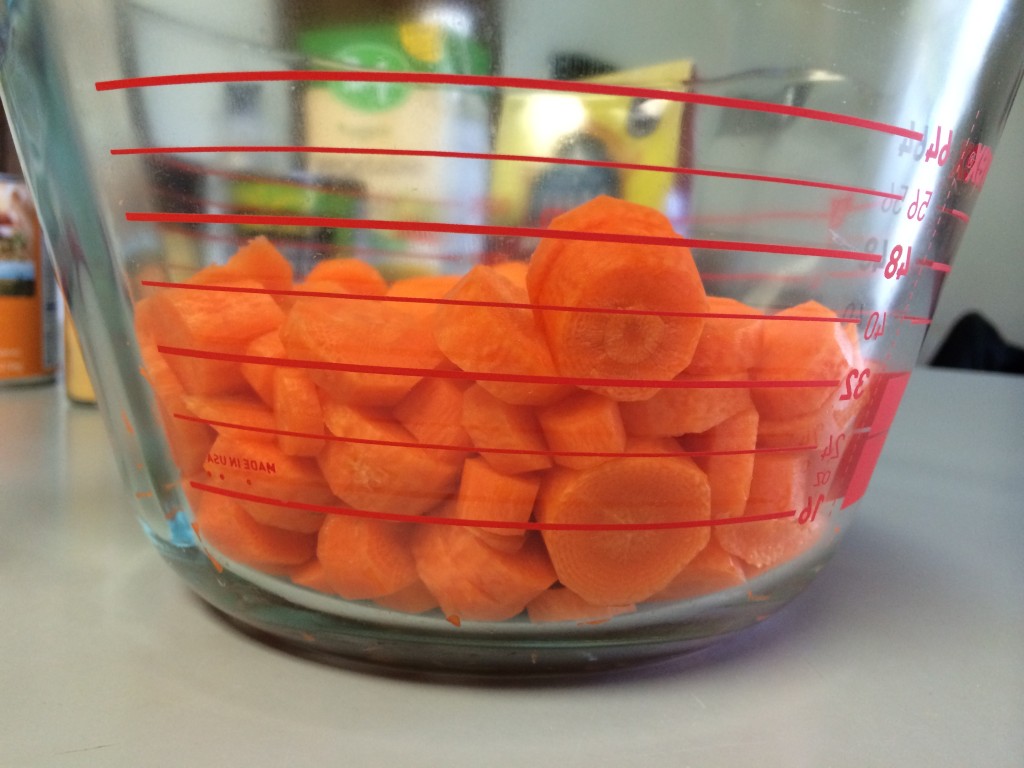 I cooked everything up and let it simmer for awhile and then used my immersion blender to get the soup creamy. I love that blender! It's so easy to use and it works really well. Plus I don't have to mess with pouring things into a blender and then spilling it all over the place. So much cleaner and easier. I blended up the carrot mixture until it was the consistency of baby food then I added the curry paste and coconut milk.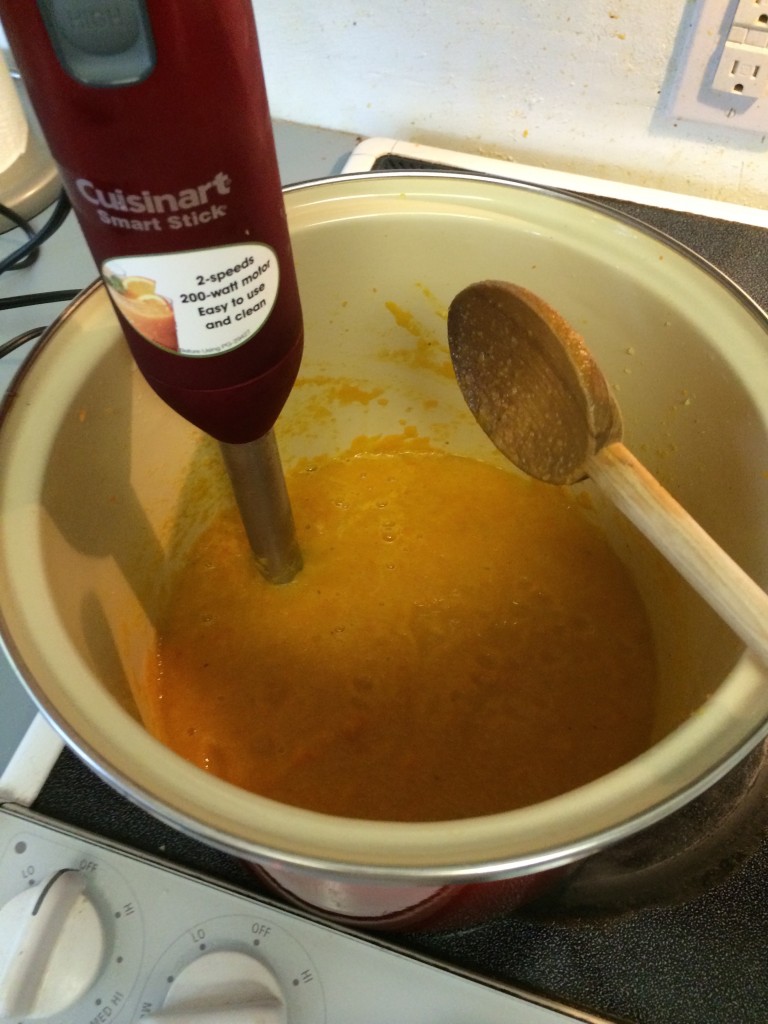 The one downside of the immersion blender–I did get splattered a few times when I used the fast speed. Ooops! After everything was all mixed in I let it simmer for 10 minutes and then tasted it. It needed a little something…I added a pinch of Splenda and then tasted it again. I added one more pinch of Splenda and then it was perfect. I hadn't expected having to add sweetener because carrots are already so sweet but the soup was just a tad on the bitter side. The Splenda fixed that right up and the soup was perfect!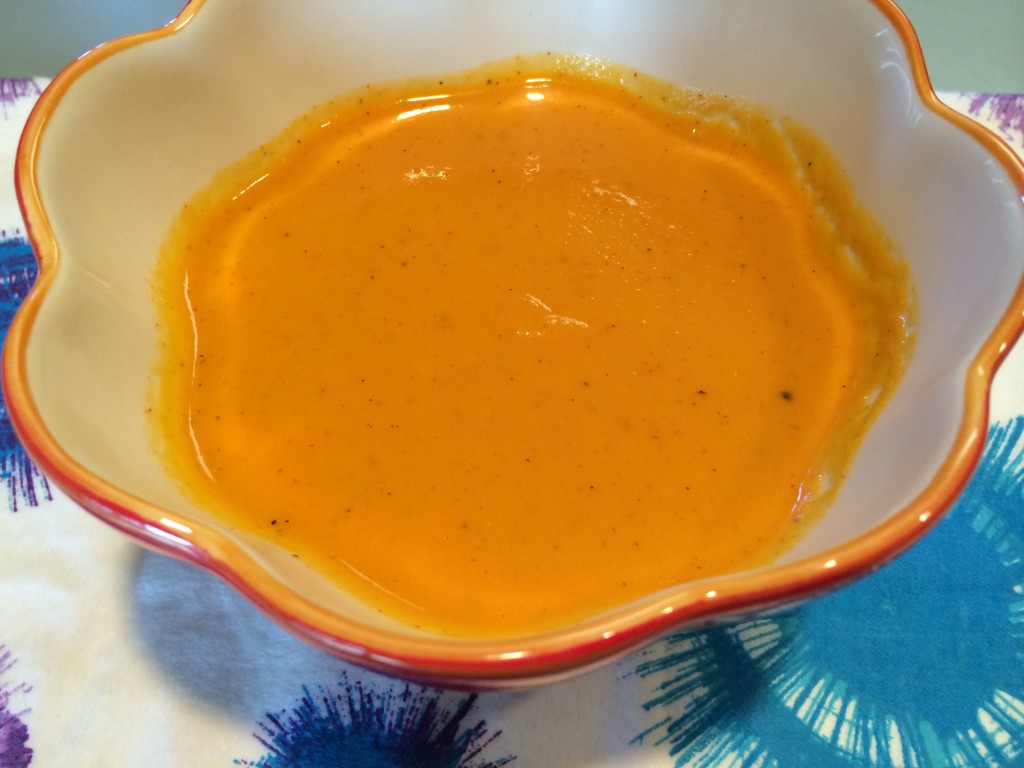 I got 5 GENEROUS servings out of this recipe instead of 4, which made the calories more like 165 calories instead of 200+. This could have easily been 6 servings for dinner–with maybe some crunchy French bread and a salad. The soup was creamy and the texture was perfect. It was also surprisingly spicy!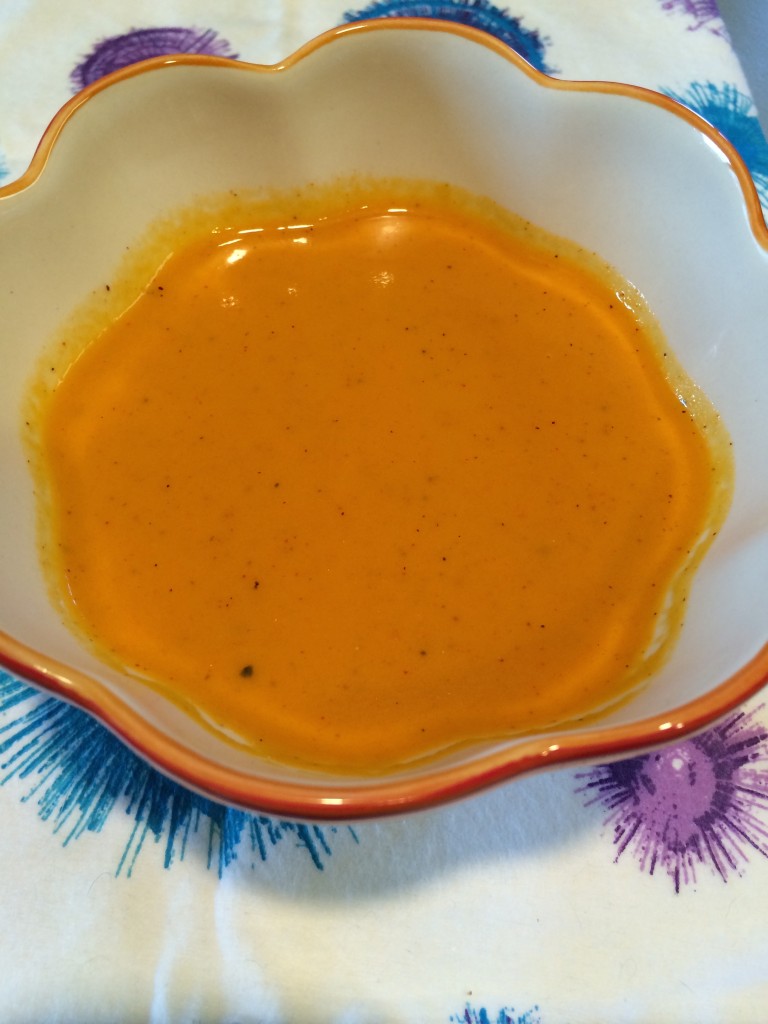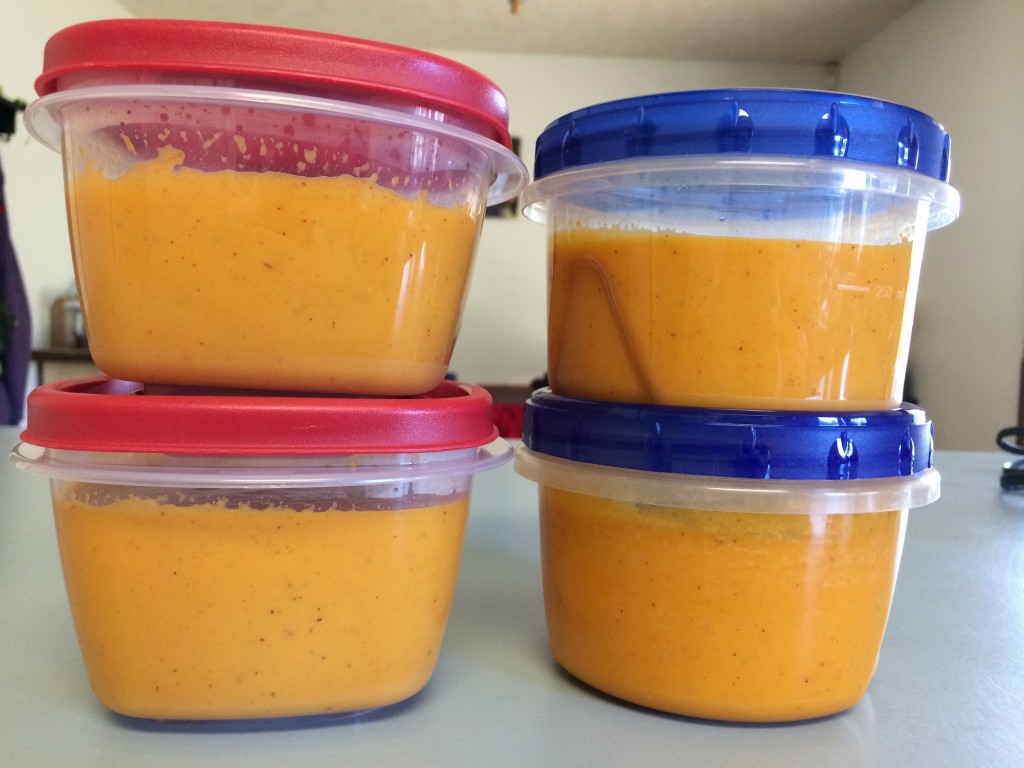 I loved the soup. It was SO CLOSE to the Whole Foods recipe. I'm not sure where it's different. I need to have the WF version again. I'm sure they used fresh ginger (I used powdered) and they probably used the full fat coconut milk. Maybe those small changes made the difference? I'm not sure but I loved my version. It was tasty and filling, low in calories and spicy!  Yum! Yum! I also had a bunch of leftovers for work lunches. Perfect!
What are your favorite veggie recipes?