The Warrior Room does a ton of charity work. The recent one for the holidays was the "Bad Form Violation." Gym members were being fined $1 for each "bad form" violation during classes and the money raised goes to The Annie Ross House toy drive. (They were also collecting unwrapped toys for kids.) Annie Ross House is a local shelter for families in crisis:
"We are the only emergency family shelter in all of Clackamas County and serve families with children who are currently experiencing homelessness. Five families a night reside at the Annie Ross House and we also provide six units of transitional housing to families with large barriers to housing. When families arrive at the shelter they are given a food box, personal care items, and each young child has a stuffed toy waiting in their room. Families occupy a single room and share three bathrooms and communal kitchen, dining and living rooms."
I love all the charity work the members of the Warrior Room participate in! This was a good cause. But I'd be lying if I said I wasn't nervous about getting a bunch of violations!! Some of the citations were really funny. Check it out: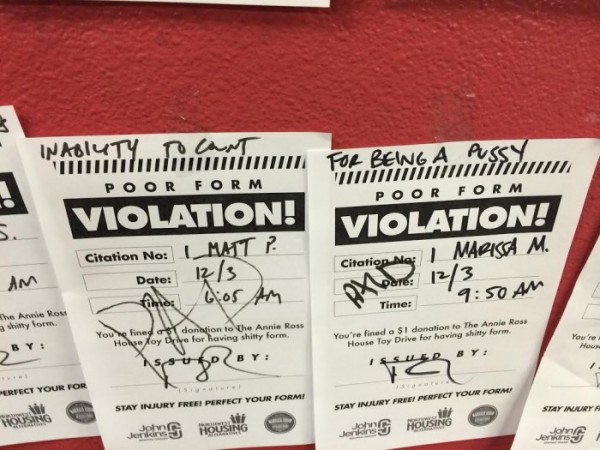 When I saw the "inability to count" violation I had to laugh AND groan. If I was going to get a citation it would be that one. I can NEVER remember how many reps/sets we're supposed to do in class. I don't know why, maybe because Ashley gives us too much info at one time for me to remember, maybe I'm just too focused on the activity to remember the numbers. LOL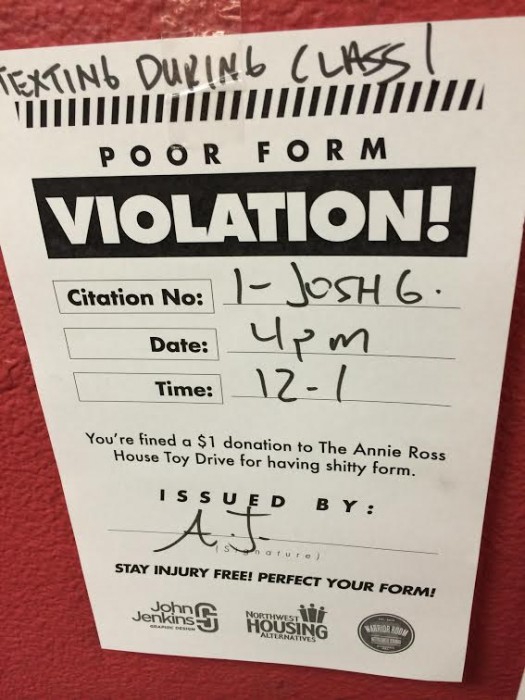 Impressive multi-tasker! They are pretty funny and the wall is plastered with the citations. Stay tuned to see if I make that wall…..!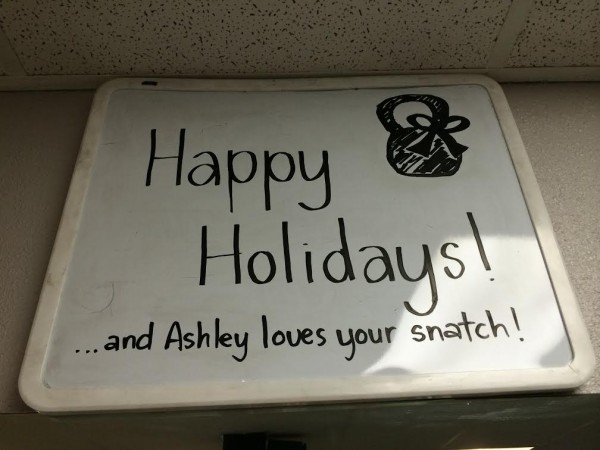 They raised a bunch of money for the charity and also collected a TON of toys for kids for the charity, too. They filled the back of the Warrior Room truck with toys and took them to the Milwaukie holiday parade: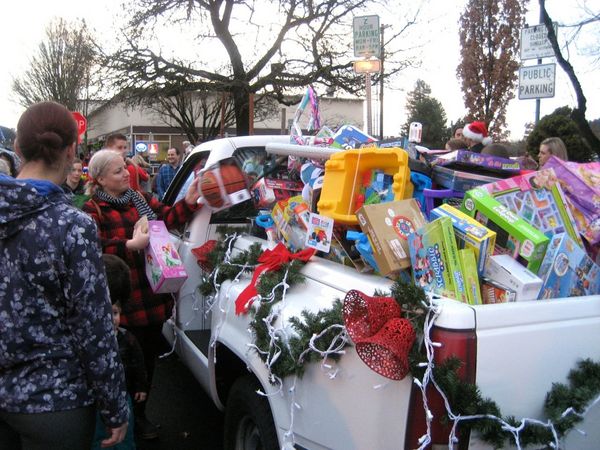 Good job everyone who donated!
Class #1 – 1/2 Tabata, 1/2 Isolation
It was a challenging class for a lot of reasons. The first was the partner workout. The partner workouts are fun but hard because you end up working a lot harder than normal because you have a partner relying on you. So taking breather breaks isn't an option. This particular partner workout was especially hard. Check it out:
We faced each other and got down in push-up position. Then we did 16 push-ups at the same time, slapping alternating hands with each push-up. So it goes like this: push-up, clap left hand, push-up, clap right hand and continue. THEN it was 8 partner burpees with a hand clap in between each one before jumping up. Then we did 30 traditional kettlebell swings then 16 lateral jumps. Dripping in sweat after one round! We did three I think (but like I said above, I have a hard time counting in class LOL).
These are a lot harder than they look. You squat down, roll onto your back with your legs up and then roll back onto your feet. It REALLY works your core. I found that holding a small kettlebell while doing this made it a LOT easier to get back up. The momentum and the weight of the kettlebell made it easier. Before when I did this move in class I struggled a lot with getting back on my feet. Give this one a try and you'll see how challenging it can be!
This was a newish move for me. (As is the next one.) This is most definitely a full-body workout. It's a squat, a core workout as well as shoulders and biceps. I felt this one the next day!
This one is hard. I kept wanting to do it like the hang clean. But after a few rounds I got the hang of it. Dead lifts are a good core and glute workout. It's even more challenging doing it with just one kettlebell.
We finished up with a bunch of ab work (ouch) and then cooled down. It was a good burn.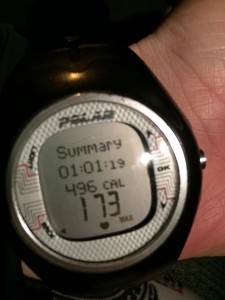 Class #2 – Kettle Bell Conditioning
Saturday's class was a good one. There wasn't anything new to me, but there were plenty of moves that I like to do. One routine we did was a set of 30 swings (I went up to 35 pounds), followed by 10 up-downs, then see-saw presses, then 5 burpees. We did four rounds of this. The see-saw press is a fun one. I used the orange kettle bells for that one, they are 15 pounds each. I could have gone up to 20 pounds for that move but it was a packed class and they were all taken.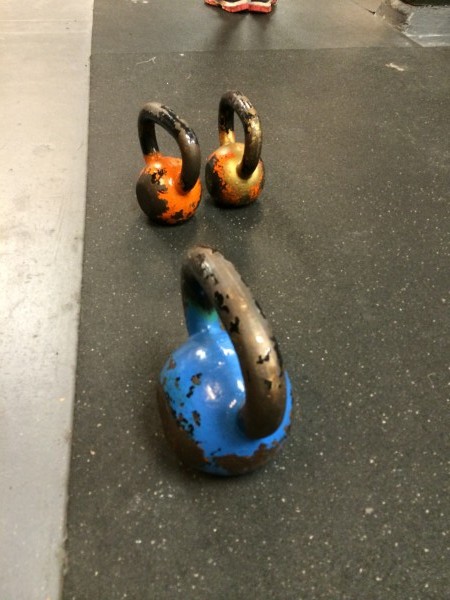 Then there was a set of 100 mountain climbers, followed by 12 tuck jumps (I modified with squats jumps), then 12 double mountain climbers followed by another 12 tuck jumps, then 12 sumo mountain climbers followed by 12 tuck jumps. Sound like a lot? It is! My heart rate was pounding!
What I like about the Warrior Room is that Ashley is always good about modifications for people. If there is ever something someone can't do she comes up with a variation. For me, it's lunges. My physical therapist told me long ago, DON'T DO LUNGES. Like ever. It's just not knee-friendly and I do notice that my knees get cranky when I try to do lunges. So whenever lunges are part of the workout, Ashley gives me a modification. This time it was doing the TRX knees to chest move.
After that there was an ab set (v-ups, windmills, etc). Then we did a set of double swings (I used the black kettlebells –20 pounds each), followed by squats, squats presses and then a deadlift (with the silver kettlebell which is 35 pounds).
After that set of the kettle bell work we dd the mountain climber sequence again. Personally I enjoy the 1/2 Isolation & 1/2 Tabata class (see above) than the Kettle Bell Conditioning class because it's more fast-paced and burns more calories. But the KB conditioning class is a good balance because it focuses more on perfecting the KB moves.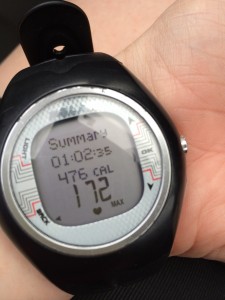 So there are two different classes that were both a lot of fun and a good workout!