Last night we met some friends for dinner and I gave in to temptation! SIGH. It's really hard for me to resist any food on Friday nights. Friday nights after work I go swimming. Last night was no different, I swam my butt off and did 55 minutes in the pool. It felt absolutely wonderful on my tired, stiff legs. The strange phenomenon for me, is that after swimming on Friday nights I am ABSOLUTELY FAMISHED. It doesn't matter if I have a snack before I swim (I ate an apple) or if I have a protein bar on my way to the pool. I WILL STILL BE OVERWHELMINGLY STARVING. I've never understood why.
So this week has been a little out of control with eating out. I made a vow that when we went to our favorite Portland restaurant, Hub Hopworks, I'd order something other than pizza.
Yeah….not so much. We met up with our friends and the place was packed. We were told it was a 40 minute wait (insert panic here–I actually asked if they wanted to go somewhere else…yes, that's me pleading to EAT. NOW.) but luckily a table opened up a few minutes later! We all got beer. My favorite is their lager:
The good news? I nursed that 1 beer all night! I knew I was giving in to temptation and eating pizza (and probably a lot of it) so I didn't want to drink my calories! It was a nice night! We caught up with friends and had good food. Erika and Charles ordered a large "Spicoli" pizza (I think it was double cheese and sausage). Michael and I got the medium sized Margherita.
OH.MY.GOD. It was good! Not greasy at all, and very light on the cheese. It was the perfect size too. I admit, I had 3 pieces.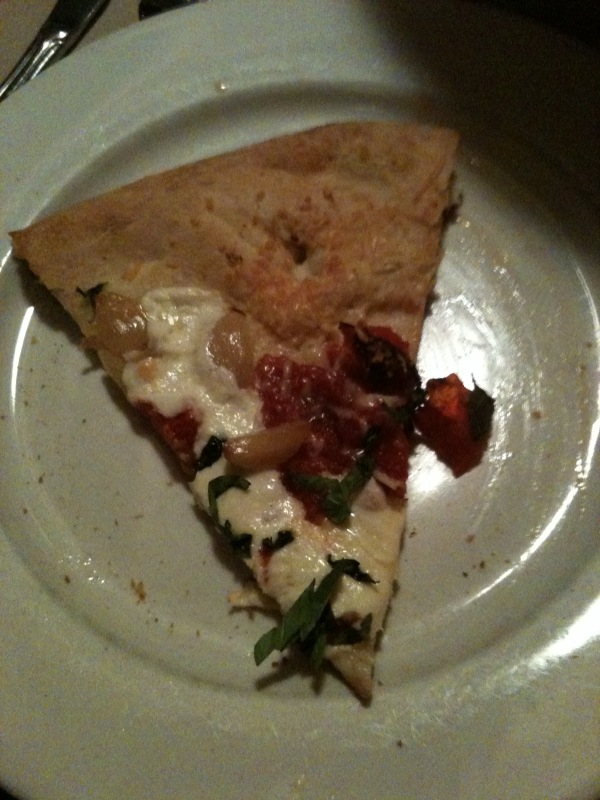 I felt so much better after I inhaled my food. 🙂
Hub is a really cool joint here in Portland. It's on SE Powell. Their theme is bikes and beer.
If you can see in the picture, they use bike frames as their decor: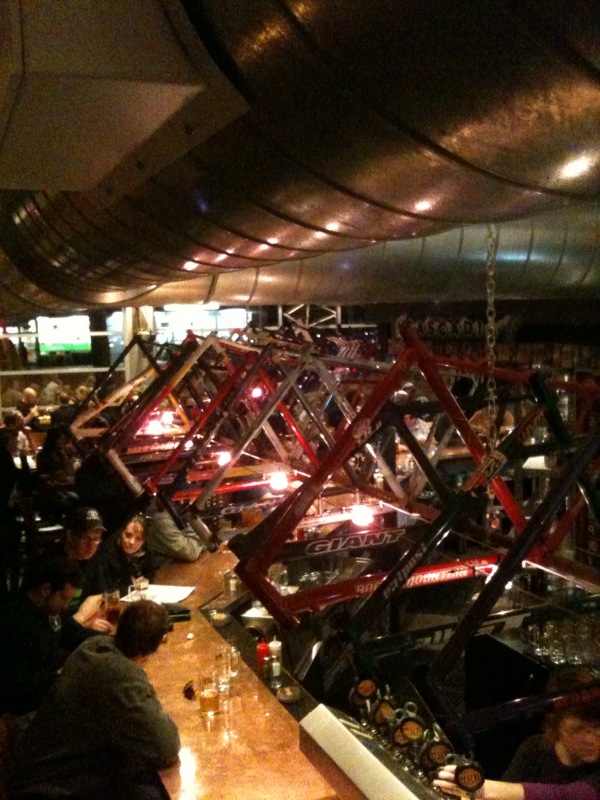 I came in under my calories for the day, so eating the three pieces of pizza didn't exactly "Break the bank." But boy do I give in to temptation easily!! 😛
As I type this, Saturday morning, I'm getting ready to go on a long bike ride. I'm telling myself that pizza last night was Carbo-loading for the ride!  Yeah, that's it! 🙂