ROAD TRIP!!!
GIRL'S WEEKEND!!!
Can you tell I'm excited? 🙂 It's been a long time coming. Over the weekend Michael and I went up to Seattle for the weekend and then parted ways. He stayed with his friend Jeremy to watch golf all weekend long and drink beer (snore) and I picked up my friend Rachel for my own weekend getaway. The last time I saw her was about two months ago when she came down to visit and I ended up suffering from food poisoning all weekend. That was kind of a bummer. This time was much better.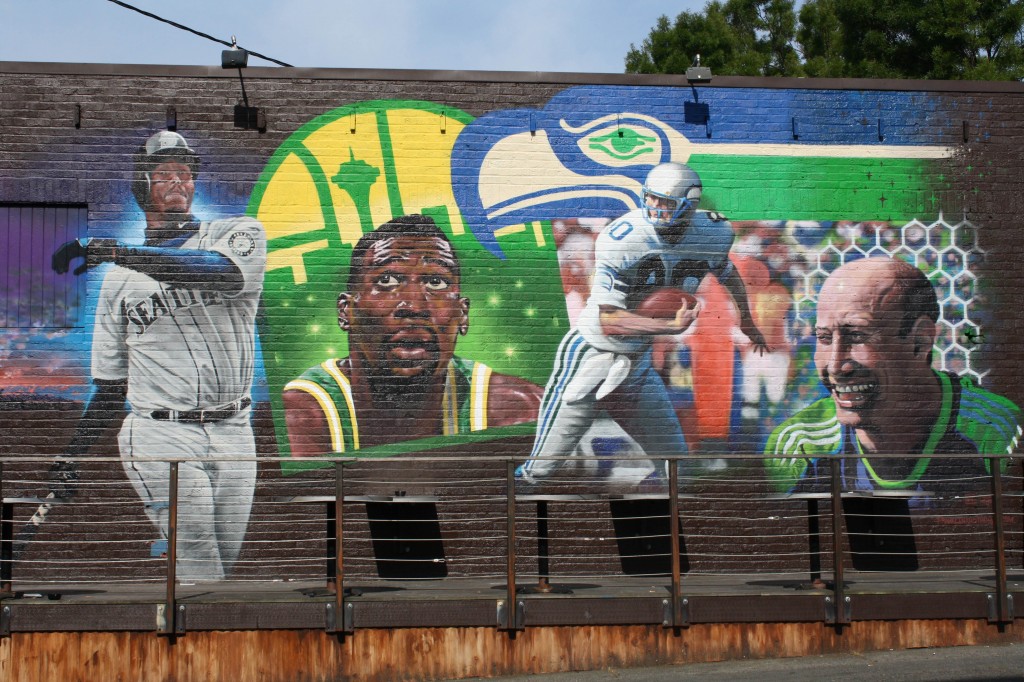 Rachel and I booked a room at the Hotel Deca, a swanky hotel in the U District. I like the U District because it's funky, there's stuff to do and it's very walkable if you want to have some drinks and stumble back to the hotel. 🙂
We checked in and discovered that the travel agent she used or the hotel, screwed up our reservation. They booked us as a single person not two in a single bed studio instead of the two queen suite we paid for. They also booked us for 3 nights not 2. Ugh. And they were completely booked because it was UW graduation weekend!
We made it work and the next night they upgraded us to an excellent room! With a complimentary bottle of wine, free parking all weekend and free breakfast on Sunday. This was the view from our better room on Saturday: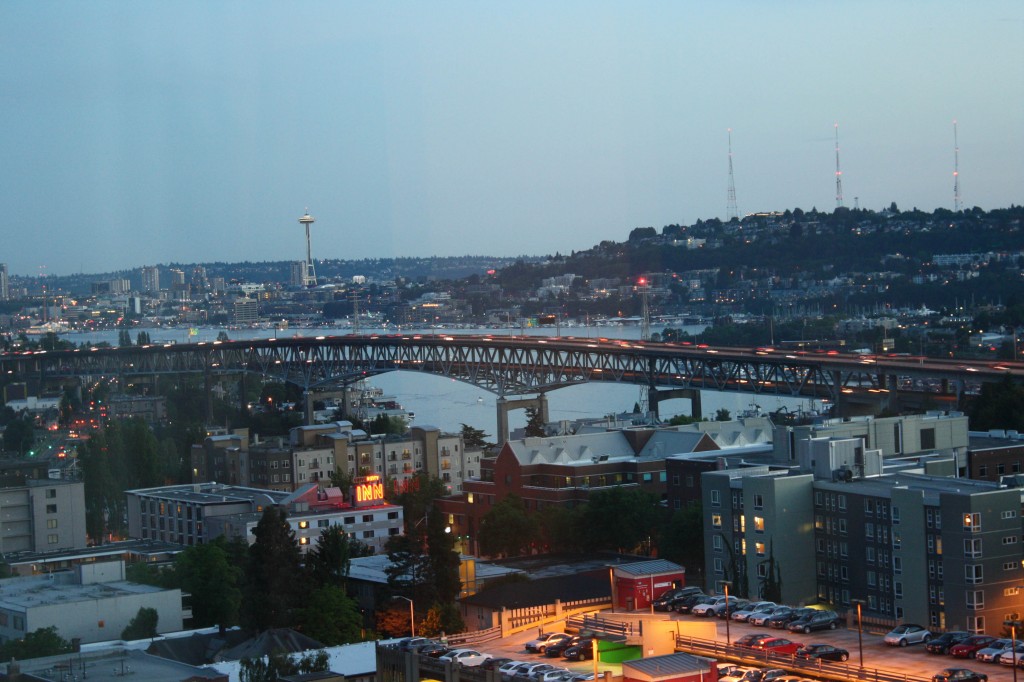 Pretty nice view, eh? Back to Friday night. It was like 8:30pm and we were famished. We ended up at Village Sushi for dinner, right off Brooklyn & 47th. What a fantastic place!!!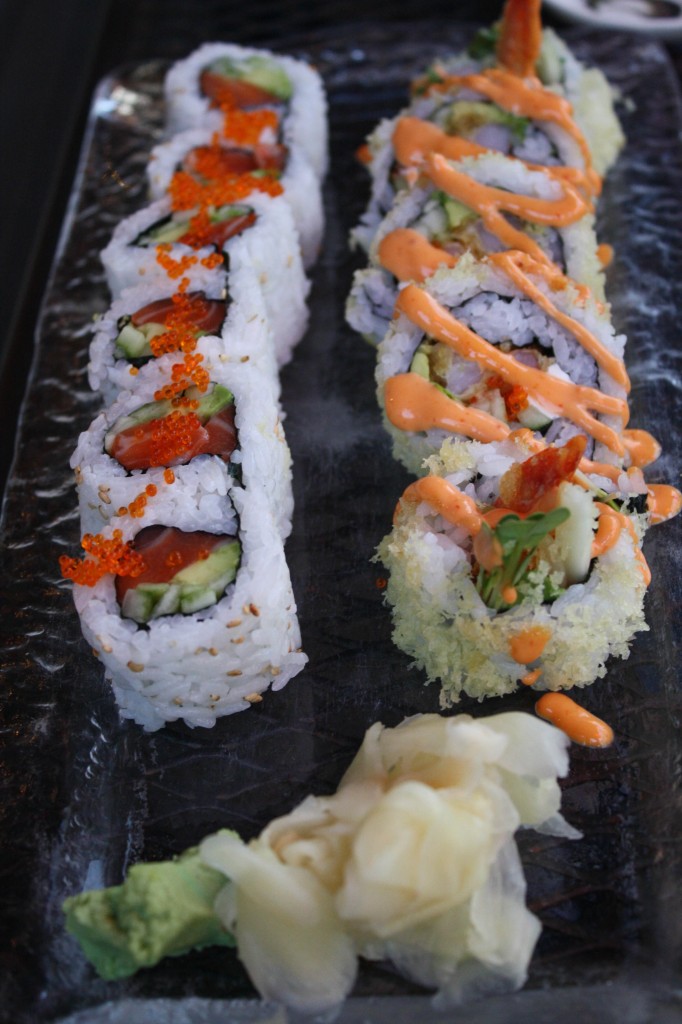 We sat outside on their patio in the cool summer night with glasses of wine and spectacular food. We got yellowfin tuna poke and two rolls (the Seattle Roll and Hanabi Roll, which had tempura shrimp, cream cheese and avocado with a spicy sauce). Probably the best sushi I've had in the NW. It was comparable to the amazing sushi and poke I had in Hawaii! This place is a must for future visits!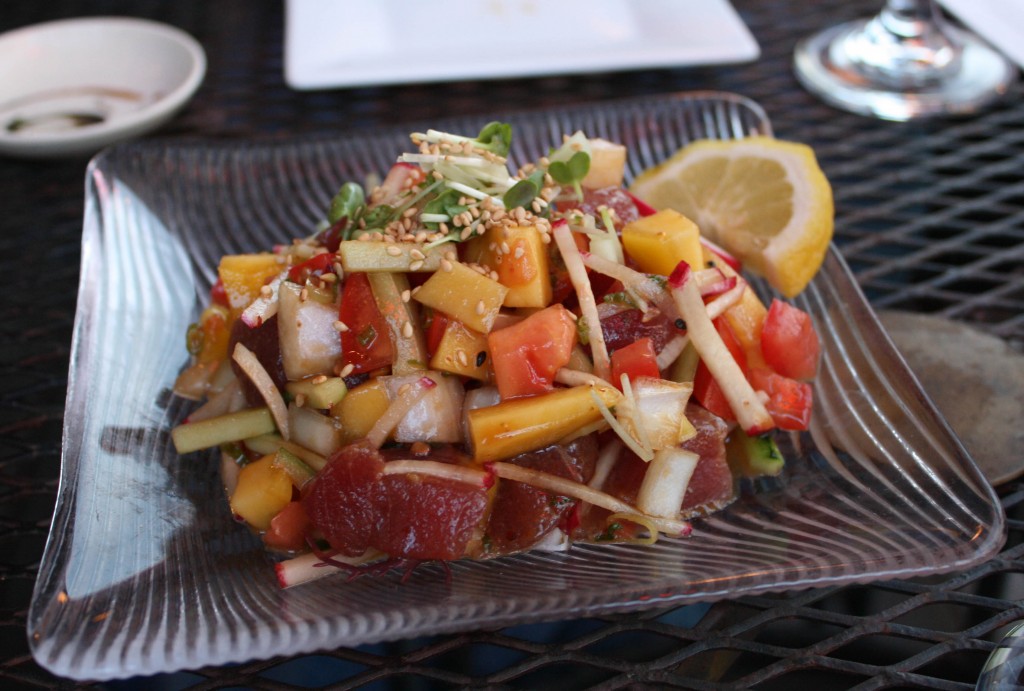 The service was speedy and friendly. We took our time, lots of girl talk and laughing then we wandered around the Ave until midnight before going back to the hotel. We did stop at Kai's for a drink and I got the raspberry lemon drop–pretty good.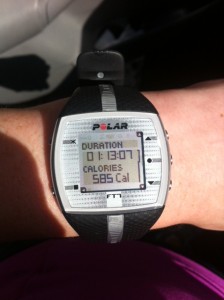 Saturday morning Rachel had some work to catch up on and I was up early so I ran up to the gym for a workout. The gym I went to at Northgate was great!! It must be brand new because I walked in and had immediate gym envy and wished I lived in Seattle. 😉
Breakfast was at Petti Rosso on Capitol Hill. What a cute place! Great service and unlike Portland, there was NO WAIT. That's unheard of in Portland–expect an hour wait for most breakfast joints. Anyway. We got coffee and what turned out to be one of the better breakfast meals I've had. The coffee was divine and served with rich cream.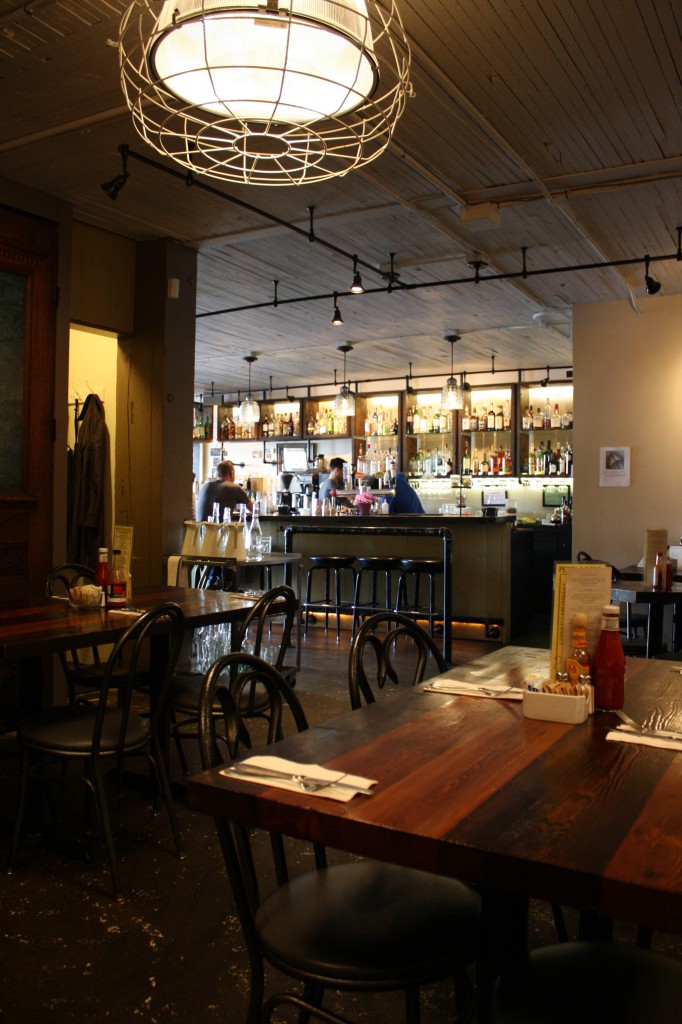 Breakfast was a garlic brioche bun cut in half and placed on too of a bed of arugula and peas. There were two poached eggs on top of the brioche and they chicken andouille sausage gravy was poured on top. Mama Lil's peppers were scattered on the plate. I'd never think to put all those foods together but it worked so damn well. The sausage and peppers were spicy and the yolk from the poached egg ran into the greens like a gravy. How fantastic!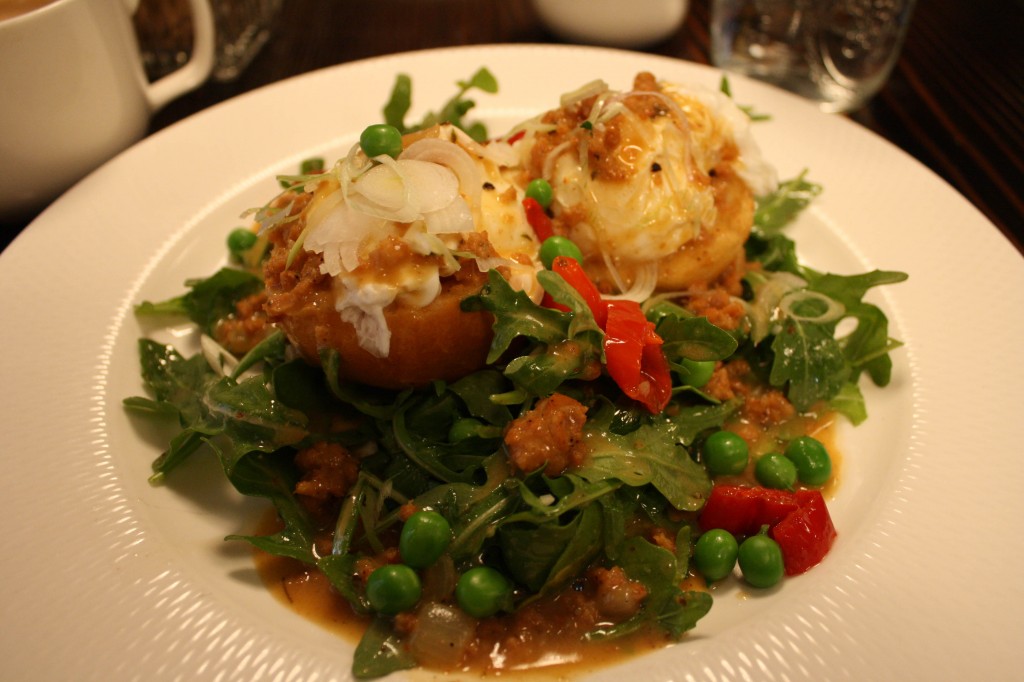 We took our time with brunch and then had some time to kill and no real schedule so we went downtown to meander through Pikes Place Market for about an hour. I spent way too much money on fancy olive oil, gluten free pasta, honey and chocolate.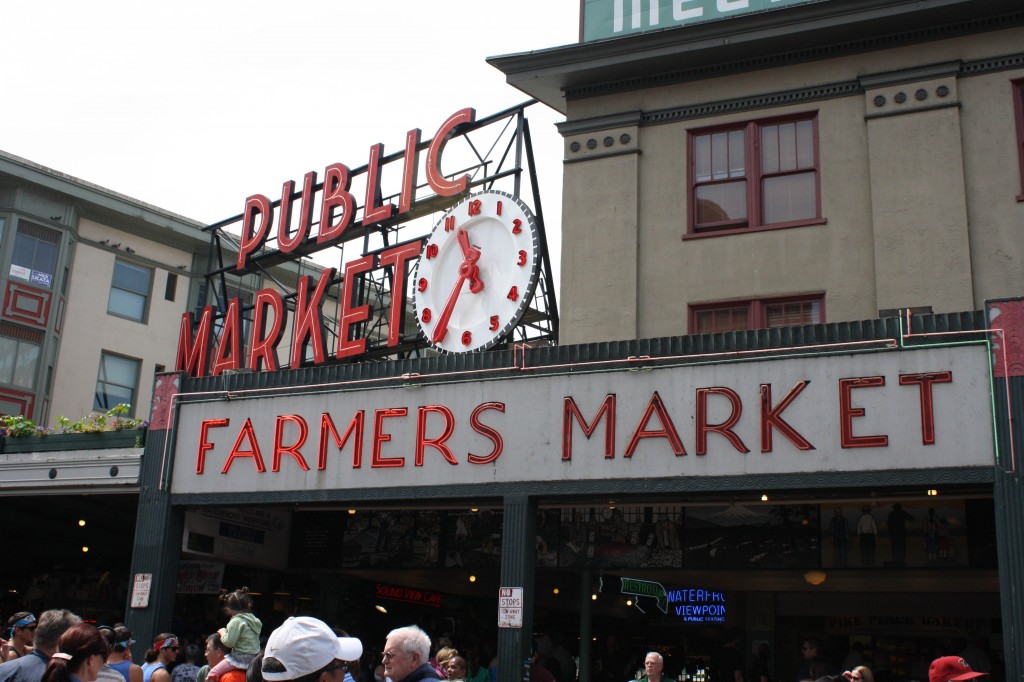 Growing up in Seattle we went to Pike Place Market frequently and I see the attraction for tourists. You can find pretty much anything you might desire at the Market. Even Big Foot: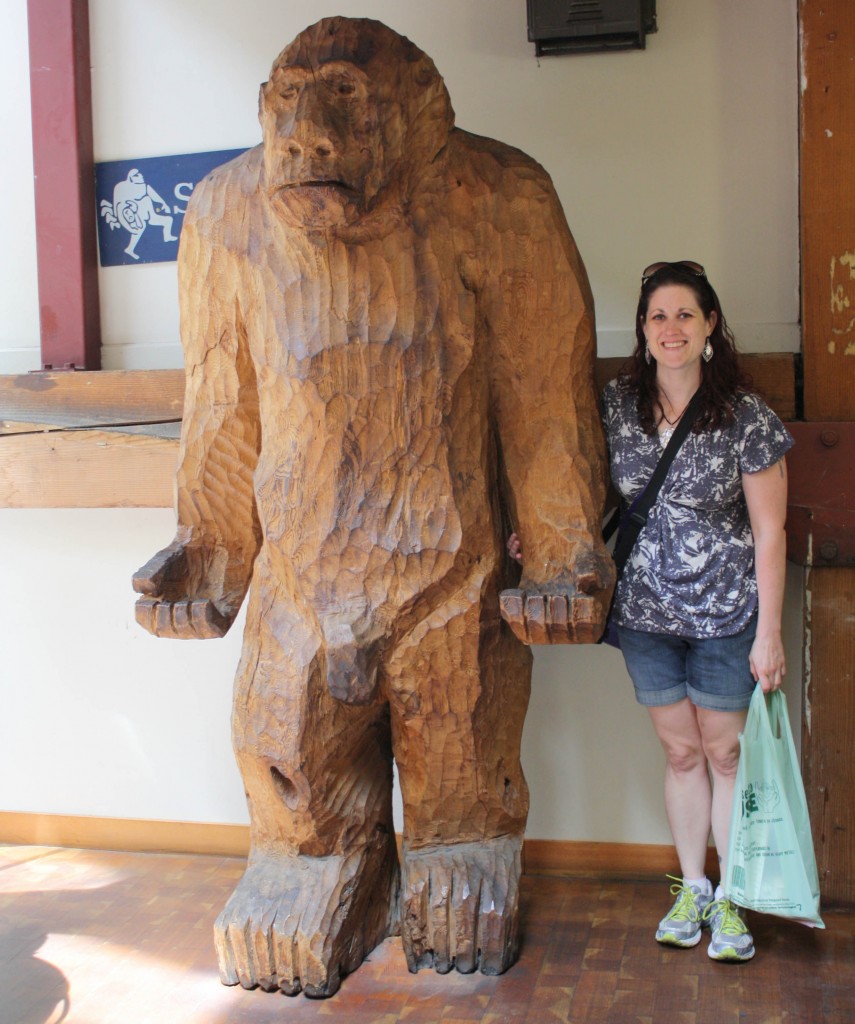 The place was packed, as it usually is, but even more so because it was a sunny Saturday morning. People were packed into the market so closely you could barely walk. And of course there were also people with double wide kid strollers too. (Really??)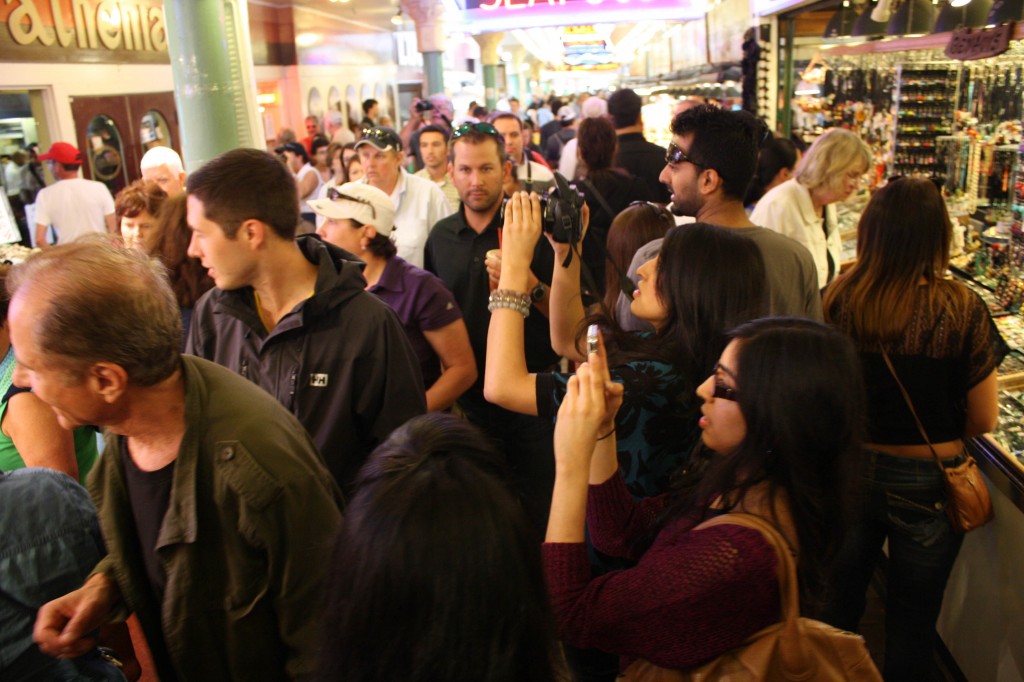 If you don't like crowds, you can avoid it by walking on the outside of the market in the streets and still see a lot of things. There's tons of fruit stands and fish stands. I would have bought some fruit but I didn't want it sitting in my car all weekend going bad. So Rachel bought a big bag of peaches for a friend and I bought non-perishables.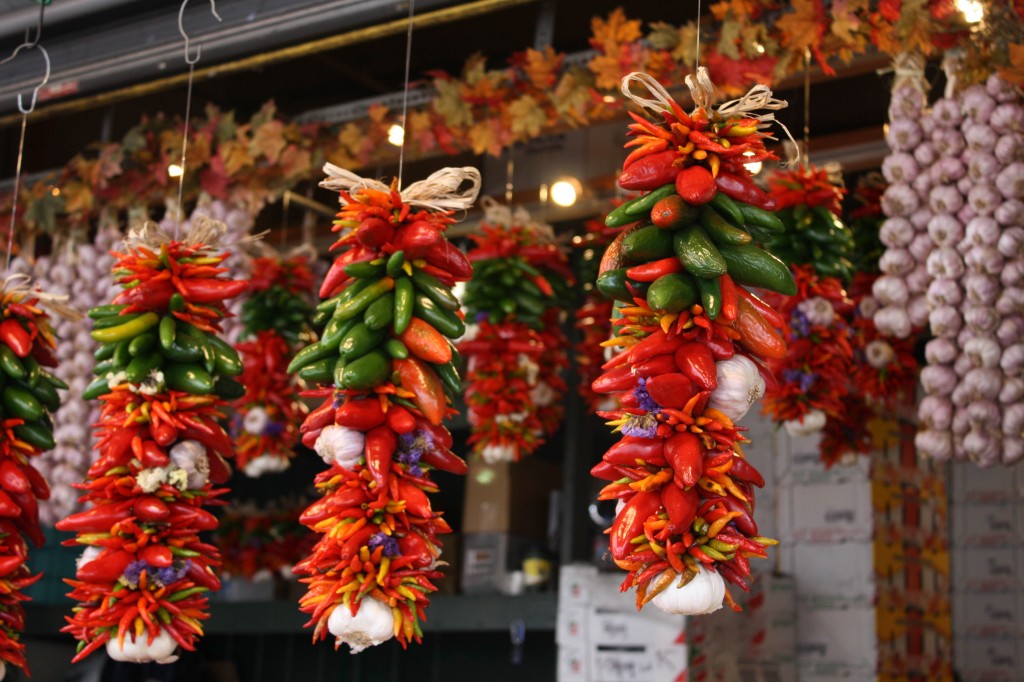 On the walk back to the car from the market we stopped at Fran's Chocolates. I hadn't heard of Fran's before but apparently it's a popular place. When we entered the store we were immediately given a chocolate truffle that was creamy and delicious and melted in my mouth. I bought a few things and then we dashed back to the car before the meter ran out.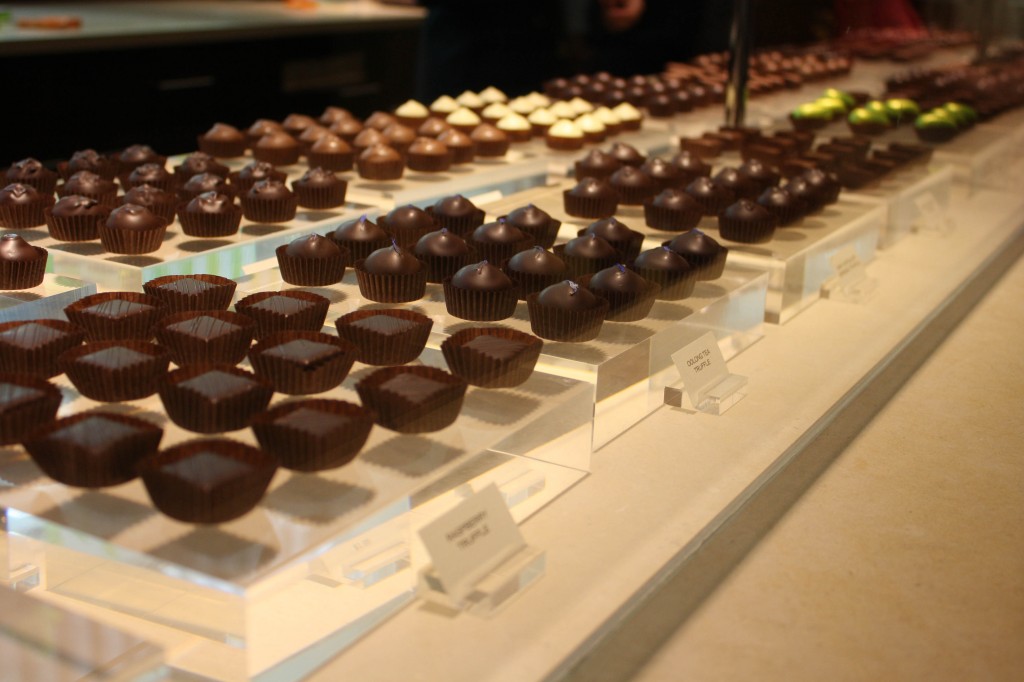 Are you drooling yet? I can't wait to tell you about the rest of the day! It was action-packed. Stay tuned.
QUESTION: What's your favorite must-see Seattle sight?