I left off on my last Seattle post with the decadent breakfast from Portage Bay Cafe. After breakfast we headed towards downtown. Michael had booked us on a Duck Boat tour at 1:00 and we had about an hour and a half to kill before we had to be downtown at the Space Needle.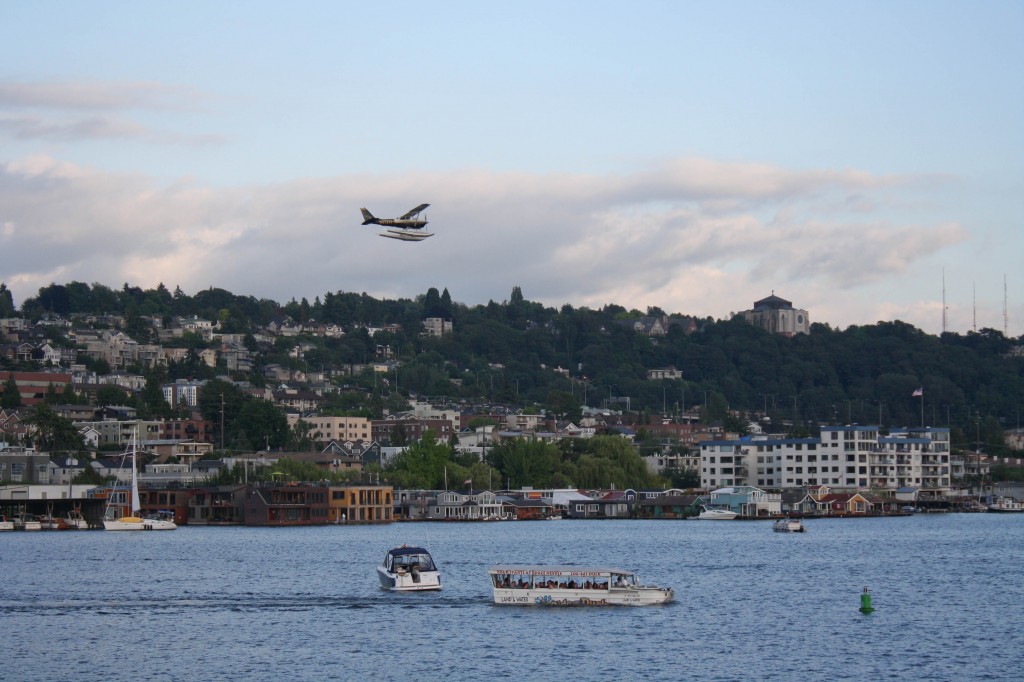 I suggested we go to the Japanese Gardens. It was something I don't remember ever going to when I lived in Seattle and it was a nice way to enjoy the sunny morning and walk off breakfast a little bit. I don't want to sound like a snob, but the Portland Japanese Gardens are so much better. Seattle's was a little underwhelming. That's not to say it was bad, I still enjoyed walking around and the koi fish were HUGE!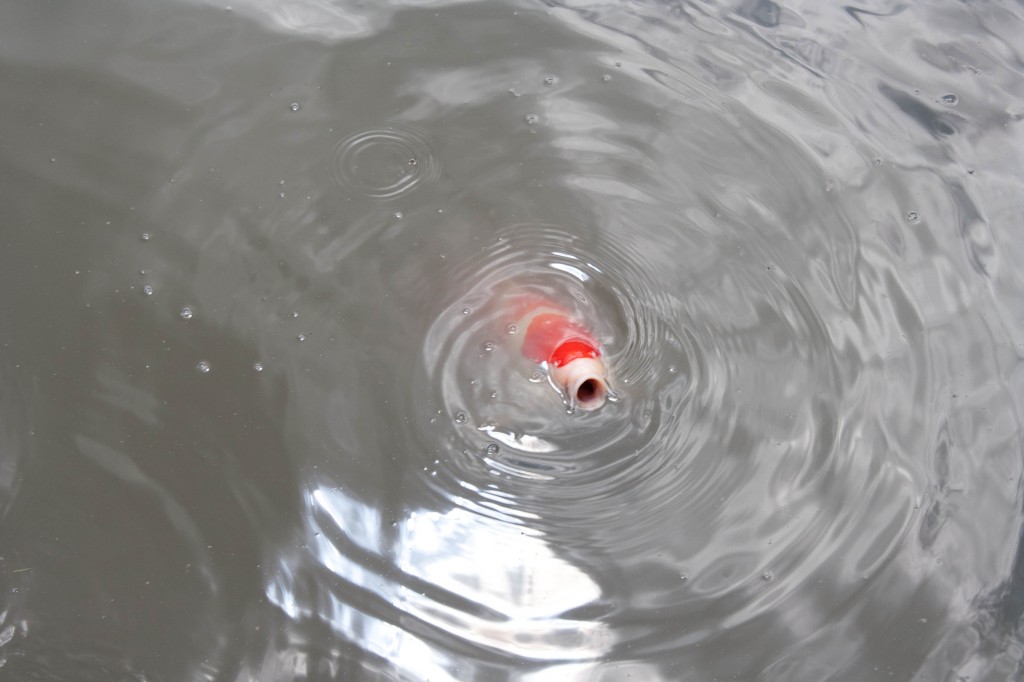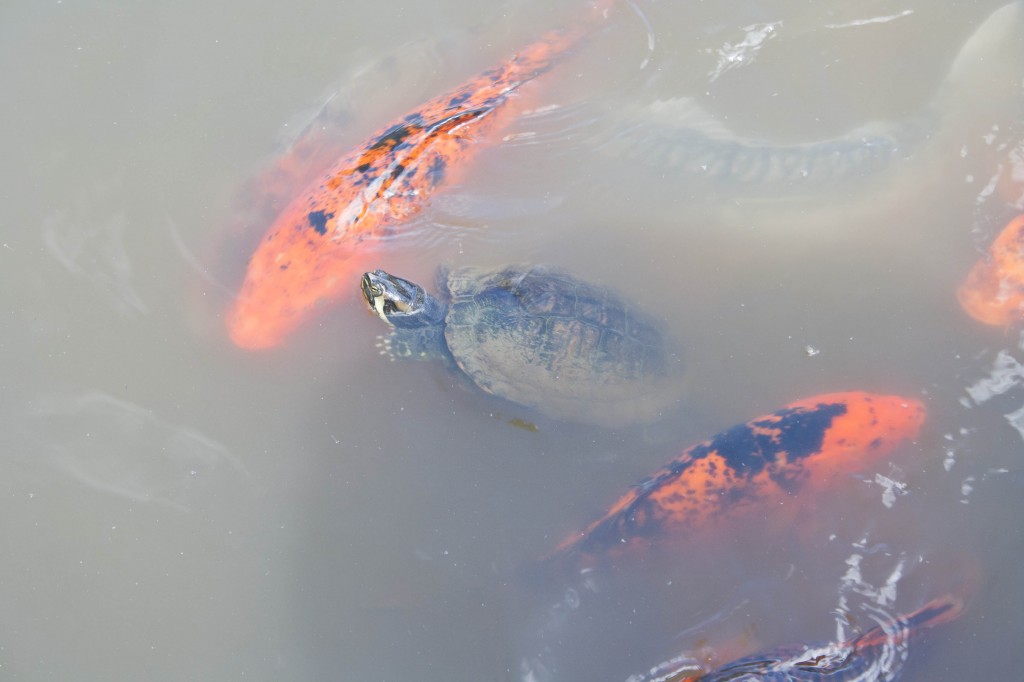 They also had turtles swimming in the ponds with the koi fish. The fish were my favorite part. The gardens were pretty and peaceful but still, not sure that I'd recommend it. Now, if you want to come down to Portland I definitely recommend ours.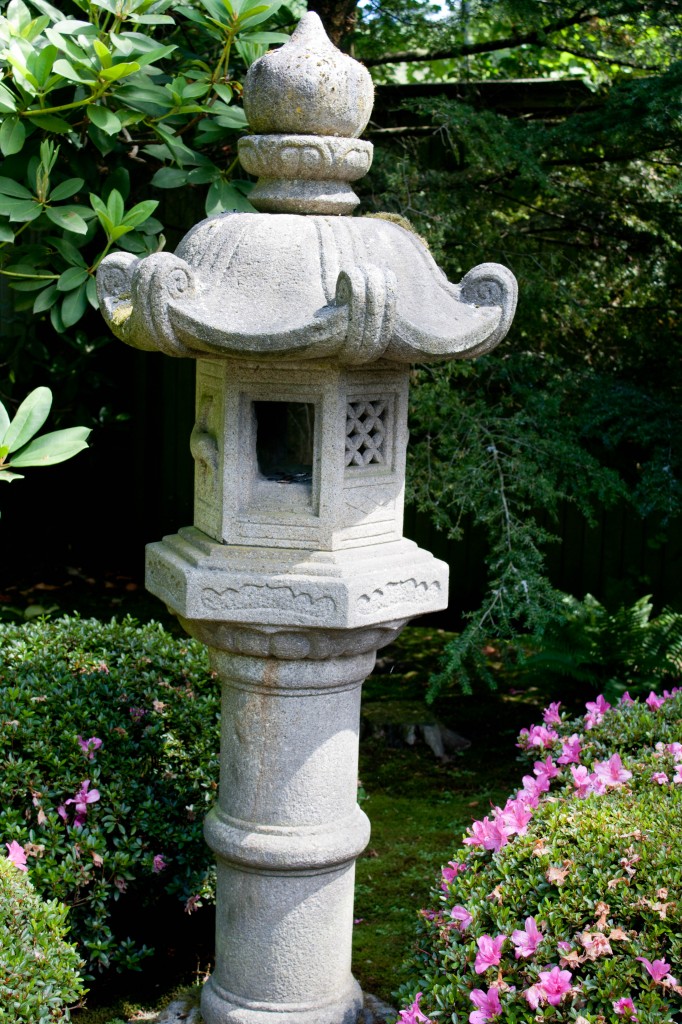 We left the park and had enough time to get downtown, get stuck in construction traffic mess, park a mile away from the Space Needle, and walk. Sheesh! I forgot how much of a pain it can be to park in Seattle. Anyways, the Duck Boat tour.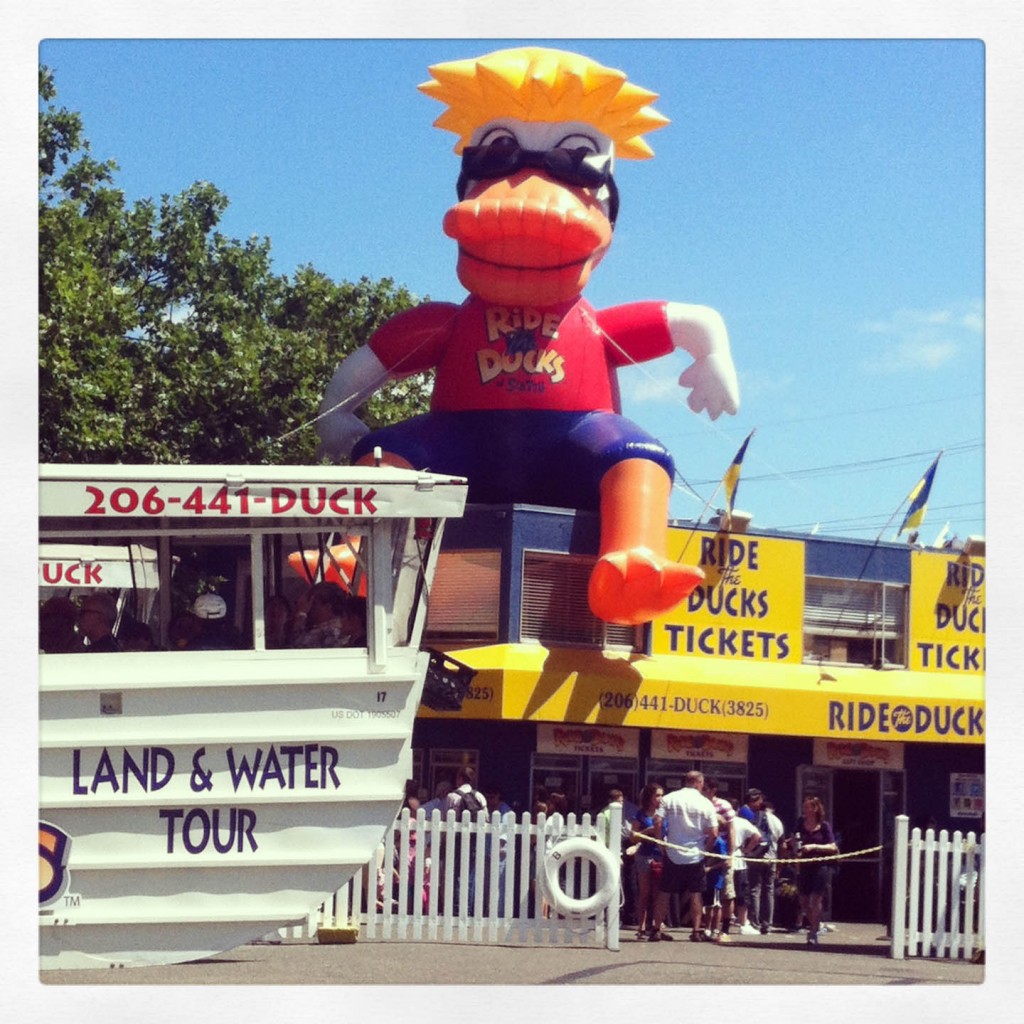 I KNOW it's super cheesy–and trust me, it was cheesy to the max–but it was also so much FUN! Michael and I wanted to do some "touristy" things while in Seattle and I remember when Rachel and I went to Chicago one of the first things we did was take a speedboat tour up the river. It was such a cool experience and one of the highlights of the Chicago trip. So I was looking for a similar experience with the Duck tour. It did not disappoint.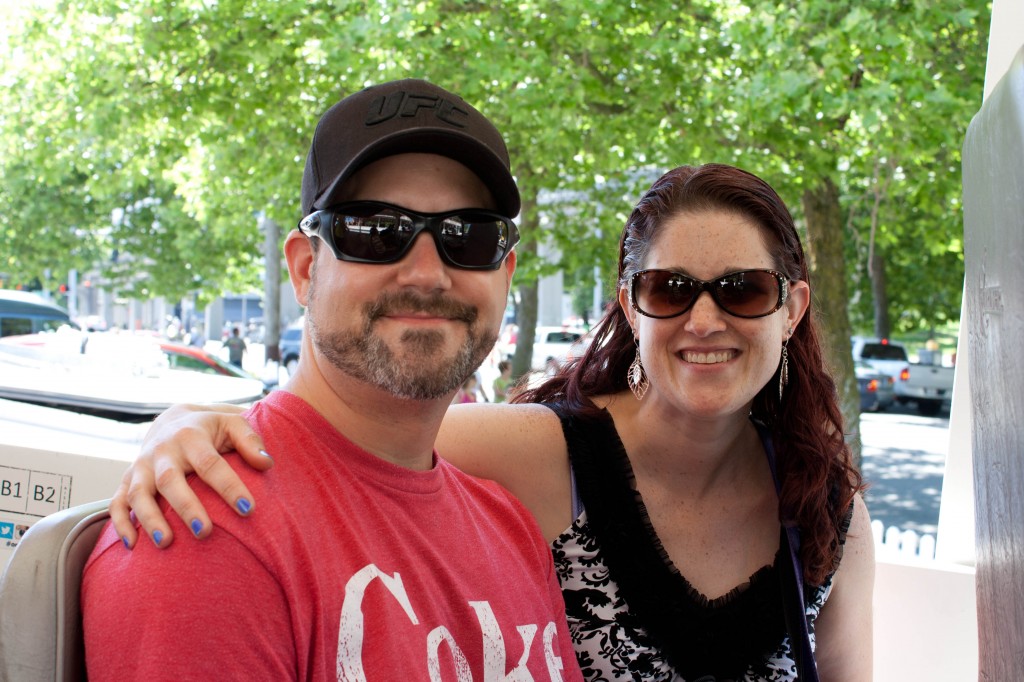 The boats were made in World War II to go on land and sea and the history is quite fascinating if you're a history buff. The boats fit probably 30 or 40 people on it and they are always full! My only complaint? They give the kids on the boat a duck whistle. Now imagine about a dozen 7 year olds with a whistle–what do you get? The constant sound of a duck quacking and that gets old real quick–especially if you don't have kids. 🙂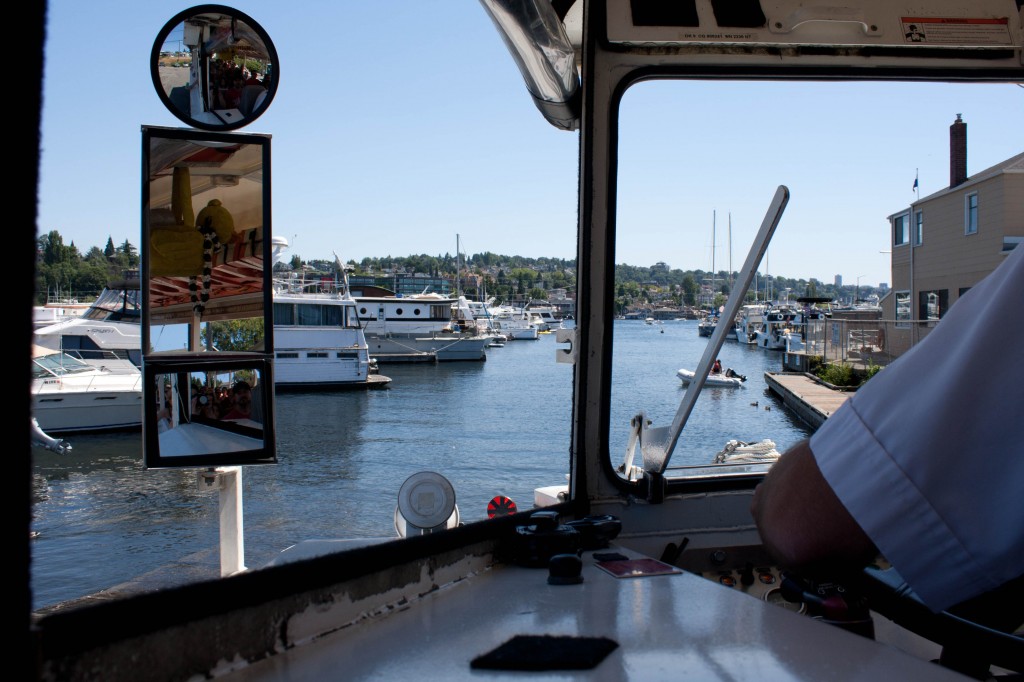 Other than that, it was a super fun tour. Like I said, very cheesy. Your tour guide makes a big difference and ours was great. He was enthusiastic, a little over the top, a little naughty with his jokes and funny. They play fun music, he gives an abbreviated history of landmarks around the city, and you get to see the highlights of the city in about 2 hours.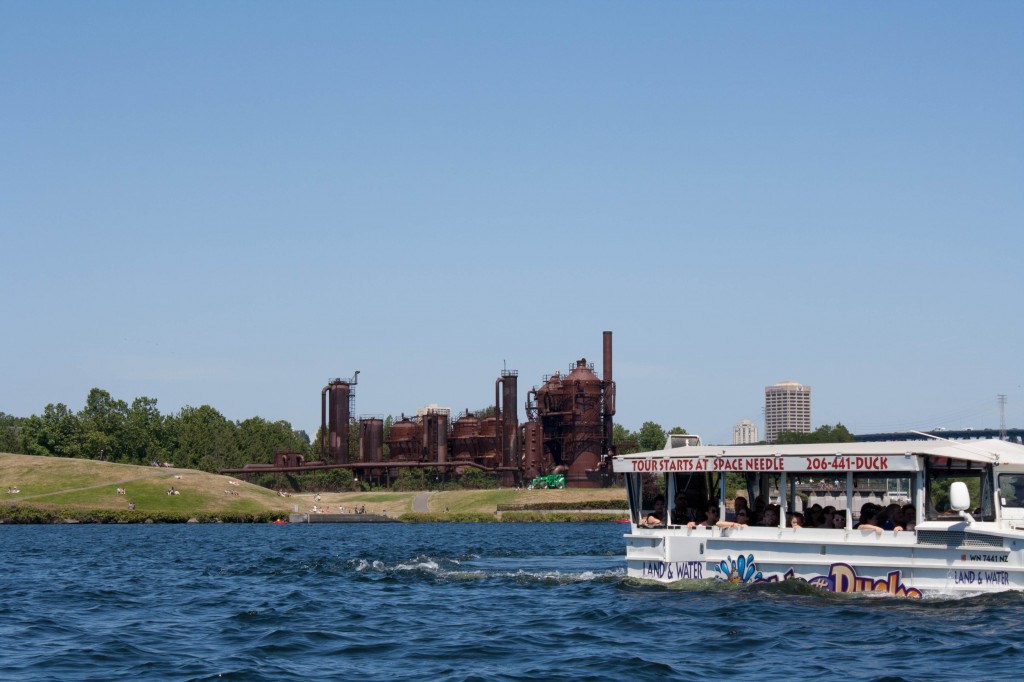 The tour started at the Space Needle and went down to the pier, then Pioneer Square, through Fremont and finally into Lake Union right next to Gas Works Park. I loved hearing the little tidbits about the city on the tour. It was a very hot, sunny day and I'd forgotten to put on sunscreen (bad move) and did not bring a water bottle (another bad choice). Other than that, it was a fun tour and I loved being out on the water!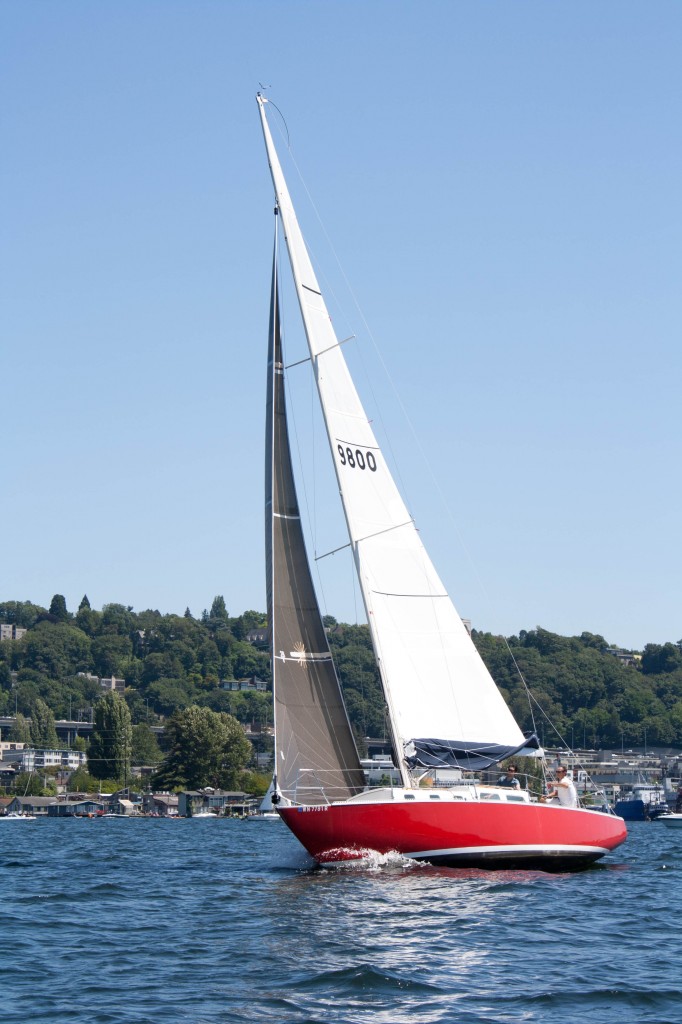 I have to say, I've never had a desire to have a boat but after being on Lake Union on a hot summer day, I am dying for another boat ride! The original plan was to go kayaking but we just got too busy. We're going to try and do it next weekend in Portland with a guided tour. I totally want to be out on the water!
After the tour we walked around the Pier. There's a cool sculpture garden right on the water and tons of shops and restaurants. (We might have snuck into the fancy Edgewater Hotel, where the Beatles, Led Zeppelin, and Anthony Bourdain stayed, to use the bathroom…) It was just a lot of walking.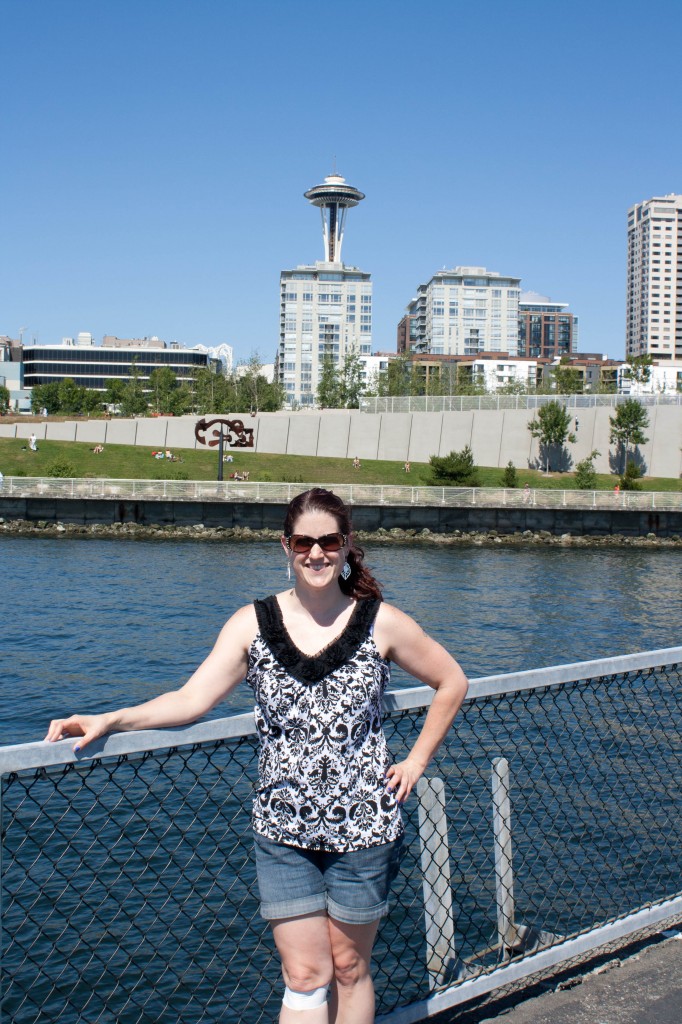 Ignore how pale I am!
Onto the final day. Breakfast was at Cafe Presse on Capitol Hill. It was French bistro and coffee shop that was deceptively large. The back room is huge and there's tons of tables. We got a seat right away and I got some of the best coffee I've had since Hawaii: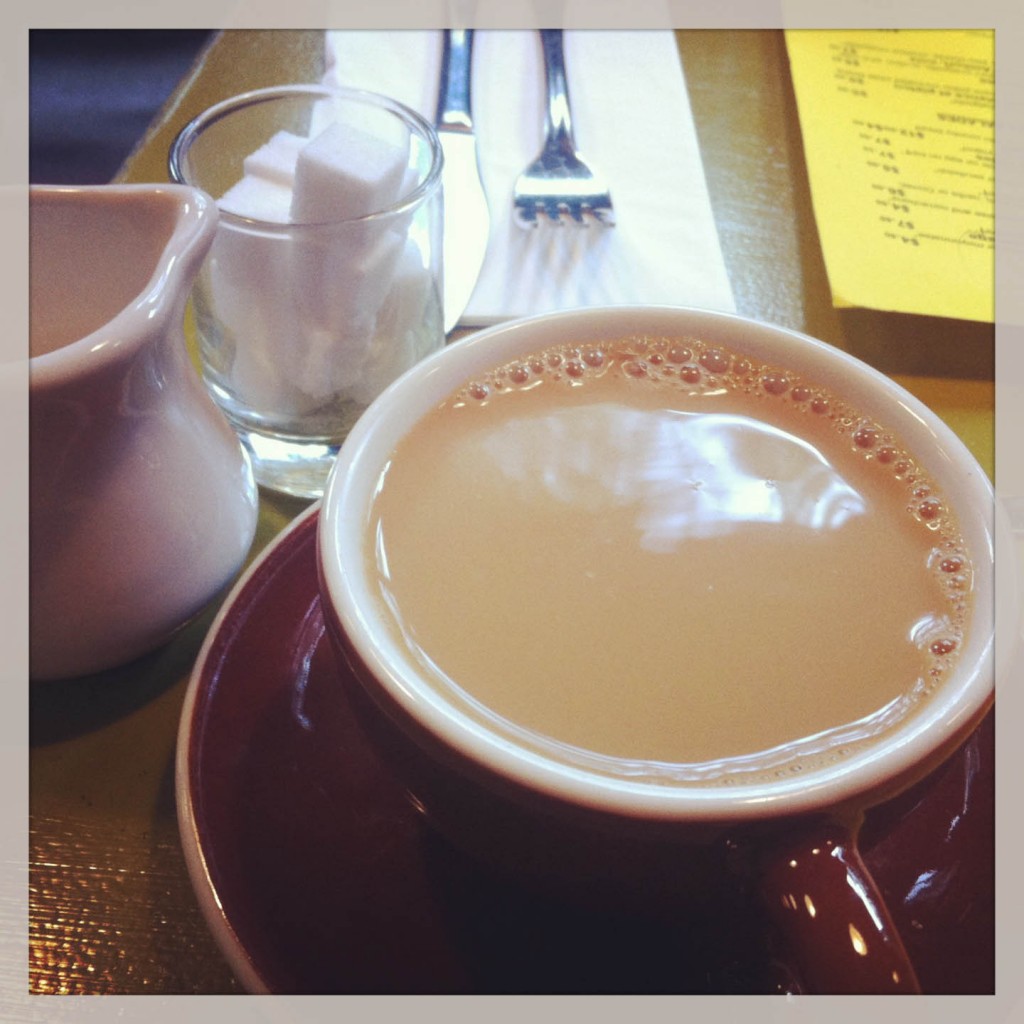 Michael got an omelete and I got two boiled eggs on top of a piece of ham with melted gruyere on it. Sounds decadent but it didn't feel like it. It felt healthy and delicious.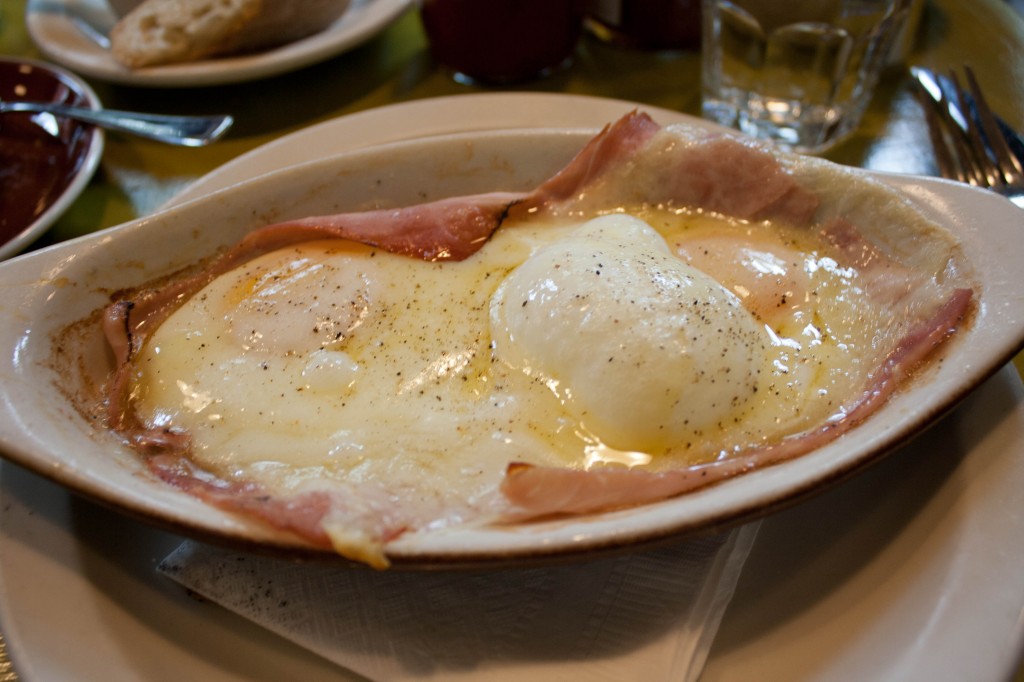 We went to Pike Place Market and walked around, then to EMP – Experience the Music Project – under the Space Needle. I've wanted to go for years and finally went. I think it's a cool museums and definitely worth a visit but it's pretty spendy, so be prepared.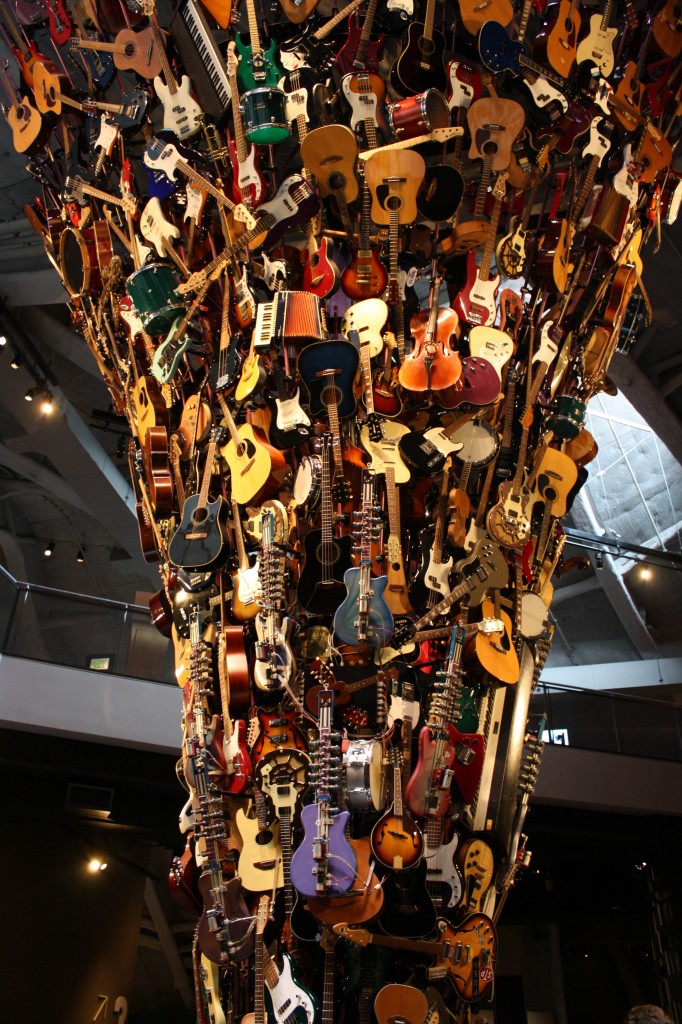 The Jimi Hendrix exhibit was pretty cool (especially seeing some of the hand written letters, contracts and his jackets). The Nirvana exhibit was AMAZING–like too amazing for words but they've been my favorite band since I was 12 years old so there's a lot of history there. There was a very cool horror movie exhibit with lots of memorabilia (like the ax from The Shining, the zombie suit from Thriller, etc etc). The Sci-Fi exhibit was just ok (they had Christopher Reeve's Superman outfit on display), but I'm not a huge sci-fi fan. The fantasy display was cool, there was a history of guitars and finally "women who rock" (and I'm kind of annoyed that the display of women in rock is their outfits–like couldn't they have more than the clothes the women wore???).

We had a late lunch at Ray's Boathouse and Cafe in Ballard. It's a huge restaurant right on a pier next to Anthony's Homeport with outstanding views of Puget Sound. We got a table by the window and I ordered a half order of the fish n' chips and Michael got the blackened rockfish with seasonal vegetables.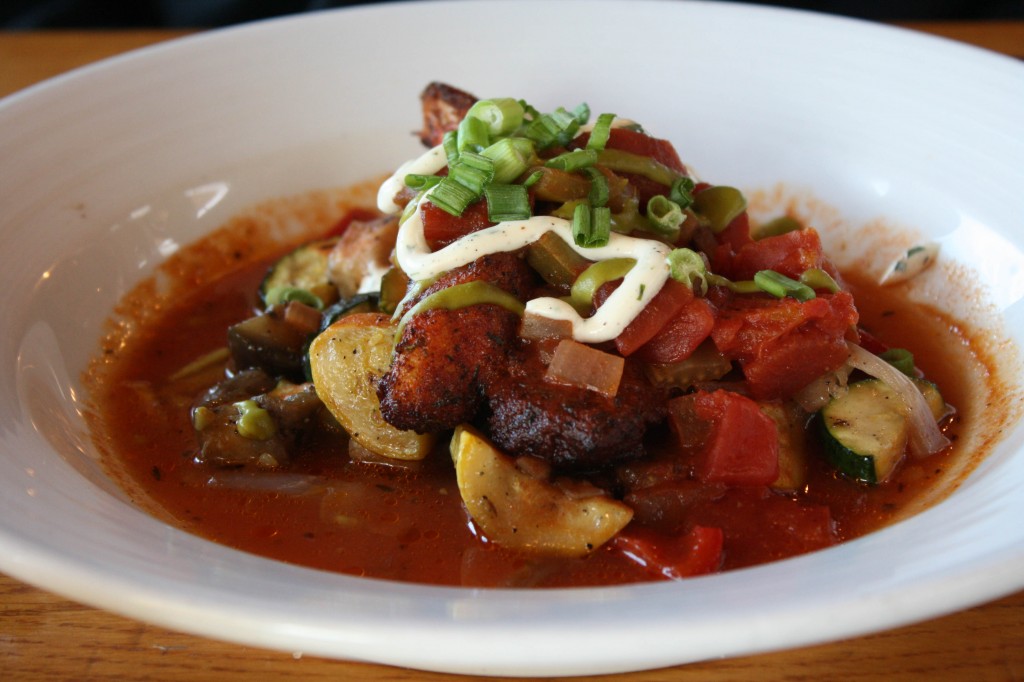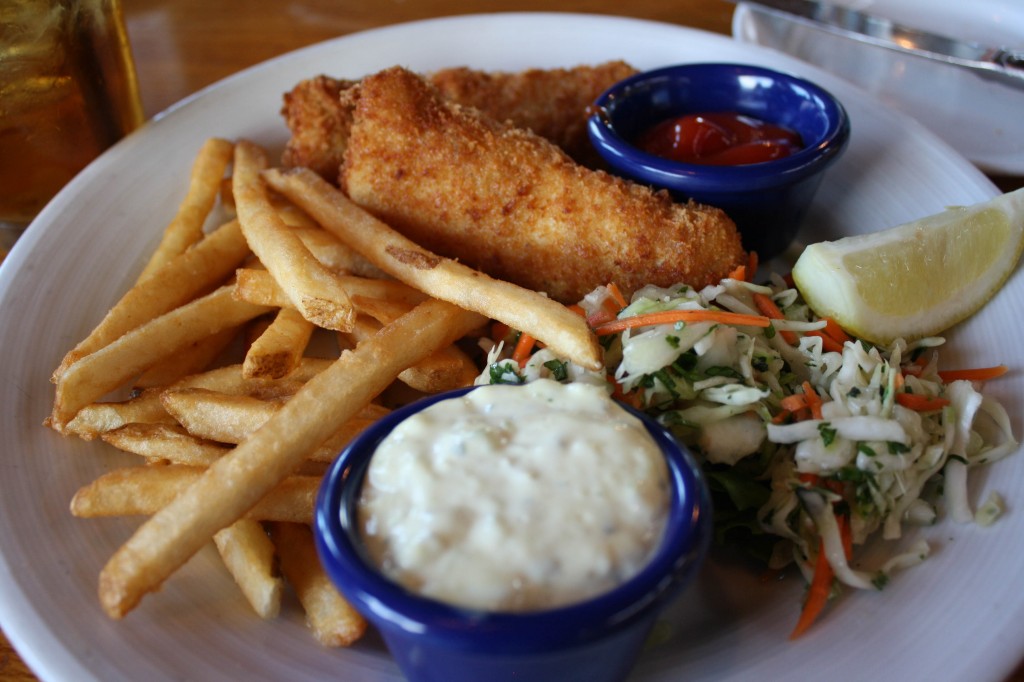 I'm glad I got the half order. It was plenty of food. I couldn't leave Seattle without having some seafood and sitting by the water while I eat it. 🙂 Ray's was a great place for food and views. The service left a little to be desired; our waitress was pretty much invisible the whole time, but the place was completely packed (which was odd for 2 in the afternoon) so I guess that's why. I loved my cod fish n' chips and Michael said the rockfish was the best food he'd had that weekend.
We left Seattle with our skin a little pinker from the sun, my heart a little heavy with homesickness, and a happy feeling of doing fun things all weekend long. Hope you enjoyed the recap and hopefully it inspired you to visit Seattle!