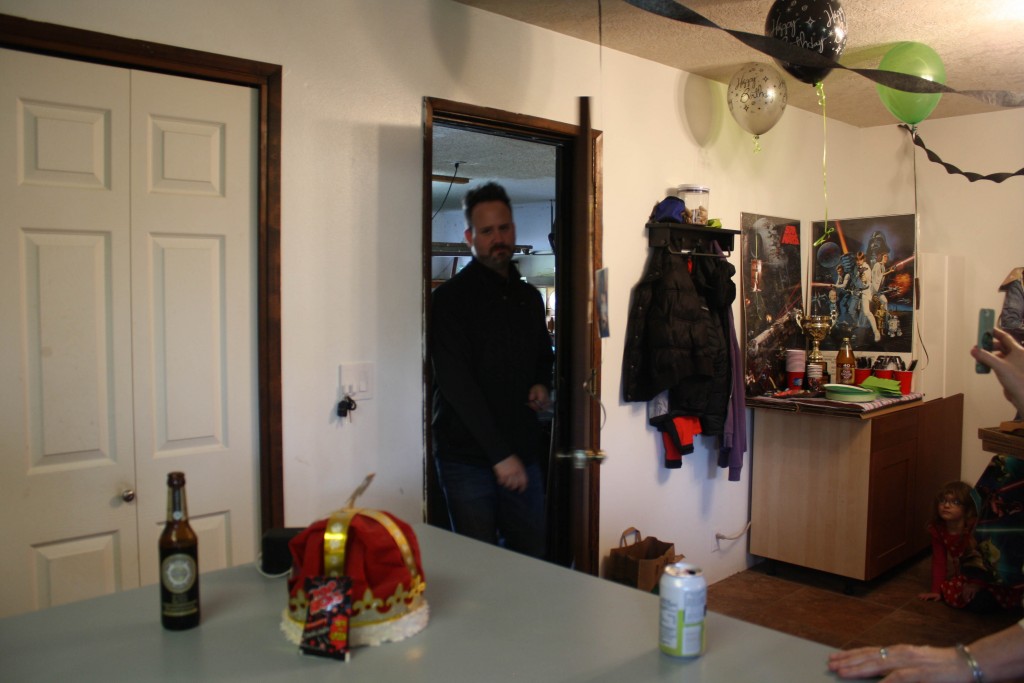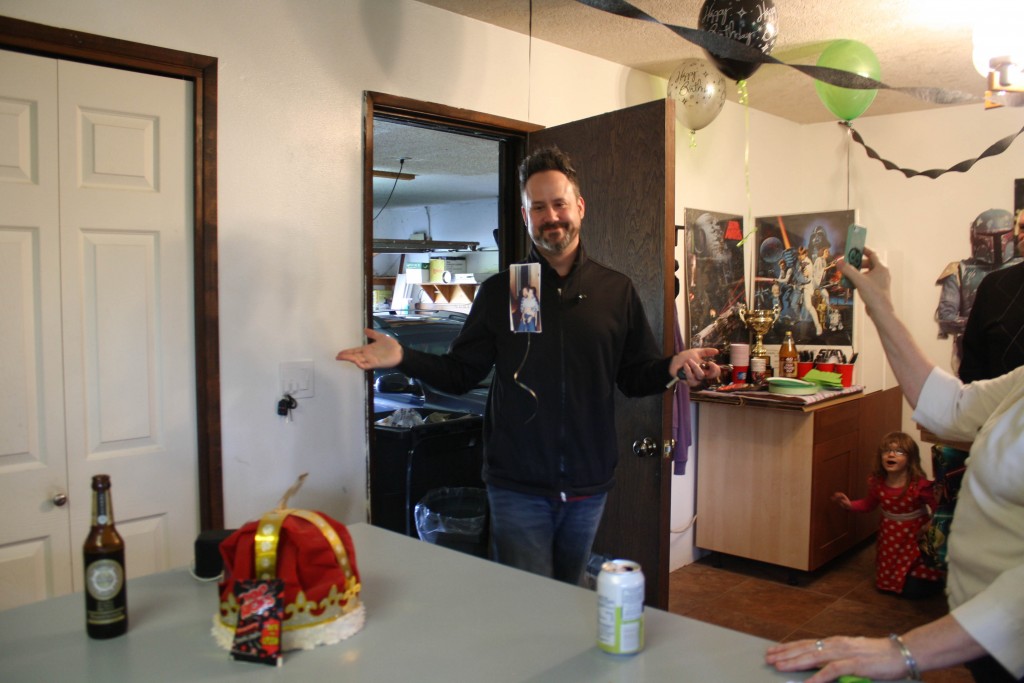 SURPRISE!
I knew I wanted to plan a surprise party for Michael's 40th birthday. It's a big date! I wanted him to be surprised and I wanted it to be special. I started thinking about it a few months before his birthday and was feeling a little overwhelmed. I've never thrown a surprise party before. I did throw a "sort of" surprise party for Michael's 35th birthday where I took him to his favorite pizza place and surprised him with a bunch of his friends also being there. That was a lot easier to plan.
But this time around there were more details to coordinate. I was throwing it at the house and at first I thought the kitchen remodel would be done beforehand but then some unforeseen scheduling things happened and I realized it wouldn't be. Bummer. Oh well, going forward I still wanted it at the house. It's cheaper than renting a location and easier to plan than trying to coordinate it at a restaurant (and I didn't want people to be expected to go out to eat).
The hardest part was trying to figure out how to get Michael out of the house so I could get everything ready and everyone could arrive. Michael's friend Jeremy came down from Seattle and he helped get him out of the house while I cleaned and set everything up!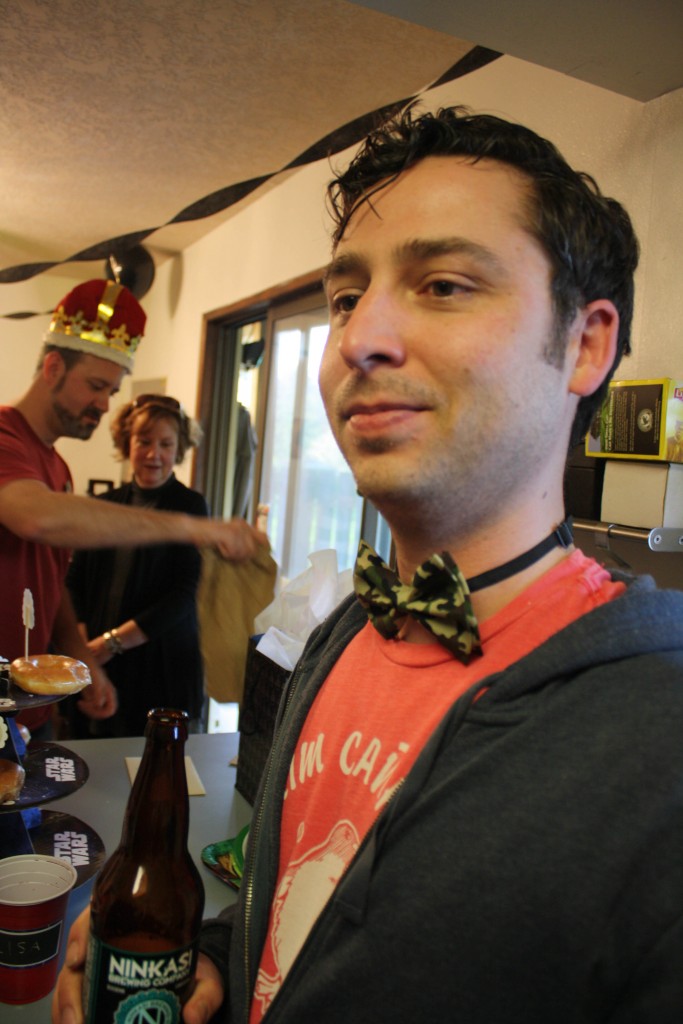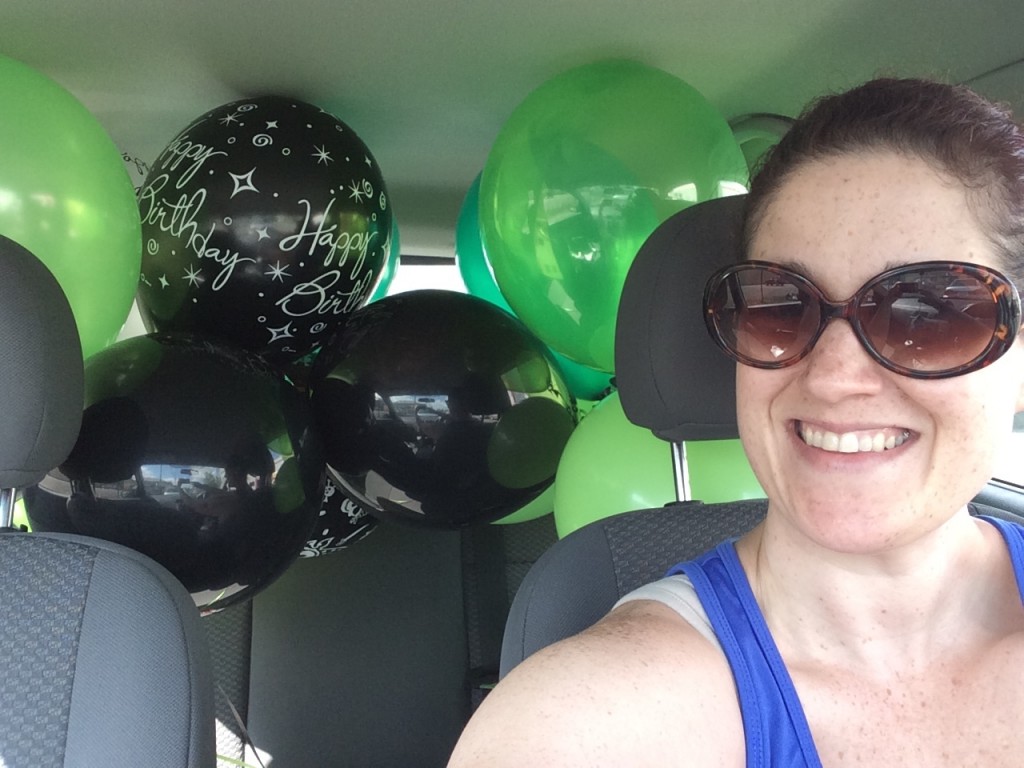 I wanted to have a Star Wars themed party because that's Michael's thing (and I hate Star Wars and it makes him crazy that I won't watch the movies). It was actually surprisingly hard to find Star Wars themed party stuff. I went to a bunch of different party stores and ended up getting a few items on Amazon. Then I discovered that Michael had a bunch of old Star Wars posters in the garage. Perfect! 😉
I had a Star Wars table cloth, plastic cups and plates. Then I got a Star Wars cupcake tower that I used for the donuts. I used the posters for decorations. I attached old photos of Michael as a child to the balloons and put them all over the house. I liked that idea (also from pinterest) and people seemed to enjoy seeing goofy pictures of Michael as a kid. 😀
I knew I wanted to get Michael's favorite foods: pizza (of course), donuts from Krispy Kreme (his favorite), and other munchie things. Michael's mom made her amazing blue cheese dip and a veggie tray.
I saw something on Pinterest that I wanted to make for the party: a PunchBox. It was pretty simple to make but it took a LONG time to do. I ended up doing it when I was in Seattle visiting family. My mom helped me do it and it turned out great. I got a bunch of fun and goofy items and then we went to Archie McPhee's to get a few more items. Basically a PunchBox was for party favors but a fun way to do it instead of making party favor bags. It was fun to make and I got a bunch of crazy things! Several toy unicorns, a blow-up unicorn horn for cats, a Big Foot air freshener, some various candy and mini booze bottles. I think there was a pirate eye patch in there and some other kid toys that I thought would be funny for adults to play with. So I made it in Seattle and then had to sneak it into the house when I got back and hide it from Michael.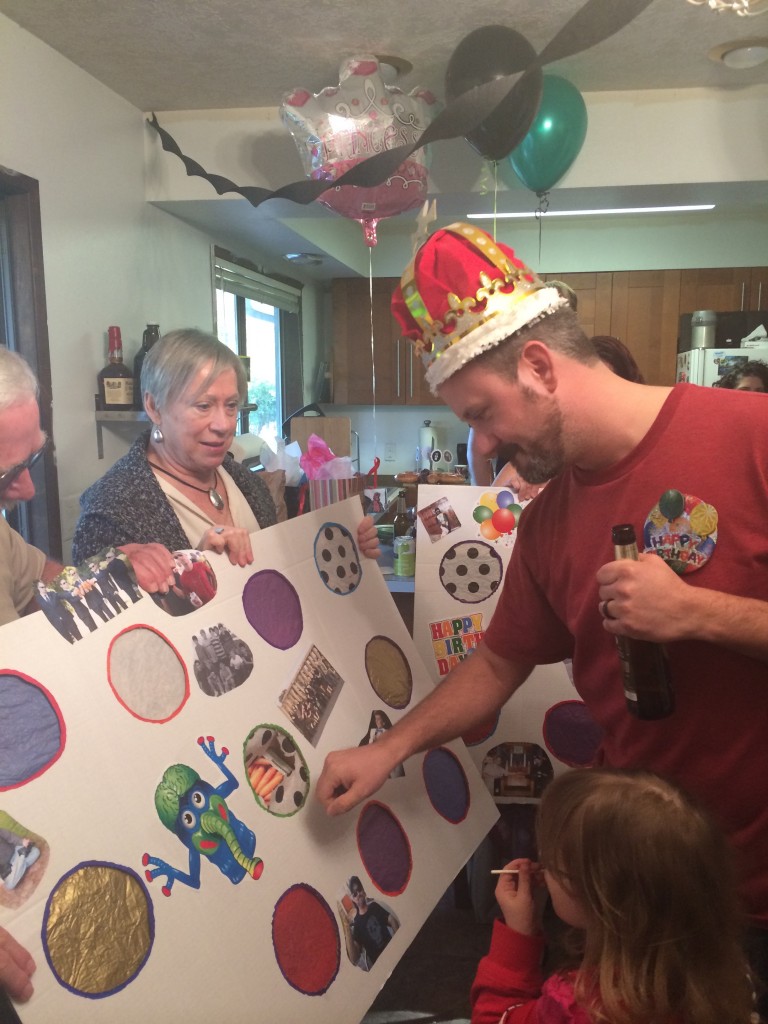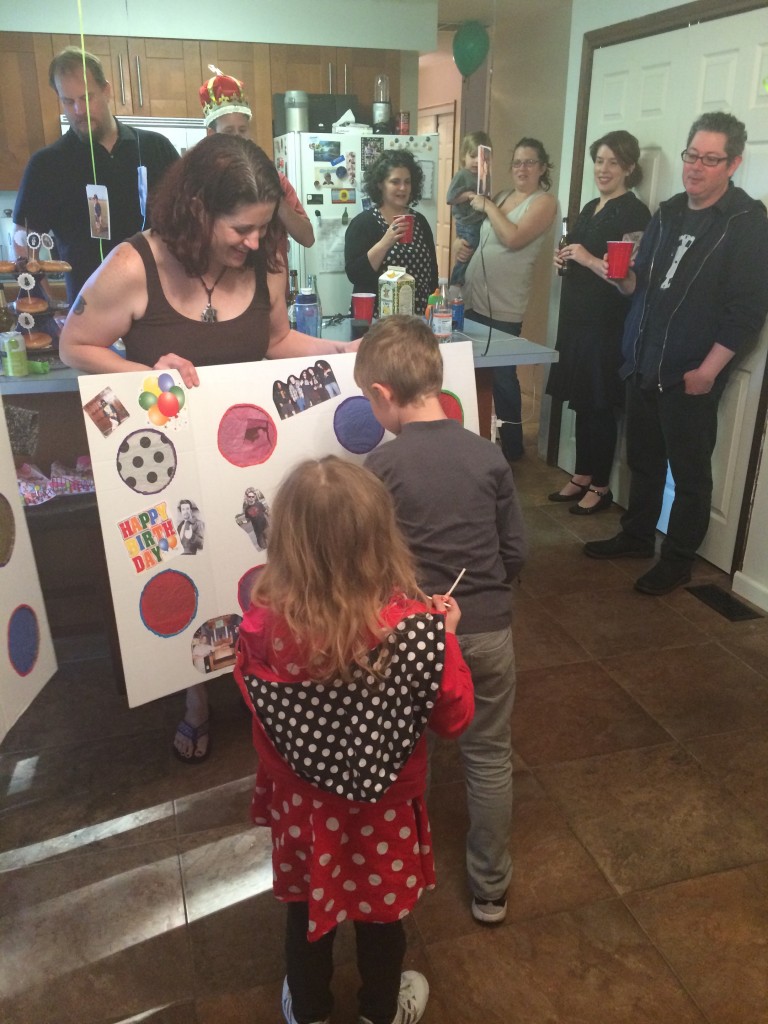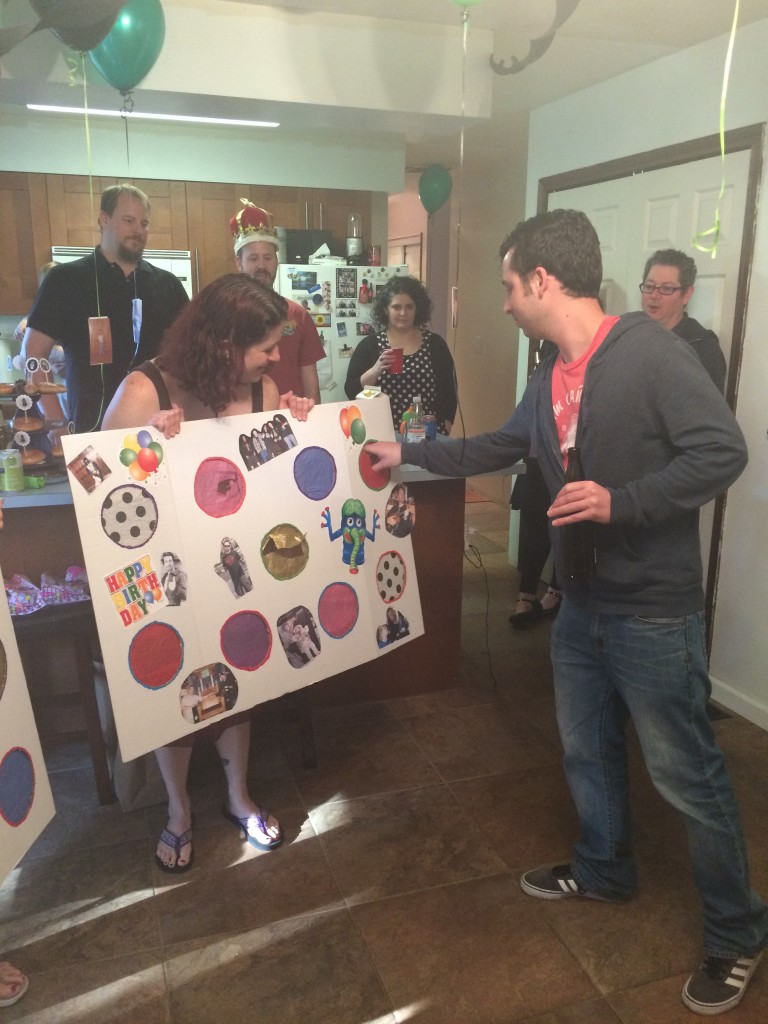 Everyone seemed to have a fun time with the game, so that made me happy! Thankfully the weather was nice so the kiddos could run around outside and play. They all got hopped up on sugar from soda, candy and the donuts. Sorry parents….!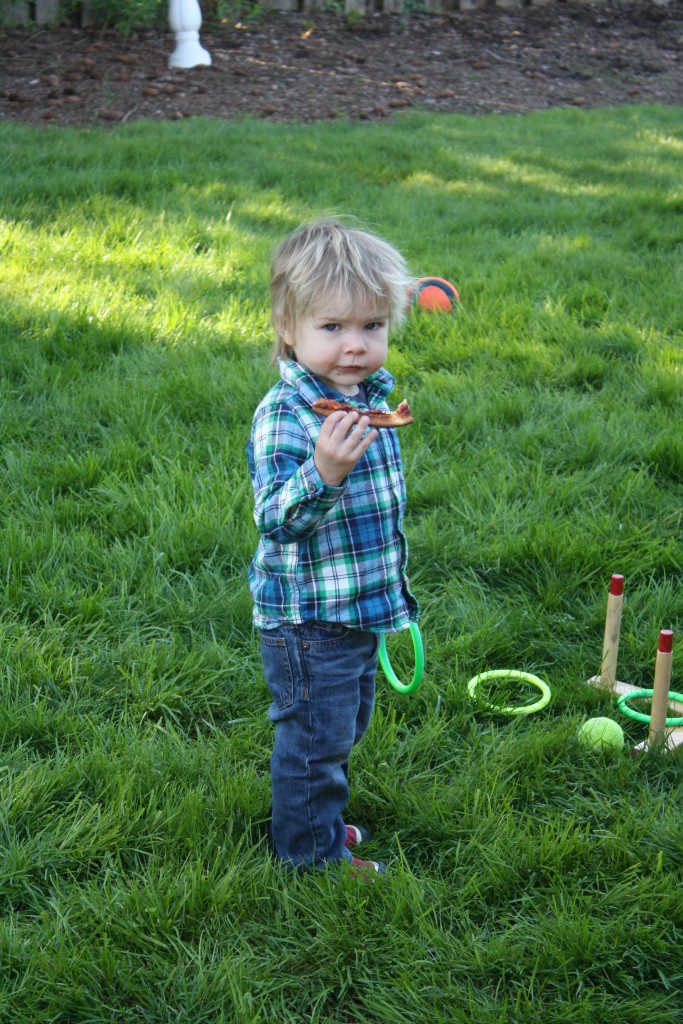 Mmmm Krispy Kreme!
Most importantly Michael was SURPRISED and he had a great time and I'm so glad so many of his friends and family were able to come out for it. Our house is pretty small, but somehow we managed to fit in about 21 people. The birthday boy: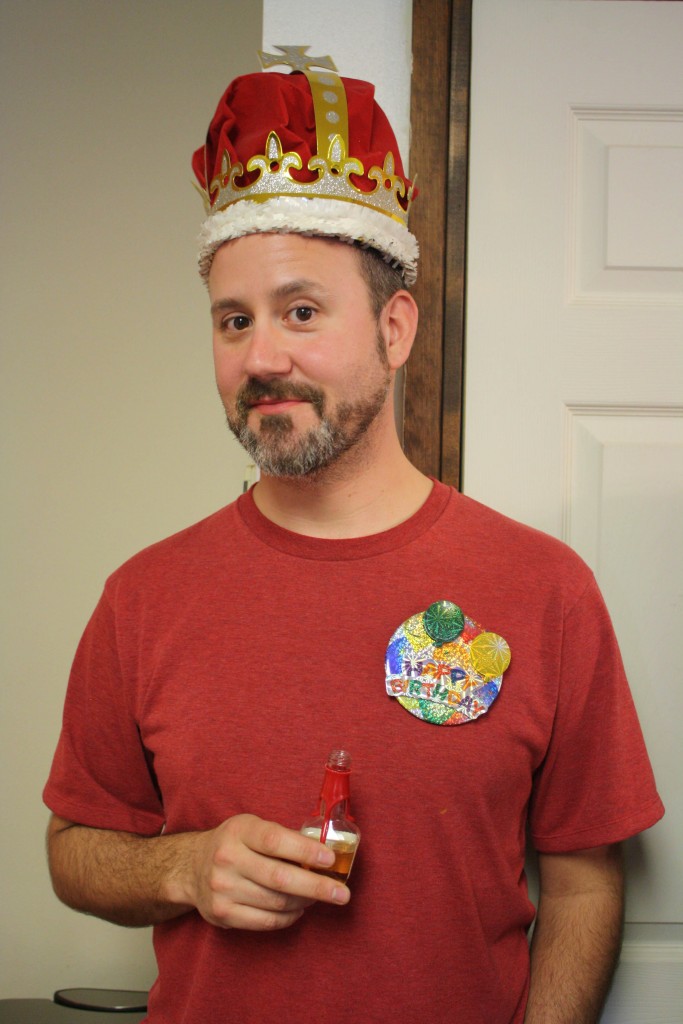 We did presents and some of the people had to leave but a bunch hung around for awhile longer and we hung out outside while the kiddos played with a ball until it got dark.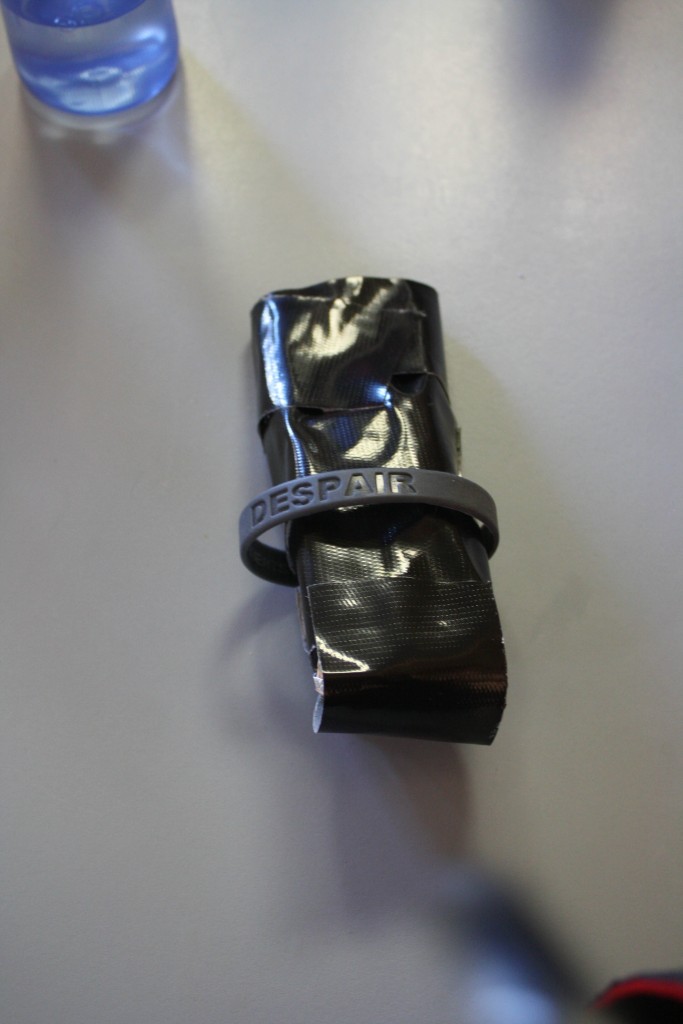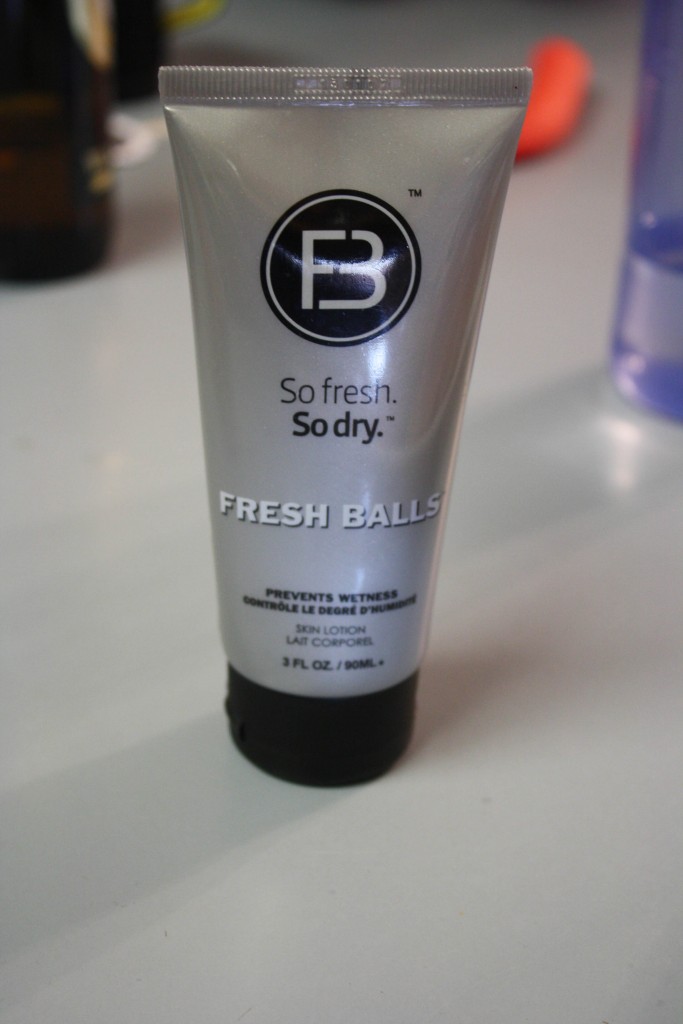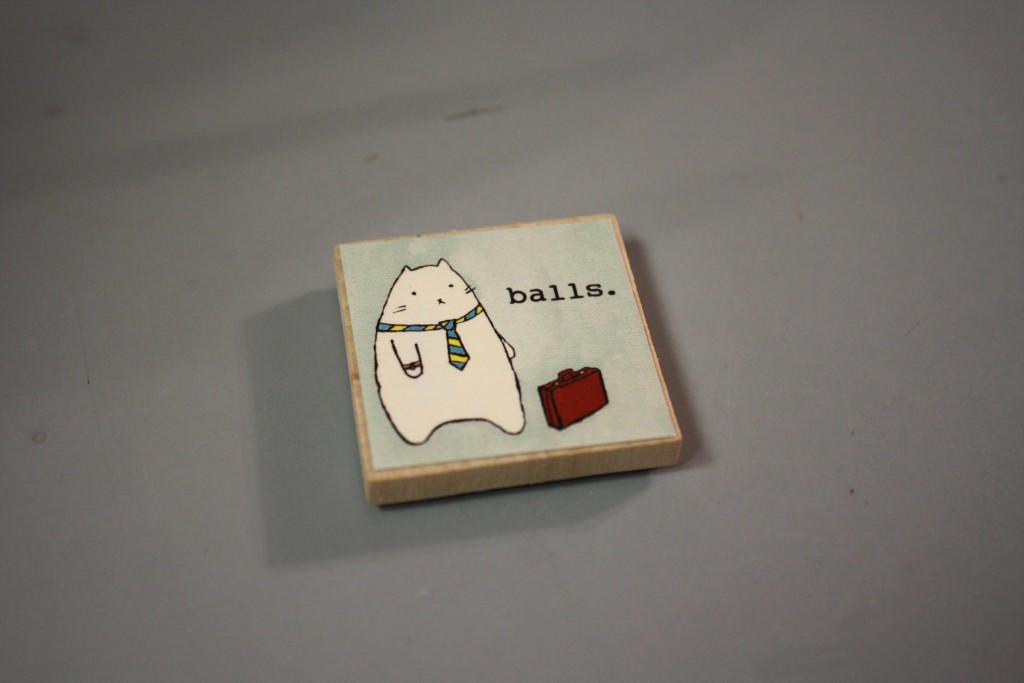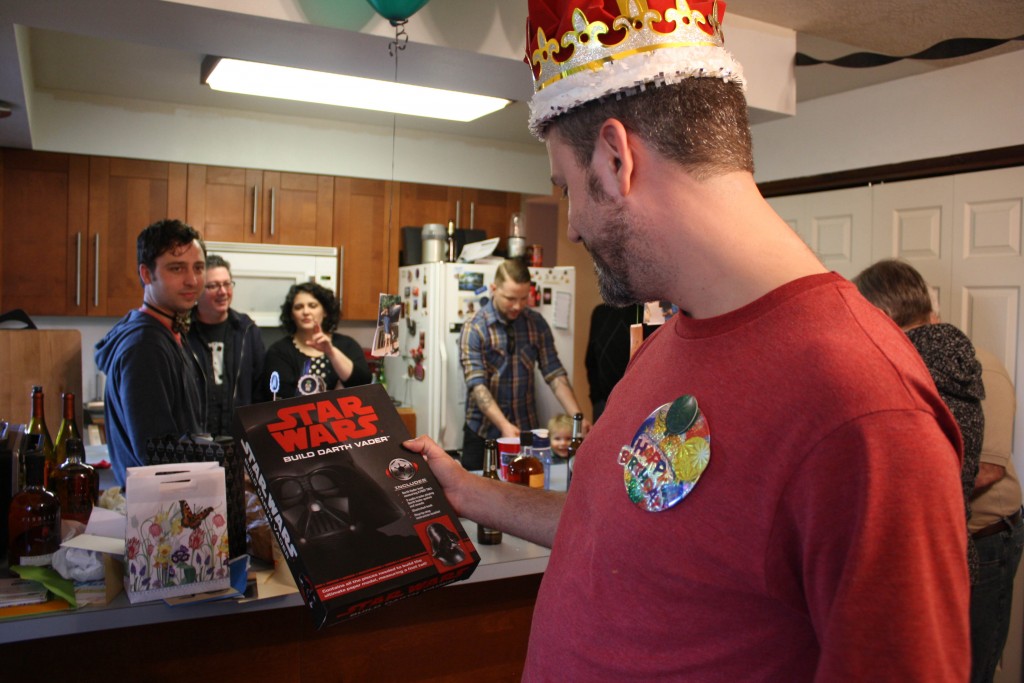 I would call the party a success! Happy birthday babe!