Michael and I have wanted to check out Feast for a few years now…a huge foodie event here in Portland that attracts chefs from all over the country to come here and showcase their art. Unfortunately it usually fell on a weekend we weren't available. Like when we were busy getting married. 🙂
Well for our 2nd wedding anniversary we got tickets to THE event! An evening with Franklin's BBQ! All the way from Austin, Texas. We went to Franklin's on our first trip to Austin a few years ago and it was AMAZING. How could we pass up another chance to have it–in Portland AND without standing in line for hours. 🙂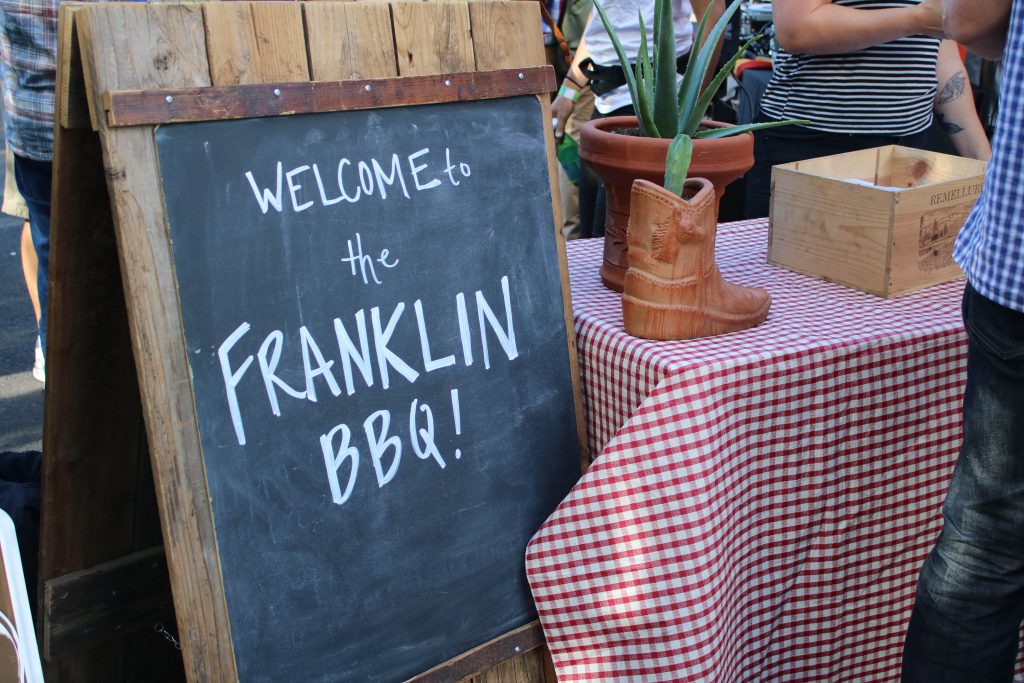 My parents came down from Seattle to stay with Logan. Michael surprised me last year for our anniversary with a gift card for the hotel we stayed in on our wedding night, The Paramount. Life got in the way (and a baby) and we didn't get a chance to use it. This weekend seemed like the perfect time to use it! So for our 2nd anniversary we stayed downtown and ate amazing BBQ. This post is all about our adventure.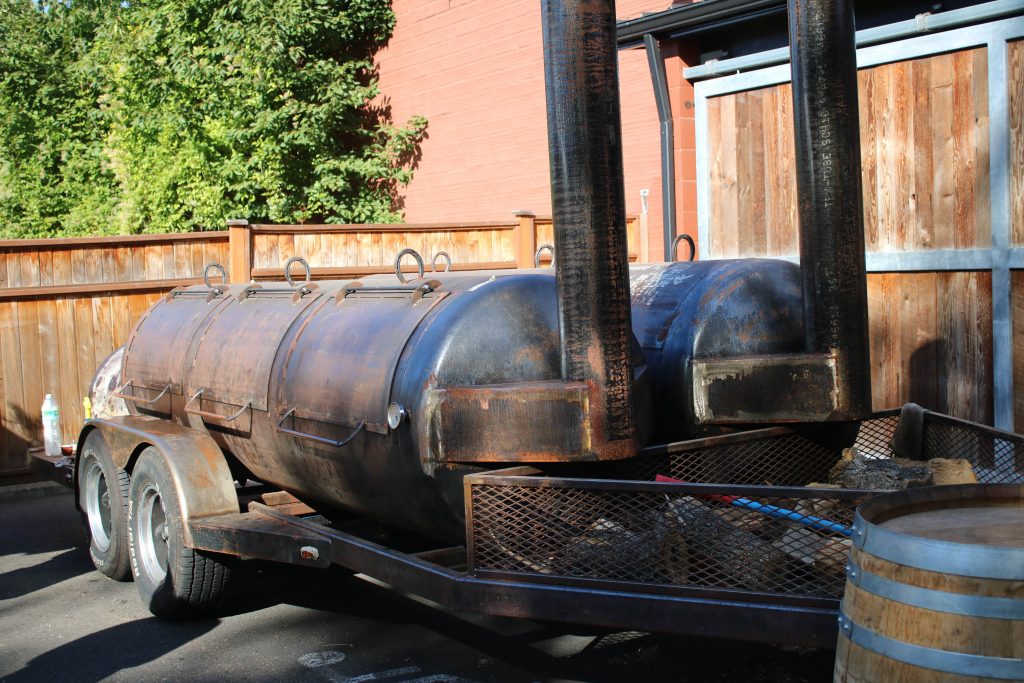 Feast isn't just a foodie event. Proceeds also go to charity, too, which is a good thing!
The Feast event was "intimate" — about 100 tickets or so. The food, drinks, gratuities, and desserts were all included in the ticket price. We got there a little before it started at 4 on Friday and once we got in we got in the drink line.
The bar offering was small, but that was ok. It was partly sponsored by Buffalo Trace and Deschutes beer and then local wine too.
We both got the IPA beer (it was pretty decent, not my favorite but good) and Michael later got the Session (I did NOT like that at all). It was happy hour for a bit while people mingled and found seats on the picnic tables.
There was also chocolate made with tallow and BBQ spices made by Franklin. I didn't know it at first. I just grabbed a piece of chocolate and was surprised it was kind of salty and spicy. I liked it a lot and then Michael later told me what it was made with! Shock!
We got seats kind of in the middle and we just chilled and enjoyed our drinks in the sunshine and chatted with our "neighbors". It was super fun meeting new people and talking about Franklin's. We made a friend, Patrick, who had moved here from the Philippines for work and he was really friendly and we had a great time talking about food events and the NW.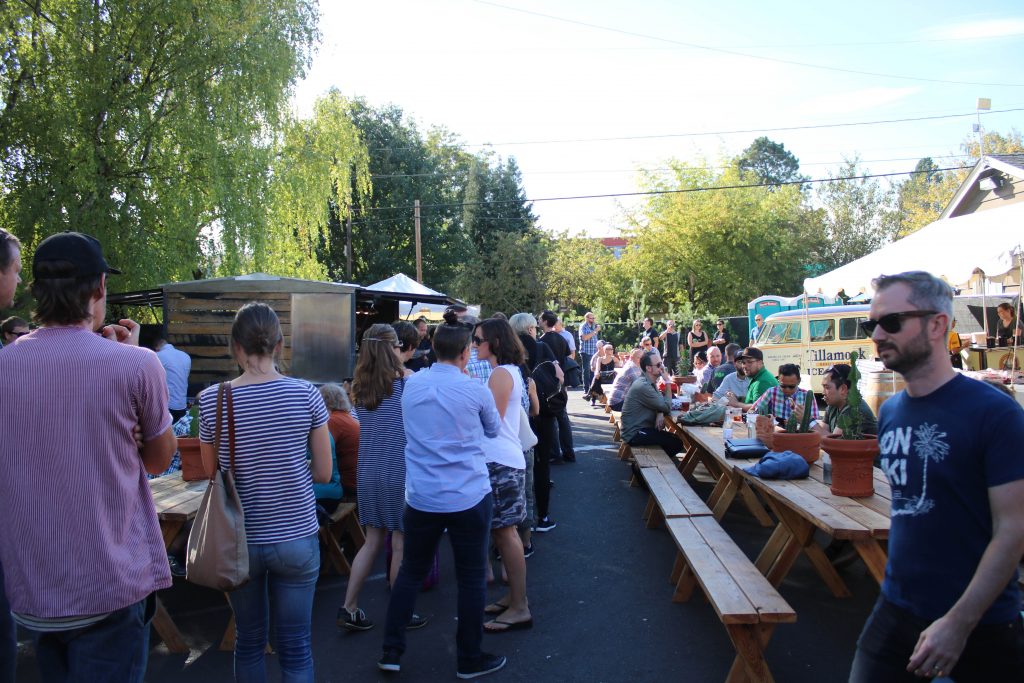 The vibe was really FUN! It was sunny, hot, there was a DJ there spinning records of old-timey country music (mixed in with some Willie Nelson and Dolly Parton). It was just a really fun time.
Aaron Franklin was really friendly and outgoing and made the rounds welcoming people, thanking them for coming, asking if we were having a good time. Then he made a quick speech and said "let's eat!"
We got in line for the food and chatted with people in line with us (just like the experience in Austin where we talked to the people who lived there). At least this time we didn't have to stand in line for 90 minutes to get food. 🙂 AND we were guaranteed food so no worry about them selling out like it did in Austin.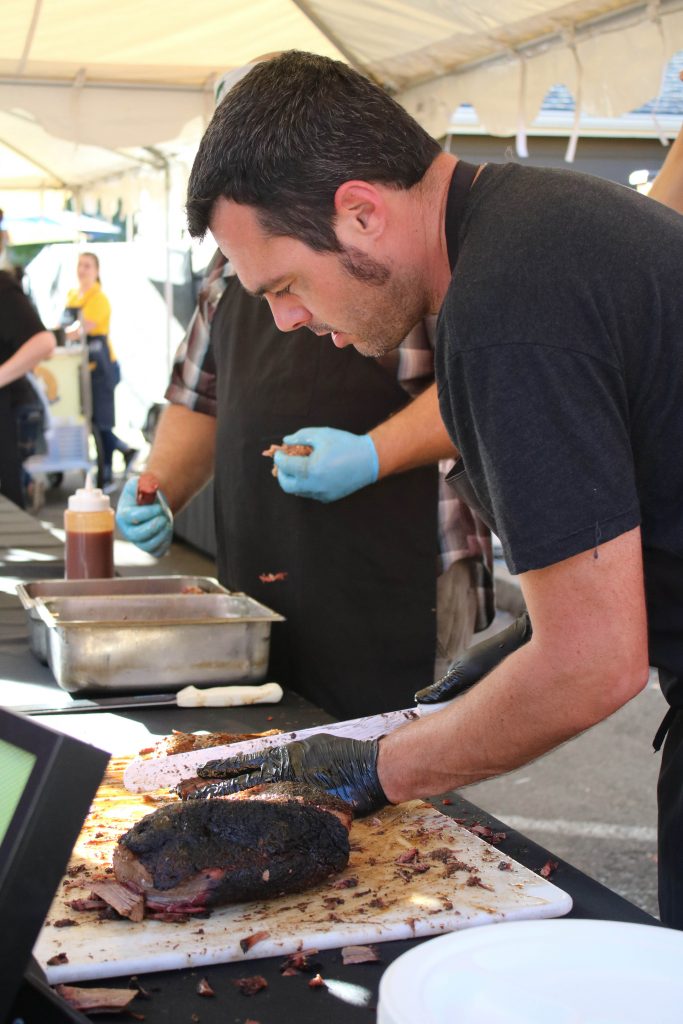 Your food porn photos:
So the dinner was a "sampler" plate but the portions were really generous! It was a lot of food! There was a rib, that if you picked up the bone the meat just melted off (seriously). There was a piece of sauce, some pulled pork (it was the best pulled pork I've ever had) and then of course, the melt-in-your mouth brisket that was like eating butter.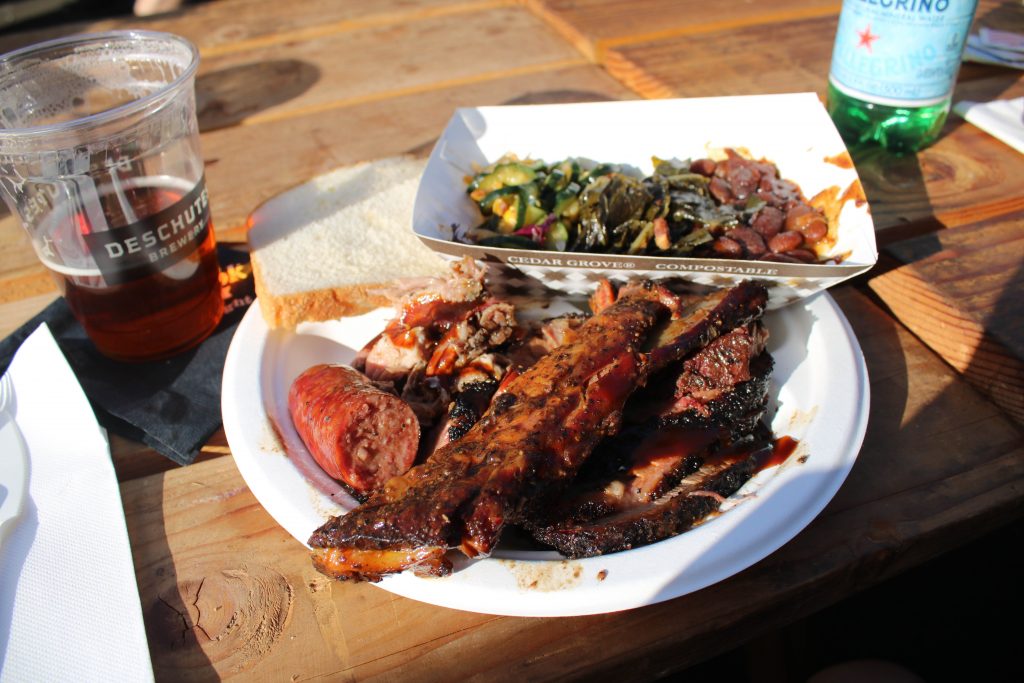 Dream come true! We got to eat Franklin's BBQ again!
Dessert was provided by Tillamook Ice Cream. There were three flavors: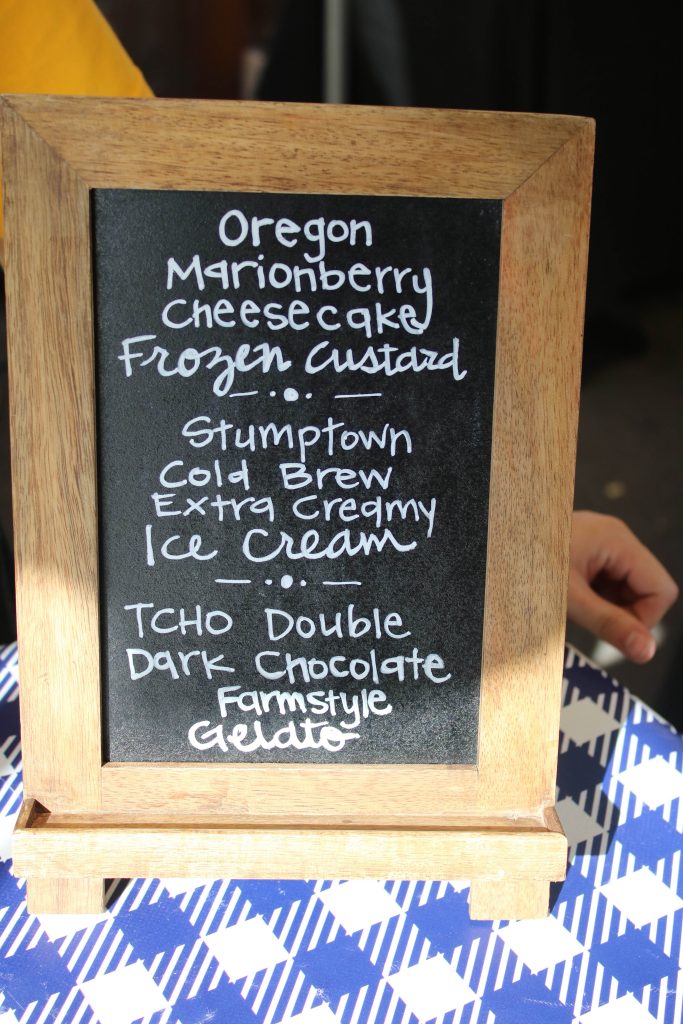 Wow were they good. I'm not a coffee ice cream fan but this was so smooth and mild it was absolutely delicious. Even someone who is not a coffee fan would like it. The marionberry custard was the best of the three. It was smooth and creamy and had chunks of marionberries and I think rice krispies in it. Finally, there was the chocolate with chocolate chunks. Also amazing.
Towards the end of the event celebrity chef Hugh Acheson showed up. That was really cool. We're both fans and love Top Chef so it was cool to see him in person. He was doing one of the other Feast events the next day, apparently.
We got to chat with Aaron and take some photos at the end. That was great. He was so friendly and nice. Michael got to talk to him about Austin and grilling and I got to take pictures. 🙂
To be continued….