A few weeks ago I was sent this cookbook to review: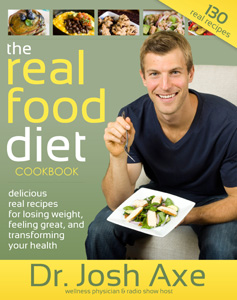 I tried several recipes from the cookbook and they turned out wonderfully!
The first recipe: West African Cashew Soup
The second recipe: Almond Encrusted Salmon
Both were successful and delicious. I'm really excited about trying some of the other recipes in the book.
Here comes the best part: They sent me an extra copy to give away to one lucky reader! You can check out Dr. Axe's website here.
I will pick one lucky reader on Wednesday, December 1st.
To Enter:
1. Leave a comment here telling me what you are looking forward to most about the Holidays.
2. Post about this Giveaway on Twitter: "I want to win the Real Food Cookbook from 110pounds.com. http://wp.me/p116Lc-2u8 @lisaeirene" and leave a comment here telling me you did.
3. Join my Facebook Fan Page HERE and leave a comment telling me you did.
4. Post a link to this Giveaway on your own blog and leave a comment here telling me you did.
You can enter as many times as you want. Good luck!