I love coming home from work and finding a random box in the mail!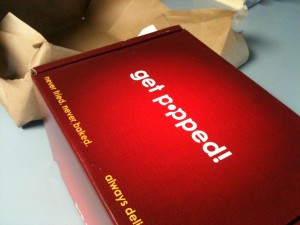 POP CHIPS! Woot! Last week the folks over at Popchips sent me a care package to try their product out.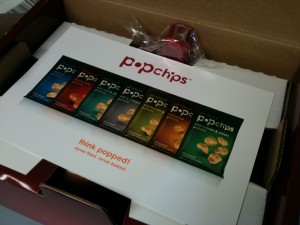 Inside the box were a bunch of different flavors, a chip clip, and some coupons.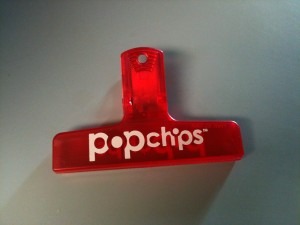 Popchips are:
Less than half the fat of fried chips
No trans fats, no cholesterol, no saturated fats
No fake flavors, colors, no preservatives
100 calories a serving
So here comes the giveaway. They gave me a bunch of coupons and I want to share with my loyal readers! This giveaway was NOT sponsored by Popchips, I'm just feeling generous. 🙂
What You Win:
1 coupon for a Free Bag
1 coupon for Buy 1, Get one Free

2 coupons for $1 off a bag
The coupons are good at: Whole Foods, Target, Wegmans, Ralphs, Duane Reade, Safeway, Fred Meyer and they expire 12/31/10.
How To Enter:
There are three ways to enter. You can do all three or just one.
1. Leave a comment here telling me one thing that you wish I'd write about on 110 Pounds and Counting.
2. Tweet this giveaway: "I want to win some free Popchips at www.110pounds.com" and leave a comment here telling me you did.
3. Write about this giveaway on your own blog and leave a comment here with the link.
I will pick a winner on Thursday. October 28th.
And the best questions you guys ask me will be written about in a "Ask My Anything" series of posts.
Good luck!