When I first got into cycling (because Michael was so into it, it grew on me) I bought a pair of low-end cycling shorts from the Pearl Izumi outlet store. They worked great. They may have been low-end in price but the quality was decent.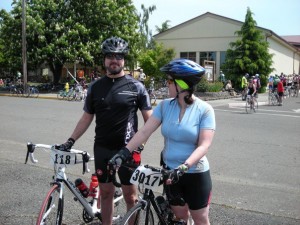 The chamois (padding) was actually pretty good for being entry-level. These bike shorts are my favorite because the padding is good and it worked well for long rides. I biked Reach the Beach in these shorts (55 miles) and when I do long rides in training for the Portland Century I use these shorts.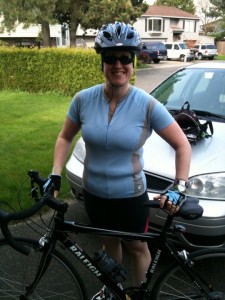 The problem with Shorts #1? They are a size medium and the waist is tight and uncomfortable. Depending on how much I weigh it can dig into my skin and irritate it. (When I did Reach the Beach I was 10 pounds heavier than I am now.)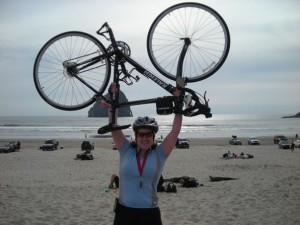 Bike Shorts #2 are a pair of Sugoishorts that were sent to me from a company last year. They are higher quality than the Pearls but the chamois doesn't have much padding. As a result I don't wear these shorts for long rides. They are a size Large so they don't dig into my waist.
Recently I ordered a pair of women's bib shorts.  I was skeptical about getting bib shorts but Michael raved about them so much and he loved how comfortable his shorts were I decided to give it a try. In fact, if you missed it, he wrote a post on Why You Shouldn't Buy Cycling Shorts.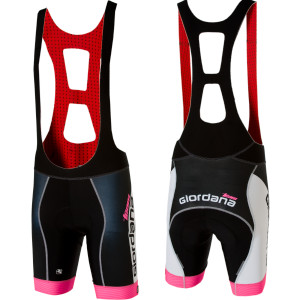 First I have to say that the service I got from RealCylist.com was amazing. I ordered the shorts on the Friday of 4th of July weekend and received them Tuesday! I was expecting it to take at least a week, especially with the holiday.
I tried on the bib shorts and they were too small. I went off the sizing chart and it said I was a medium according to my measurements. Not so much. The return was super easy. I printed out the UPS form and dropped it off and my exchange came a few days later. So easy!
I received the size Large and it turned out they were defective–one leg was tighter than the other. I called, spoke to a human being (what a change!) and they immediately shipped out a replacement. I called on Monday night and received the replacement Wednesday! That's what I call service! And the new pair fit like a dream! They are perfect.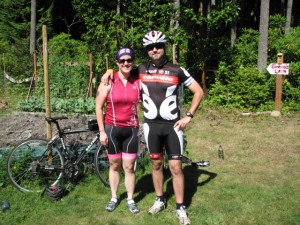 Details about the Giordana Forma Red Carbon Custom Bib Shorts:
Aerofix waistband and bib, which consists of Ametista backed with stretchy, breathable Antigua fabric, holds the shorts in place without pressure points or digging
Wide Aerofix cuffs offer extra support and prevent the short from riding up
Low-profile Alta OmniForm chamois, Giordana's top-of-the-line insert, provides low-bulk comfort, protection and support
Rear micromesh panel is treated to enhance wicking

I wish I hadn't waited so long to try the bib shorts! What a difference in comfort they make. I'm not entirely happy with the chamois in my new bib shorts, though. After a few longer test rides I noticed that the padding wasn't quite enough. I know there will be a way to fix that though. It's not a total loss: I found out the superior comfort of bib shorts! I am converted!
QUESTION: What do you wear when you bike? Have you tried bib shorts?