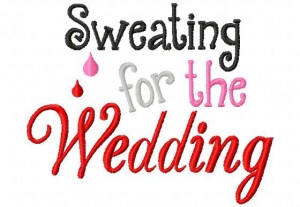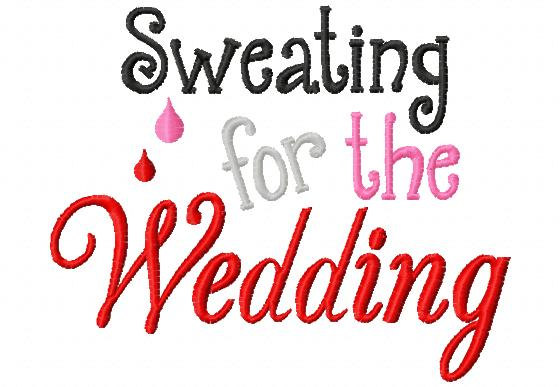 With all the Pinterest, Etsy, various bridal websites I've been perusing lately, I've come across a common topic in all of them: the "Sweating for the Wedding" topic.
First off, I totally get the desire to look our best on our big day. I definitely want to look my best. I'm anxious mostly about having a breakout of acne on my wedding day than anything else, honestly. Of course I want to look healthy and beautiful, but I really don't understand the immediate obsession to lose a ton of weight for one day. And I know that this is the complete opposite of what motivated me to originally lose the weight (my brother's wedding)!
Looking at various wedding websites, I see tons of "How to Lose Weight For Your Wedding" and "Wedding Diet" information. It made me kind of sad. Weddings are stressful enough, but adding to that extensive planning a diet and a goal to lose a massive amount of weight sounds so stressful to me. The pressure for brides to look PERFECT and be SKINNY is nauseating. What about looking your best at whatever weight you are? And WHO are we losing the weight for? Our fiance? He already knows what I look like, has seen me at various weights up and down, and accepts me for who I am and not how much I weigh.
If you look through the wedding section of Pinterest, what you often find are Fitspo images, diets and exercise programs like "Sweating for the wedding." Honestly those Fitspo pictures don't motivate me, they often make me feel badly about myself, which is stupid because I am okay with where I am at and how I look.
I've always had that desire to lose "those last few pounds" that never go away, but I don't envision myself suddenly obsessed with boot camps and cross fit and fad diets and fasts to lose those last few pounds. I'm at a healthy weight and I'm good with that. There are a few "I had a really good summer" extra pounds but that will take care of itself with continued work.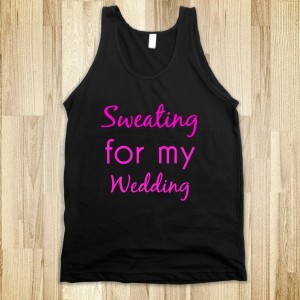 I'm happy that I haven't felt any pressure from anyone in my life to get "fit" for the wedding, or to lose weight. I think my family and friends remember how far I've come and know that I don't need to push myself to be skinnier. Skinny was never my goal. Fit was my goal.
Looking into this topic I found some very scary things! Like this New York Times article called "The Bridal Hunger Games".
"In March, Jessica Schnaider, 41, of Surfside, Fla., was preparing to shop for a wedding gown by spending eight days on a feeding tube. The diet, under a doctor's supervision, offered 800 calories a day while she went about her business, with a tube in her nose." (source) 
EEEEK!! Scary stuff. Wedding topic aside, anytime I read a blog or see on Twitter that someone is attempting to lose weight by eating less than 1000 calories a day, I shudder. I feel so badly for them. Starving ourselves is NOT sustainable and not the way to get to goal weight. "Any extreme low-calorie diet is associated with side effects, kidney stones, dehydration, headaches," Dr. Aronne said, "and if you lose muscle mass and water, what's the point of that?" (source)
While that NYT article was startling and scary, this other article had a funny twist on it. Check it out: "Let's Get Skinny for Our Weddings With Nose Tubes and Desperation!"
"Although some brides are immune, it seems that for a certain personality type, a bride's instinctive drive to be unnaturally skinny on her Big Day is so strong that it rivals the chemical reactions responsible for heroin addiction or maternal protection. If you encounter a bride attempting to lose weight, do not make eye contact and slowly back away and tell her she looks great. Do not attempt to touch the tube in her face." (source) 
If you want to see something offensive and terrifying, check out this site. Ugh. Awful. And even more scary and tragic, the real life news of a bride who died after eating only 530 calories a day for 11 weeks.  So so so sad…and not worth it.
Yeah….You won't be seeing any "sweating for the wedding" workouts on this blog, or fad diets or me with a feeding tube. I intend on continuing the same level of fitness (hopefully a little more once my knees are 100%) and counting my calories in a moderate way just the way I've been doing for the last 5 years!
So remind me in a few months when I complain about wedding dress shopping and the size shock…I know THAT will do some damage to my strong self-esteem. I know that because it's the same way I feel trying on European cycling clothes and having to buy an extra large!!! So remind me, it's all in my head, that stupid label means nothing. 😉