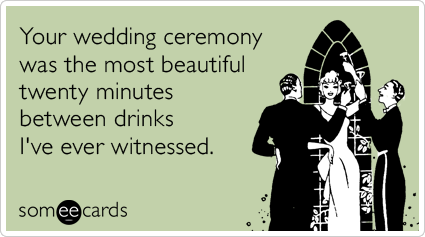 I know some of these observations are probably a big "DUH" for most people, but not having experienced the behind-the-scenes planning that goes into weddings until now, I was totally in the dark. I was a bridesmaid in my brother's wedding but I wasn't involved in any of the planning or nitty-gritty. I just had my own drama with the bridesmaid dress! I was the maid of honor in my best friend Rachel's wedding but she had a very short engagement (one month!) and did most of the planning on her own. She also lucked out in that it was a small wedding and most of it could be DIY.
The internet is full of wedding stuff! From planning guides to DIY obsession websites, to real life stories…you can find anything. This was an interesting article: The Eight Truths About Weddings (That No One Ever Tells You). Also, if you're planning a wedding, DO NOT google wedding horror stories. You'll give yourself nightmares.
So now for a few of my observations, and there might be a few rants in there.
Observations
1. It's easy to get overwhelmed with all the planning. Having a guide book in conjunction with an iPhone app reminder for planning was a lifesaver. The app was cool because I plugged in our date and it figured out my timeline for everything. No work for me! The only downside of the app was that apparently I am perpetually about a month behind on all planning. Who in their right mind has the venue and dress on day 2 of being engaged?!
2. You know all those picture perfect people on wedding websites and Pinterest? I'm pretty sure they are all models and the whole thing is staged. There is NO WAY a normal wedding looks that flawless. These people look perfect and once I realized that, I stopped expecting my own wedding to look perfectly!
Rants
1. Boy is it impossible to get a straight answer/quote from anyone. I found this to be the most frustrating part of the wedding planning process. I understand that vendors can't be 100% correct but an estimate should be pretty close. And not thousands of dollars off, you know?
Where I found this the most was reviewing caterers. None of the websites had estimates of cost on their sample menus. The range was absurd, too. It could be from $25-50 per person. The variables were so abstract I just couldn't wrap my head around it. Not only that, the ones that DID include costs for all the services were really overwhelming. And again, no bottom line. I'm a bottom line kind of person.
2. Weddings are definitely a business. I already kind of knew this but finally witnesses the up-selling that goes on, I just had to shake my head. The wedding industry wants you to go broke on things you just DO NOT NEED.
One of the things I crossed off the list immediately was favors. No offense, but I cannot remember a single wedding where the favors were something I wanted/needed/or even took home. My brother's wedding was beautiful but most people didn't even know that there were favors so they were stuck with a 100 leftover favors after the wedding. Waste of money!
3. Is anyone else feeling like they are being blackmailed or harassed by a loan shark while planning a wedding? What makes me the most mental about this whole thing is the ridiculousness of it all. Seriously. The same flowers I like are suddenly 3x more expensive when I utter the word "wedding." The caterers want to charge $10/bottle for corking fees?? This wine probably cost me $10!  It really does feel like highway robbery when faced with the astounding costs of things that NORMALLY wouldn't be that expensive. I'd be lying if there weren't a few times during the planning that I thought, We should have eloped in Vegas…
Lessons Learned Along the Way
1. I am positive that this wedding is here to teach me how to be PATIENT. I am so not patient. About anything. In fact, I am probably the most impatient person ever. But I have to wait on a lot of people to make decisions and to get back to me and I'm slowly learning that it's okay if it takes a few days, or a week….
2. This kind of goes along the lines of being patient: WAITING. This is probably the most important thing I've forced myself to do. The initial excitement of the engagement, wanting to get started right away on planning, too much time on Etsy and Pinterest…there have been several times where I was tempted to start ordering things. I AM SO GLAD I WAITED. Wait wait wait. Seriously. The first few months of planning everything is fun and it's easy to get overly excited and not think things through. Or make frivolous choices.
3. What Michael and I want is what is important, not what we "should" do. A lot of people were shocked (or concerned) that we weren't having a wedding cake. I've never had a wedding cake that tasted good. I think they are beautiful but unnecessary and way too expensive. For years we've been talking about doing Krispie Kreme donuts, brownies or cupcakes. I know cupcakes are the new fad, but basically I want anything BUT wedding cake! Whenever people balk that I'm not having wedding cake, I want to say, "Don't worry. There will be dessert. You know me! Have I ever passed up dessert?!"
4. Go with my gut. There were a lot of vendors I corresponded with and some of them just gave me a bad vibe. I'm glad I went with my gut. If I'm spending a lot of money for a big event, I don't want to hire someone who is unreliable for flaky. For example: one caterer I contacted was so disorganized I finally just said no thanks. She tried to email me menus as an attached four times and they were only attached twice. One of the times she attached the wrong invoice. Then there were two different people responding to my emails, but no email signature, no explanation as to who they were, the email address wasn't from a professional site (it was like "butterflykisses@msn.com" or something weird). The whole thing just rubbed me the wrong way! Seriously, if someone can't handle emails, how can they coordinate an event for more than 100 people!??!
Finally
Despite the sticker shock and the occasional frustrations, I'm still enjoying the process. I love being engaged. It's a fun time and I think the longer we take to make decisions on things, the better. After the initial excitement of things, most of the frivolous stuff seems unnecessary and easy to say "no" to.
We have plenty of time for planning and I'm not too worried. I think things will just fall together as they should.
QUESTION: What are your wedding rants/observations/lessons learned? Any words of wisdom?