I took a week and a half off from training/running recently. A hike we went on that was a lot steeper than I was hoping and my everything hurt for a good week–shins, knees, quads. I knew enough about my body and injury history to chill out for awhile and go easy. I decided after the mini break that I needed to repeat Week 3. I ended up repeating Week 3 a few times in fact!
A reader, Denise, left a great comment on the last post: "I love the C25K until I get to week 5. I think it's just too big of a jump by going from running 8 straight minutes to running 20 minutes (for a true beginner). I have repeated weeks but always get stuck at this point." I was so grateful she let me know so I could pay attention to that and modify if needed.
I also downloaded a FREE Couch25K app that prompts you when it's time to walk, etc. I didn't like the free one so I ended up buying one for $1.99. The free one was very limited and only the first two weeks–plus it didn't let me listen to my music. The one I bought works great! You can choose the voice (which is limited in your options) that prompts you.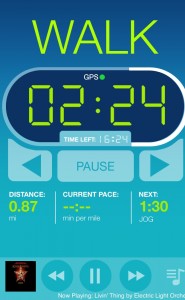 It shows very clearly what stage you are in and what is next up. The prompt is SO helpful. When I was doing the C25K program without the app before, I struggled because I'd forget that I  had to walk! So far I am happy that I bought the app.
Week 3 (repeated)
Monday – Rest Day
Tuesday – 1.85 jog/walk/run on treadmill in 29 minutes, followed by weight lifting
Wednesday – Warrior Room -1/2 Isolation, 1/2 Tabata class
Thursday – Rest Day
Friday – 1.25 mile swim
Saturday – Weights followed by
Sunday – Yoga
Week 3 (Again)
Monday – Rest Day
Tuesday – Kettle Bell Condition class at the Warrior Room
Wednesday – Elliptical 2.5 miles
Thursday – Rest Day
Friday – Elliptical 1.85 miles followed by yoga
Saturday – Weight lifting followed by 1.75 miles on treadmill
Sunday – Swimming
I ordered some new workout clothes from The Clymb–it's a discount website. I'm happy with the compression tights I got and also a new shirt. The shirt has air "vents" on the side, which is nice. The tights are also nice but they are thermal so a little warmer than I would like. They'd be perfect for a cold morning workout outside but rather uncomfortable for hot weather or in the gym. The tights are "Skins Bio A200 Thermal Long Tights" and the shirt is a "Short-Sleeved Ventilator Web Top."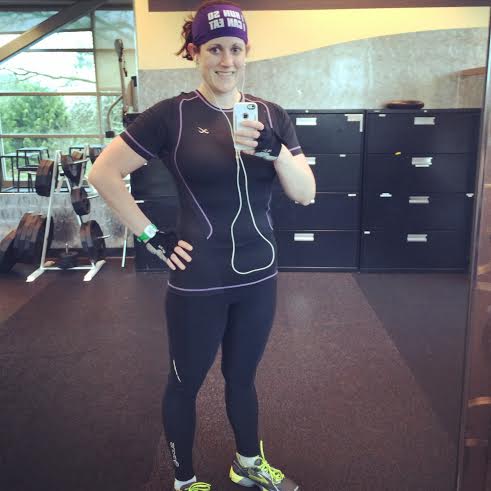 I was still working on week 3–It seems like I've done Week 3 about 3 times now and still haven't completed it. I don't know why but I only do about 1 or 2 of the scheduled runs in week 3 and still haven't been able to do that third run.
Week 3 (LAST TIME!)
Sunday – yoga
Monday – 4.25 mile hike
Tuesday – Rest Day
Wednesday – 1.95 miles on the treadmill followed by some weight lifting
Thursday – Rest Day
Friday – swim 1.25 miles
Saturday – weightlifting and then 1.82 miles on the treadmill
I will tell you that the next update will NOT be more Week 3. 🙂 I am happy to be back running again. I'm glad I decided to do this program. It's a very different feeling to be so structured but I am already seeing the benefits of it.