Saturday morning the brood got up early and we all piled into the rental car to go to the Coast for the day. We decided to skip breakfast and go to lunch once we got to the Coast. I had some ice tea and a banana when I first got up. We stopped at 7-11 for snacks and I was tempted to get a muffin or something but I got carrots and a diet coke to tide me over until lunch.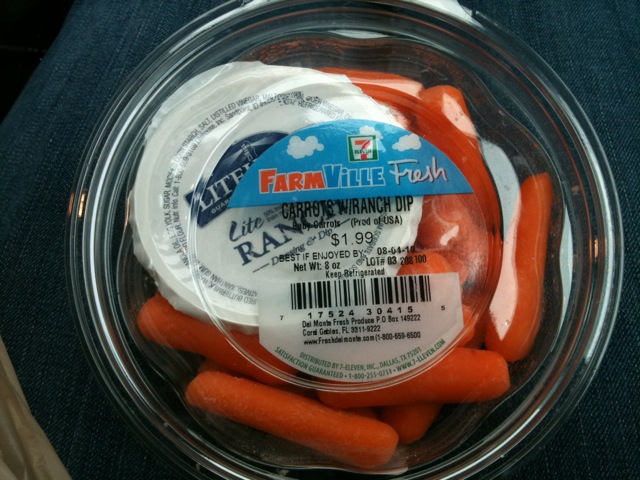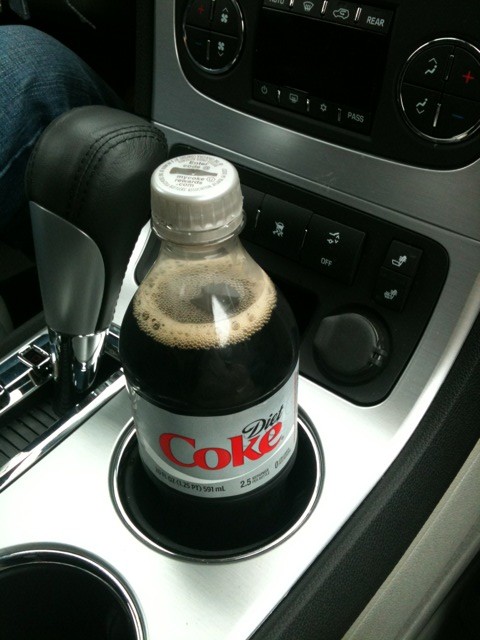 The drive from Portland to the Coast is very scenic. I knew our guests would enjoy it and they did. It's about a 90 minute drive through forest, rolling hills, mountains, and once we get closer to the Coast–fog hanging above the trees. It's a pretty wonderful spot in Oregon.
Once we got to Cannon Beach, we stopped at a restaurant called Dooger's for lunch. I was starving! I got a cup of clam chowder.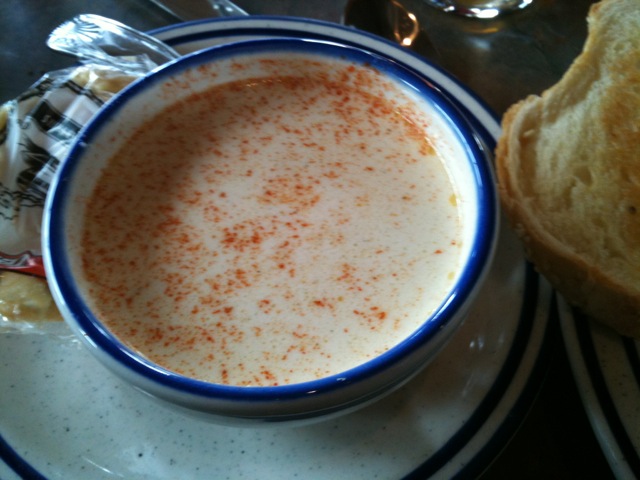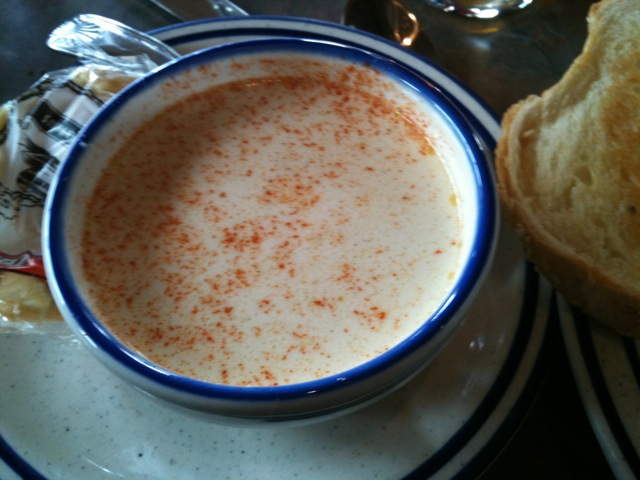 It was good. I hate it when clam chowder is overdone and the clams are too chewy. This was done right. For my lunch entree I ordered the scallops sauteed and it came with toast and coleslaw.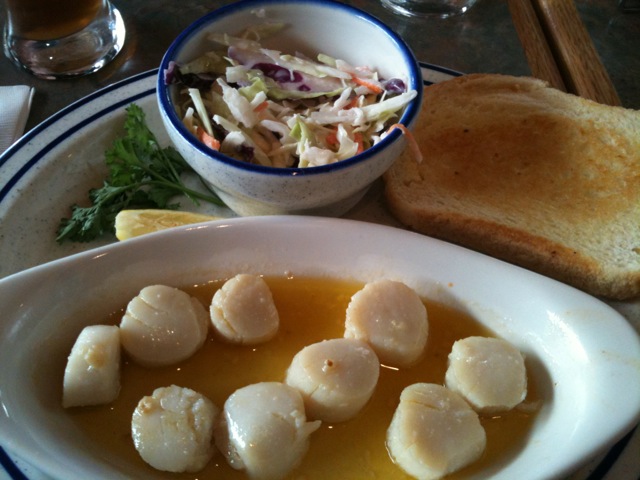 I was glad I ordered the chowder because the scallops were tiny! They were prepared perfectly though. Not too chewy. I also had one beer with lunch. I hadn't planned on it, but a beer sounded really good once we got to the restaurant.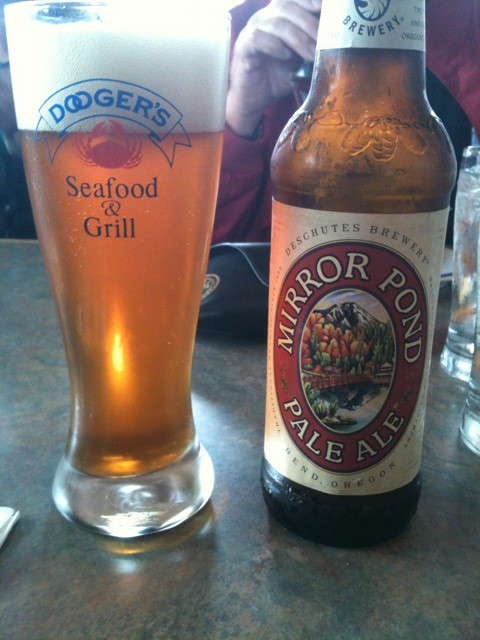 After lunch, we headed down to the beach. It was the perfect summer day at the beach! Not cold, not too windy. The sun was out, and the weather warmed up as the day went one. It was such a gorgeous trip! I will post pictures of the beach in the next post. 🙂
After walking on the beach for a few hours, we went into Cannon Beach to walk the town. It was packed with people. We made a few stops and one of them was to the candy store, of course!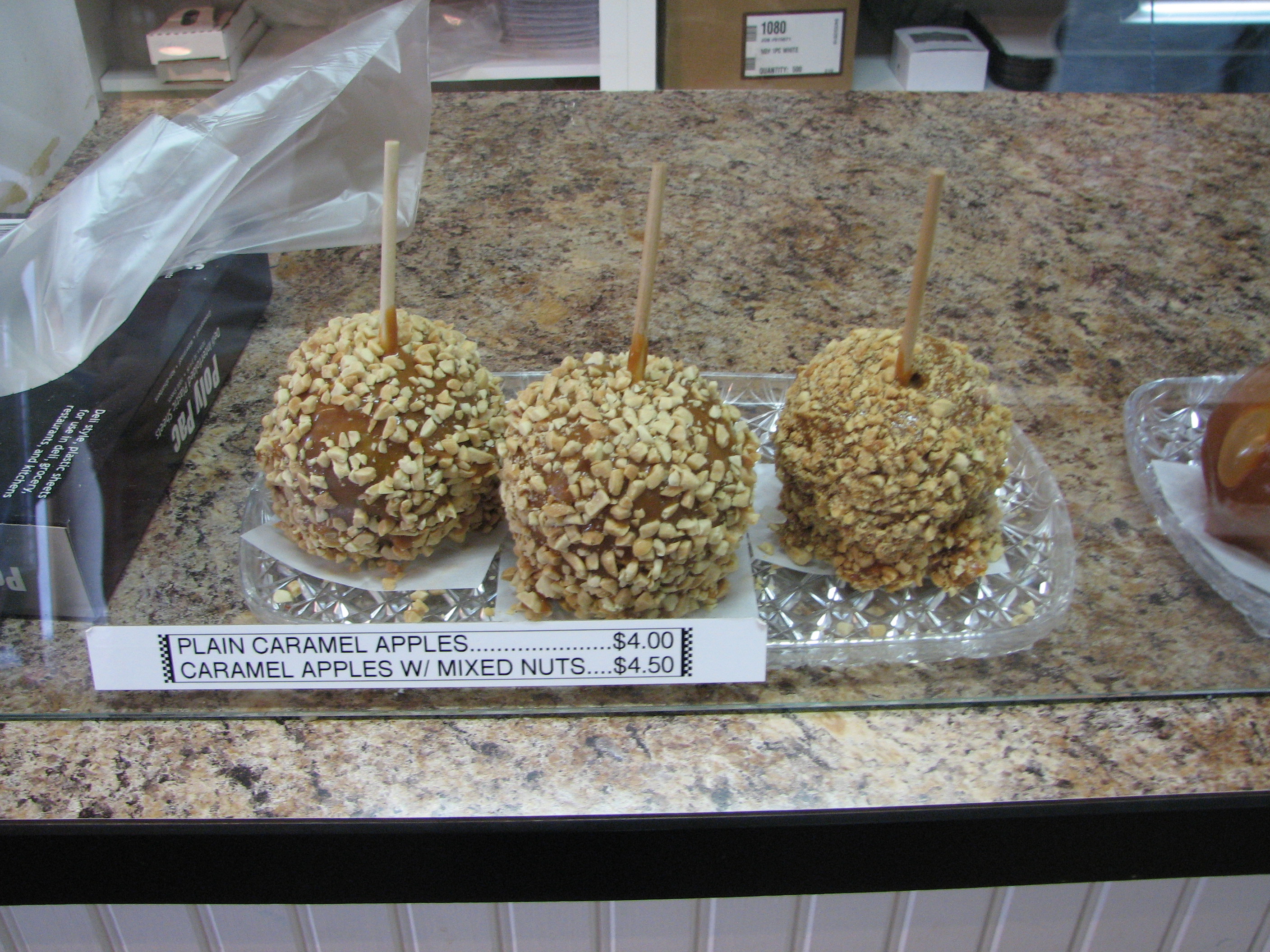 Michael and I bought some Chocolate Chip Cookie Dough Fudge and Peanut Butter and Chocolate fudge. 🙂
The step-sister's boyfriend was like a kid in a candy store. He bought tons of candy to take back home to Texas. 🙂
And I got to watch taffy be made! It was cool and mouthwatering!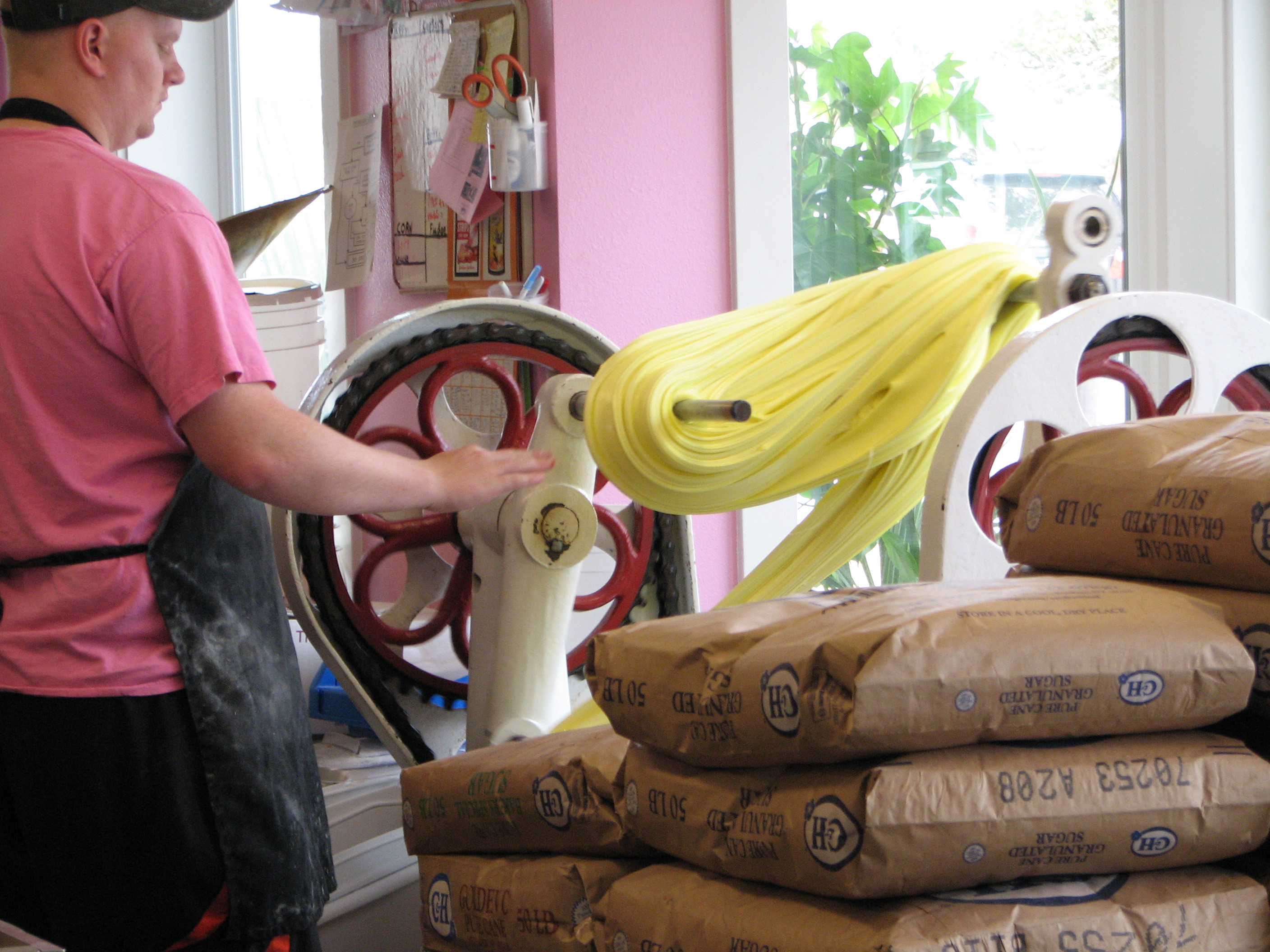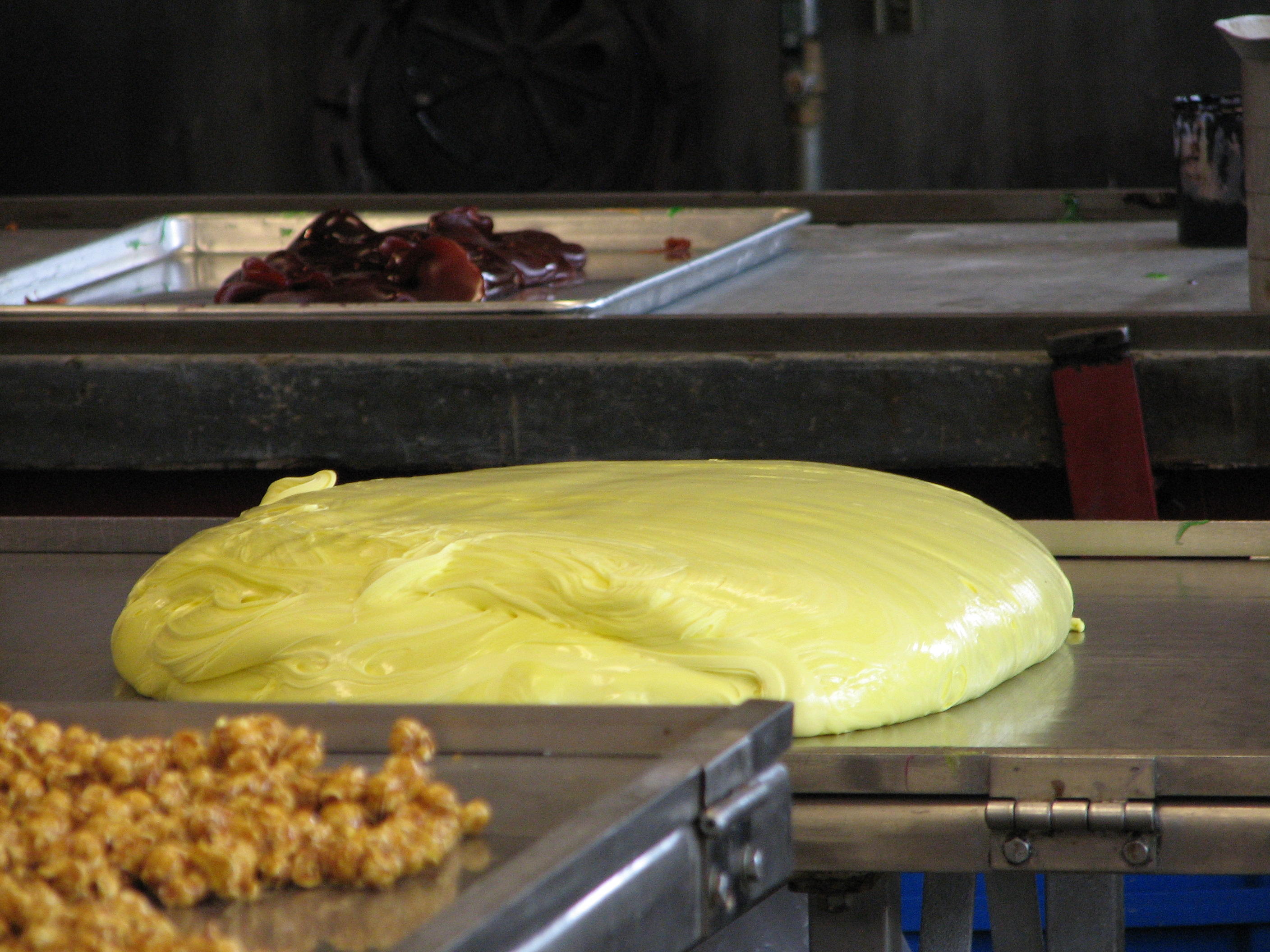 I wanted to resist the sweets but it was so hard. I broke down and got a cup of Tillamook Ice Cream (mostly because everyone else was getting ice cream–and what goes better than ice cream at the beach?).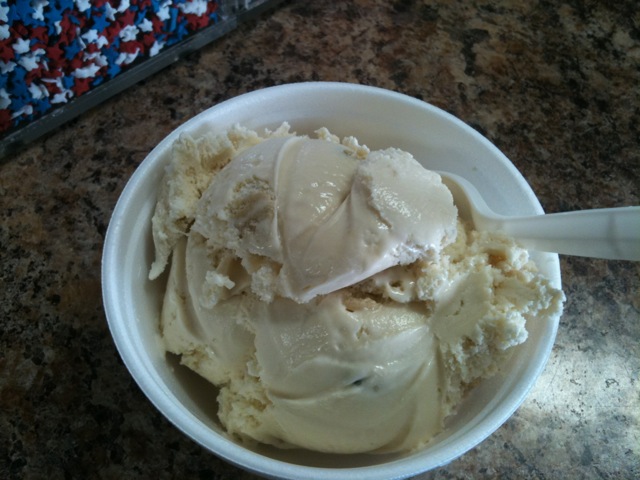 We sat outside of the candy store eating our treats and then headed back to Portland for our dinner reservations.