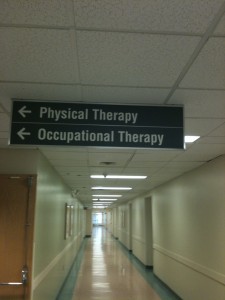 My appointment wasn't in a clinic, but in the hospital. I had to wear a hospital bracelet simply because I was on the premises. Weird….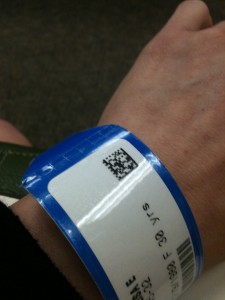 I made my way through the maze of the hospital, down to the basement where I finally found the PT office. My physical therapist was nice but I don't feel satisfied with the appointment. It was short–like 20 minutes maybe? She tested the strength and stability in my legs and said they were great. She tested my knee and my leg to see how bad the pain was.
It wasn't that bad. Like I said in an earlier post, my leg hadn't been hurting much so it seems to be healing. She asked me about my stretching routines and I showed her. She said I knew the right stretches to do and I should be doing them 30 seconds each. She gave me one extra hamstring stretch to incorporate into my routine.
She said that she didn't think I had an IT Band injury. She said that it was an Overuse injury from Hood to Coast. She was surprised that my doctor had told me to wait 6 weeks before running. The physical therapist told me that I could run now as long as it didn't hurt.
Hmmm.
Okay. I think I will go by my doctor's advice over her advice. I think resting from running is what I need and I don't feel confident in the advice the physical therapist gave me.
She also seemed to discount my massage therapist's opinions on stretches I can do for my legs. I'm sorry but that offended me. A massage therapist may not be a medical doctor but my therapist is good. I've used him for over 5 years. He knows my body. He heals me. He's also a MARATHON runner and knows the running injuries that can come with that.
She also did not take a look at the knee brace I bought. Nor did she know anything about the IT Band Wraps runners can wear. What the hell??
The physical therapist said she could do Ultrasound therapy and see if that helped me.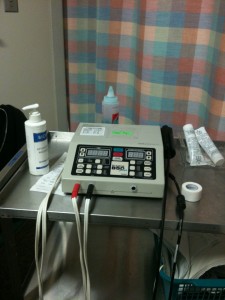 I've tried Ultrasound therapy once before. Years ago I had to see a chiropractor after a minor car accident and she did ultrasound. Honestly–I have no idea if it even does anything!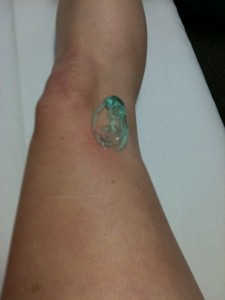 She squirted the cold gel on my leg and then massaged the areas that had given me pain.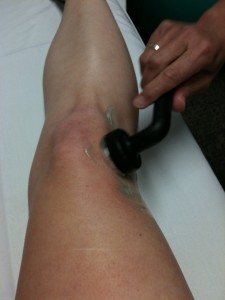 "Ultrasound is high-pitched sound that people cannot hear. These high-pitched sound waves are sometimes used to treat muscle spasms and pain and to promote healing. Ultrasound may also act on the cells to promote healing. At lower intensities, ultrasound can have this healing effect without also heating the tissues. Excessive use of either the heating or non-heating properties of ultrasound can damage tissues."
I'm willing to try anything at this point–so I did it. I couldn't tell if it was working.
She finished up with the Ultrasound therapy and told me I didn't have to come back for a few weeks unless I started having pain again. She said at my next appointment they can analyze me as I run on a treadmill.
The good news: I'm not having knee or leg pain. Three days of no pain now. Yesterday's revelation that I could once again swim the breast stroke without pain was another good sign. If I just have an "overuse" injury and needed rest, that's great news too!
QUESTION: Have you ever had physical therapy? Is my experience normal or weird?