I remember a time when I couldn't fit into a booth at a restaurant.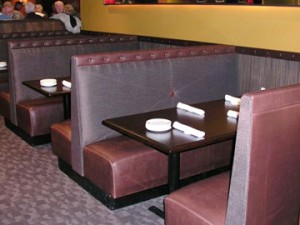 I had to squeeze in. Or suffer the embarrassment of asking the hostess to move me to another location where I DID fit. It got to be that I would request a table instead of a booth. Of course, that was equally as embarrassing because the tables were always in the middle of the restaurant where everyone could watch me.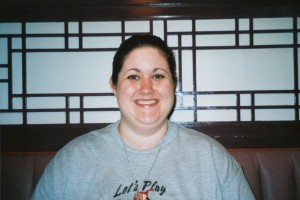 The worst memory I have though is college. I was going to college in the evening while I worked full time at an insurance company. I was also going through a lot of stuff at the same time. I was suffering from high blood pressure which caused dizziness all the time. I was trying to get off my antidepressants in hopes of eventually starting my weight loss.
I was taking the last class I needed for my degree. It was four hours long. I remember getting to the class that first day. It was a full class and there were barely enough desks for all the students. I stepped into the classroom and saw this: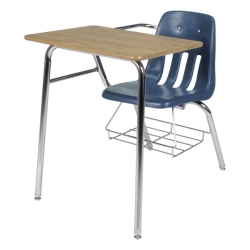 Yes that kind of desk. The kind where the chair is attached. The old school kind that was really small. The kind of chair that was probably made in the 1980's before America became Supersized and everything was suddenly bigger. Nope. This desk was tiny.
I glanced around the room for a newer chair that I might fit in. They were all taken. I looked around the room to see if there was a non-attached desk and chair I could sit at. Nope.
Do I draw attention to myself by telling the teacher that I didn't fit?
Or do I squeeze into that teeny tiny desk and suffer in silence for four hours because I'm too embarrassed to say anything?
If you said I chose the second one, you got it right. I squeezed into that desk, barely able to breathe. I'd have marks on my skin when I got home from class. I dreaded every time the teacher said we had to "move into groups" to do exercises and projects because that meant getting in and out of the desk. How embarrassing.
I shudder at the thought now. It was a miserable quarter for a lot of reasons. I was so happy when that class was over and I didn't have to try to fit.
I wish I could say this was a defining moment in my life where I took charge and decided to make a change! It sounds like it should be, shouldn't? Well, sadly, it was not. It was just another embarrassing moment in a long list of embarrassing moments. It was just another negative emotion that I chose to EAT instead of change for the positive.
I don't bring this up to be a downer, or be negative about the plight of the overweight. I simply want to share a scarring moment. A moment that 6 years ago is still with me, even after losing all of the weight.
QUESTION: Do you have a story like this where you were embarrassed by your body (in any way)? How did you overcome it?