I read more about sourdough starters and watched some videos, and took the advice of a few readers. I found a recipe from King Arthur Flour that I decided to try this time.
After my failed first attempt, I didn't have any starter left so I made a new starter. I used this recipe for the Sourdough Starter. I made it before we went on vacation to Bend and when we got back I fed it a few times and then a few days before I was planning on making the bread, I left it out on the counter.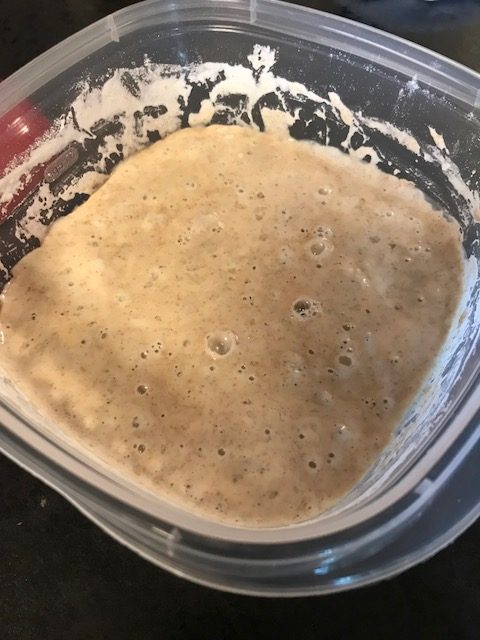 Holy cow! The starter like doubled in size. It didn't smell super sour like my first batch of starter but it was really bubbly. I used white flour for the starter and to feed the starter last week. Then when it was time to make the bread I used this: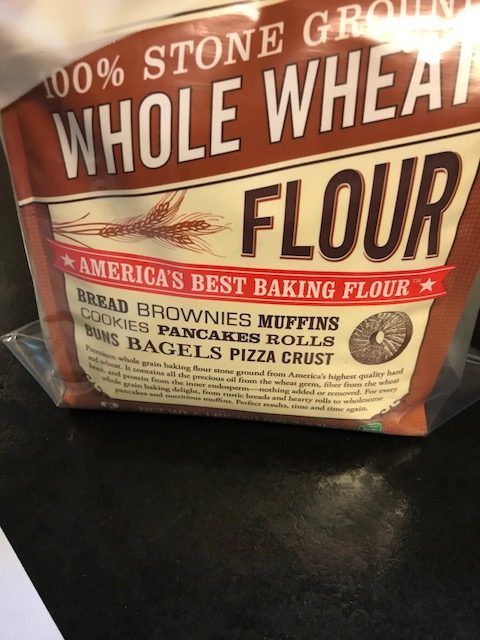 I got it at Bob's Red Mill. Supposedly it's a great one for bread. The recipe I used this time was the Extra-Tangy Sourdough Recipe.
Ingredients
1 cup ripe (fed) sourdough starter
1 1/2 cups lukewarm water
5 cups King Arthur Unbleached All-Purpose Flour, divided
2 1/2 teaspoons salt
Instructions
Combine the starter, water, and 3 cups (12 3/4 ounces, 362g) of the flour. Beat vigorously for 1 minute.
Cover, and let rest at room temperature for 4 hours. Refrigerate overnight, for about 12 hours.
Add the remaining 2 cups (8 1/2 ounces, 241g) flour, and the salt. Knead to form a smooth dough.
Allow the dough to rise in a covered bowl until it's light and airy, with visible gas bubbles. Depending on the vigor of your starter, this may take up to 5 hours (or even longer), depending on how active your starter is. For best results, gently deflate the dough once an hour by turning it out onto a lightly floured work surface, stretching and folding the edges into the center, and turning it over before returning it to the bowl. Adding these folds will give you a better sense of how the dough is progressing, as well as strengthen it.
Gently divide the dough in half.
Gently shape the dough into two rounds or oval loaves, and place them on a lightly greased or parchment-lined baking sheet. Cover with lightly greased plastic wrap and let rise until very puffy, about 2 to 4 hours (or longer; give them sufficient time to become noticeably puffy). Don't worry if the loaves spread more than they rise; they'll pick up once they hit the oven's heat. Towards the end of the rising time, preheat the oven to 425°F.
Spray the loaves with lukewarm water.
Slash the loaves. If you've made round loaves, try one slash across the center, and a curved slash on each side of it; or slash in the pattern of your choice. For oval loaves, two diagonal slashes are fine. Make the slashes fairly deep; a serrated bread knife, wielded firmly, works well here.
Bake the bread for 25 to 30 minutes, until it's a very deep golden brown. Remove it from the oven, and cool on a rack.
Store bread, loosely wrapped in plastic, for several days at room temperature; freeze for longer storage.
http://www.110pounds.com/?p=54946
I did half the recipe since this one makes 2 loafs and I wasn't ready to commit to two if it didn't go well. 😉 I know it's going to take practice.
So the instructions were a little confusing at first. You don't mix it all right away. You mix some of it and then let it sit out for a few hours, then put it in the fridge overnight. Then the next day you add the rest of the flour and the salt.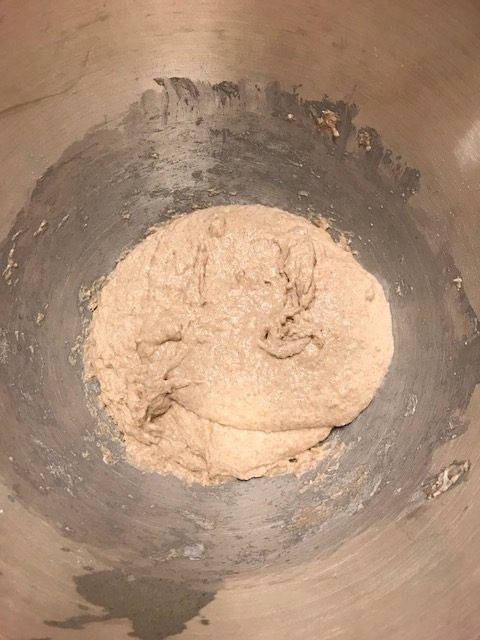 Then you let it rise. It's basically an ALL WEEKEND recipe. I'm glad I started it Friday!
Meanwhile, while the dough is rising….I wanted to share a book I got from my grandma. It's in my stash of recipe books and one of these days I will actually make something from it! But it's such a cool old book, I had to share some photos.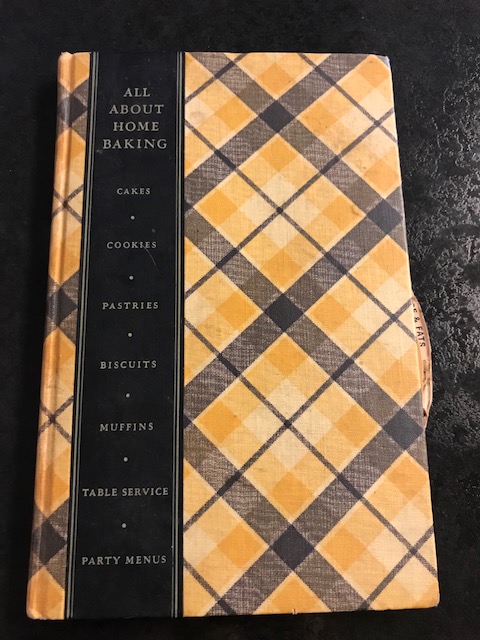 Ironically enough, there is no recipe for sourdough bread in this book! I looked. I thought it would be cool to make a recipe from it. It's mostly cakes and cookies.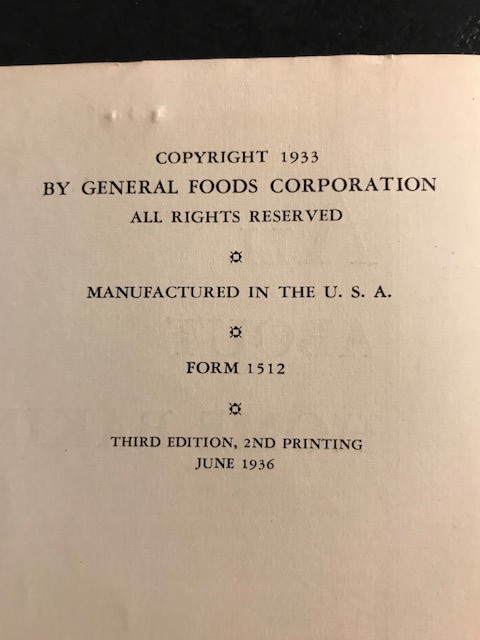 The book is from 1933. There's an inscription inside from my Grandma for 1939. There was also this handy calorie counting guide: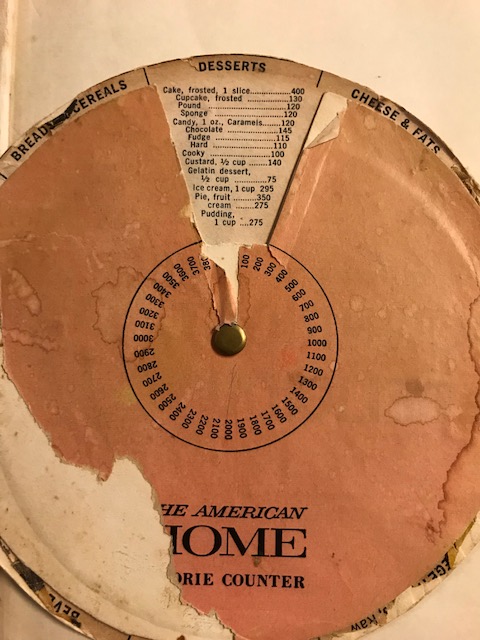 I saw this recipe and it sounded good: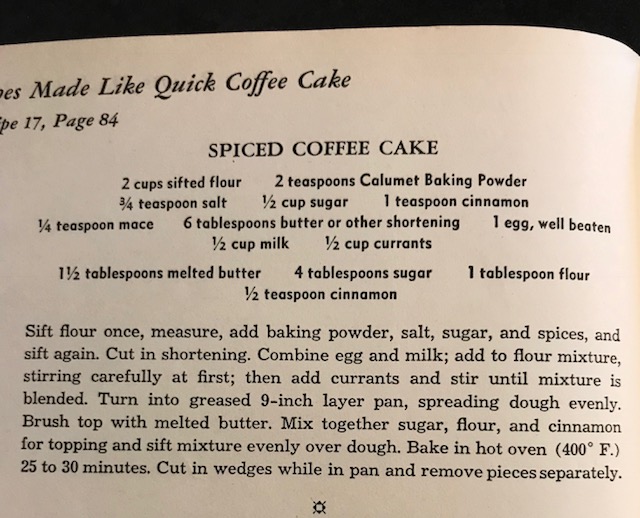 I'm not sure if this is the exact recipe but my grandma's coffeecake was legendary!
Anyways, back to the sourdough. The dough didn't rise. I texted my friend who gave me the sourdough starter to begin with and asked her advice. She figured that the starter wasn't active enough before I started making the dough. DAMMIT.
Into the garbage. Dammit! Ok. Let's try again. This time, I kept the started on the counter all week and fed it a little bit each day and then Friday I got the dough ready. I used a mixture of the whole wheat flour for the starter and then for the recipe I used white bread flour.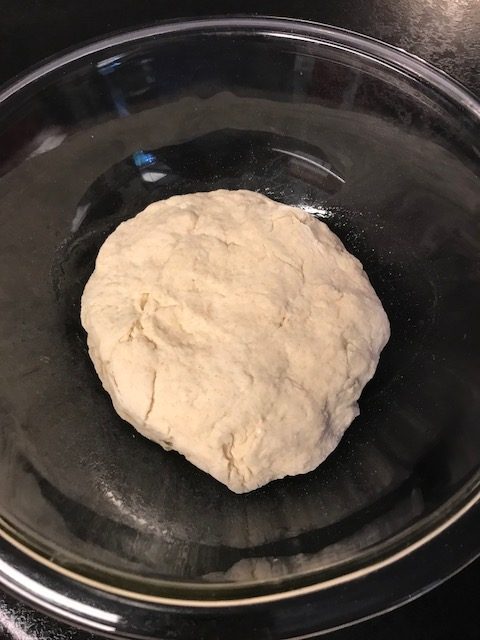 By Friday the starter looked AMAZING. It was bubbling and liquidy. I made the dough Friday night and let it rise overnight. When I got up Saturday morning it had more than doubled in size!!!!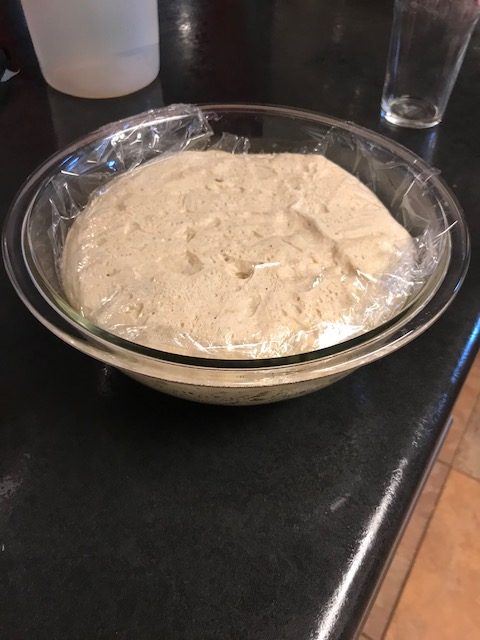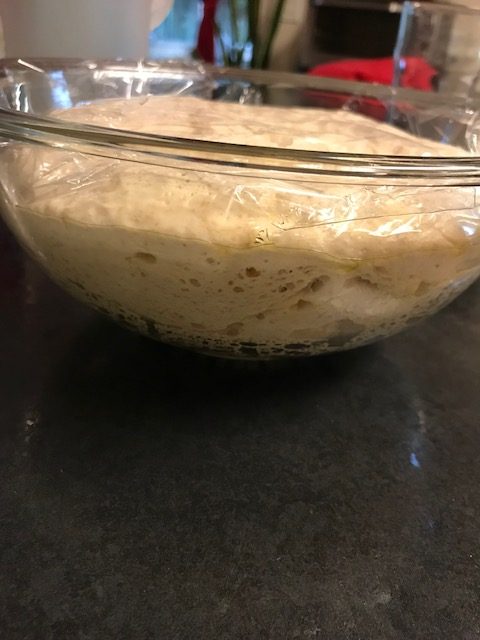 SUCCESS!!! It felt SO good to finally see it WORK. I poked the dough and in deflated. It was pretty funny. So I kneaded the dough a bit and then put it back in the bowl and went to the gym. When I got home it had risen a little more. I made it into a round shape and then I baked it on the pizza stone in the oven.
This time I used THIS recipe. I liked it's simplicity and it went really well.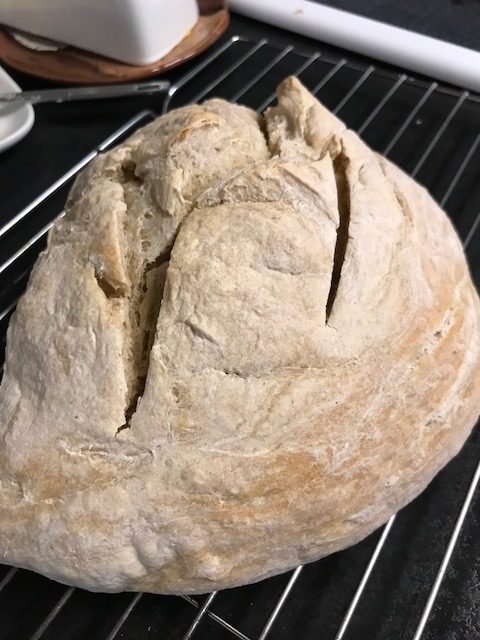 The result? REAL SOURDOUGH BREAD. YAY!!!!
It was light and airy and most importantly it TASTED like sourdough. The flavor was great. I was so happy with this. It wasn't as toasted on top like I would have liked but I call this a major success (especially after several failures).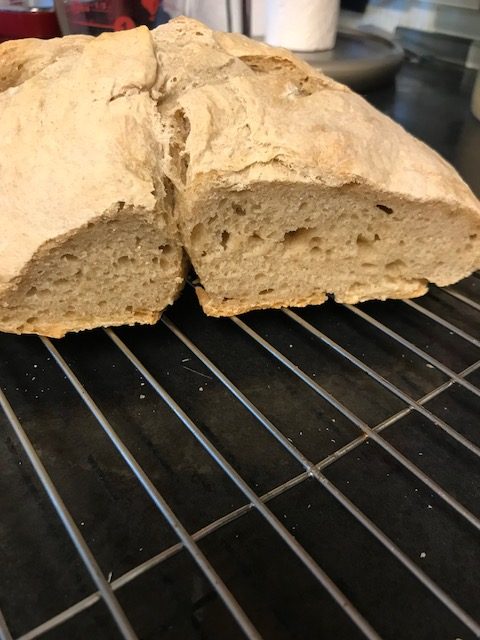 Finally! A success!