Lines on Ale

by Edgar Allen Poe (1809-1849)

Fill with mingled cream and amber,
I will drain that glass again.
Such hilarious visions clamber
Through the chamber of my brain.
Quaintest thoughts, queerest fancies
Come to life and fade away.
What care I how time advances;
I am drinking ale today.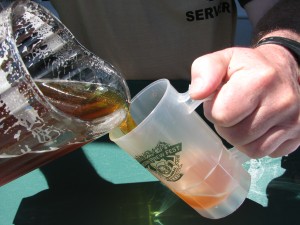 That stubborn belly fat. It seems like no matter how hard I workout at the gym it never goes away. I do hundreds of crunches. I work the ab weight machines like there's no tomorrow. I count my calories and try to keep the sugar intake down (some days are harder). Yet still that belly fat never goes away.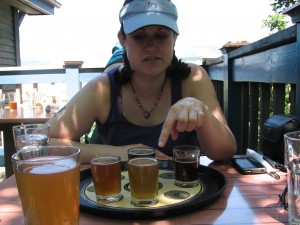 Part of the reason for me is that I lost over 100 pounds. That skin doesn't just disappear after losing a lot of weight. Lucky for me I don't have a lot of loose skin like a lot of people do when they lose a significant amount. The reason for this is that I lost the weight slowly, I was still young when I lost the weight (skin bounced back) and maybe genetics smiled on me for once.
One thing I know I should do to get rid of stubborn belly fat is to limit alcohol. For the two years it took me to lose 100 pounds I rarely drank any alcohol. And honestly I didn't miss it. I missed more the social aspects of drinking than actually drinking (happy hours, parties, birthday events, hockey games).
How It Works
The body converts the excess calories in the alcohol into fat and stores it in convenient places around the body– often around the stomach. That's where a lot of the fat goes when you drink a lot of beer.
Beer is also high in calories. I've talked about this before, how I switched to drinking lower calorie things like a Vodka tonic or Rum and Diet Coke. I am a total beer snob. I will not drink PBR, or Bud Light. If it's not a Microbrew (preferably from a local brewery) I won't drink it. So I'm looking at at least 170 calories each!
Mirror Pond Pale Ale – 170 calories
Bud Light – 110 calories
Sierra Nevada Bigfoot – 330 calories
Sierra Nevada Stout – 225 calories
Heineken – 150 calories
It can also be a serious health risk. Abdominal fat (or "android" or "central" obesity) increases the risk for cardiovascular disease, high blood pressure, high blood lipids, glucose intolerance and elevated insulin levels. I tend to gain weight first in my stomach area. In fact, when I was 250 pounds I carried most of it in the middle area of my body.
How to be Smart About Beer
1. Count the calories. Count each beer like I would a piece of chocolate or lunch. Calories are calories whether you eat them or drink them!
2. Don't drink every day.
3. Drink in moderation. It's been a lot harder with the holidays. Lots of social situations and parties make it hard to resist temptation.
4. Choose either dessert or drink but not both in one day. I am trying to do this. Some nights are easier than others! But I know I shouldn't have the double sugar intake in both treats, so I decide which one I want more.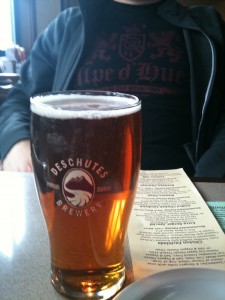 Giving up alcohol completely would suck. Not just because I like the taste–but I like going wine tasting. I love going to a brewery for dinner or lunch and getting the samples. I usually don't want a full beer anyways–I lose interest in it half way through a pint glass. Give me samples instead! And of course…
Everything in Moderation!
QUESTION: How often do you drink alcohol? What is your drink of choice and how many calories are in it?