[blackbirdpie url="https://twitter.com/fatcyclist/status/313987668444852224″]
I had to laugh when I saw that post on Twitter. I laughed because it happened right around the same time I had been noticing that what hotels call a "fitness center" and what *I* expect in a fitness center is way off. (Check out this interesting post: TripAdvisor responds to a provocative study of bogus online reviews.)
Sometimes I go through phases where I plan future vacations. Recently when I was living in my fantasy world (researching trips to Belize, Costa Rica and the Caribbean) I decided to create an Excel spreadsheet to keep track of everything I'd looked up. I know, nerdy. I have color-coded tabs for each location and include "must see" sights for each location.
Michael and I were talking recently about a vacation for this year. Last year we went to Vegas for a weekend, Texas for his sister's wedding and then Hawaii. It was a great year for vacations! We got lucky with cheap options (staying with family and then staying with friends at their timeshare in Hawaii).
We both love to travel and while I'm always up for Vegas, I said I wanted to go somewhere we've never been before. I'd mentioned wanting to go back to Chicago (Michael's never been). Someday I'd also like to go to Philadelphia to visit my brother. Of course, going to Philly opens a whole can of worms because if I'm going to fly that far east, I want to see Boston and New York too! That complicates things. Going to Philly, New York and Boston in one trip would require a lot of vacation days and money!
Another place I threw out as an option was Los Angeles. I've never been there as an adult and as dorky as it sounds, I'd love to go and see all the touristy things: the star walk, the Hollywood sign, Rodeo Drive, Griffith Park, etc. I started doing my research and what I required in a hotel was either a lap pool or a gym, but both would be nice.
Do You Book Your Hotel Stay Based on The Hotel's Gym?
I prefer hotels that have a gym option. I definitely try to fit in a workout on vacation. Some of my favorite vacation memories are things like swimming in the ocean, running someplace I've never been before, and hiking in the desert. I'd prefer to get my fitness outdoors exploring my area (like biking or hiking) but if that's not available I want a gym in the hotel that I can use.
In doing my research on Expedia, what I found was that the reality was often way off. If you look carefully at the photos online, most of them look pretty good. After spending a few hours perusing hotels and photos, I was able to spot the crappier ones. One of the tricks I figured out with their photography was taking the picture at an angle where the mirror on the wall makes it look like the gym is huge and has a dozen machines. Pretty sneaky! And smart. So you think you're getting this: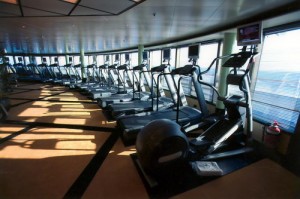 When you're really getting more like this: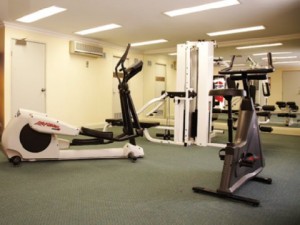 I totally get that this is a First World Problem. But really, if I'm paying for a nicer hotel that promises a gym, it would be nice if it was actually usable! Either way, I make it work. Some of the worst gyms I've used, I still got a decent workout done. Another issue is that if you're paying for a hotel, it should look like what it advertised! You never really know what you're getting. (Another interesting article: Hotel photos: Quality or quantity?)
One of the better gyms I've used was at the Monte Carlo hotel in Vegas last year. It had three treadmills, three bikes, a stairmaster, a decent selection of weight lifting machines and a full set of free weights. I was pretty impressed and it was awesome that I was able to go there in the morning (morning "ish"–I mean, it WAS Vegas) and even though half the machines were full I could find something to do. The machines were also newer and pretty nice!
QUESTION: Is the gym something that sways your hotel choice? Have you had any exceptionally good hotel gym experiences or bad ones?