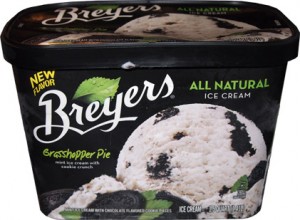 It's funny that I didn't crave ice cream during February when I stopped eating dairy. I thought for sure I'd have mad cravings for it. I found that I missed things like cream cheese and sour cream more than ice cream while I was doing the challenge. I also thought for sure that the moment the challenge was over I'd be dying for ice cream. Again, it took a few weeks before I finally wanted some!
I bought a carton of ice cream and it was just as amazing as always. Ice cream is the best. While I was standing at the counter dishing up dessert for Michael and I, I looked at the label. There were 12 servings in the carton of ice cream for 140 calories each. That's around the range that I usually stick to. I almost never buy a carton of ice cream that is over 175 calories a serving. That's just too high for me.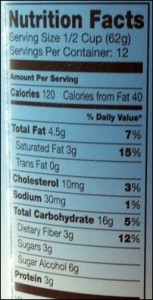 What got me thinking was this: Have you ever actually looked at a carton of ice cream and visualized how many servings fit inside of it? I was surprised that 12 servings fit in my carton and that made me pause when I dished up a second scoop. I realized that I was eating two servings and not one because there is no way I get 12 desserts out of that carton!
It's easy to make mistakes like this, even when you're a "seasoned" maintainer like me. I still struggle with serving sizes and it's easy to get carried away with them! That's another reason why I like the lower calorie ice creams. I usually end up having two servings and 220 calories for dessert is better than 400!!!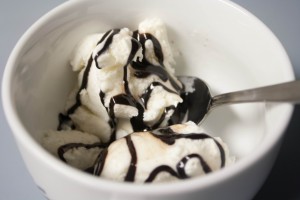 I've written about serving sizes many times before, but just to recap here you go:
Counting Calories and Serving Sizes
How to Lose Weight – Week Four
Measuring a serving size out will make a world of difference in anyone's weight loss journey or maintenance. I am definitely not immune to it and need a reminder once in awhile to PAY ATTENTION TO THE SERVING SIZE.
QUESTION: Can you get 12 servings out of a carton of ice cream or is it more like 10? Or 8?