Last night was a pretty good one for me. I met my friend Robyn at the mall for pedicures.  With all the stressful stuff that's been going on lately it was a much needed Girl Night.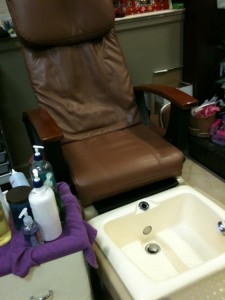 The last pedicure I got was a few weeks before Hood to Coast and running 17 miles pretty much trashed my nails. This time I got purple. 🙂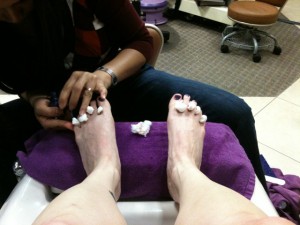 After that Robyn came over and I fixed dinner. The plan was brown rice and salmon. I asked Michael to take the salmon out of the freezer while we were getting pedicures. Turns out we were out of salmon. Yikes! We almost never not have salmon on hand. Change of plans…I stopped at the store and picked up a rotisserie chicken instead.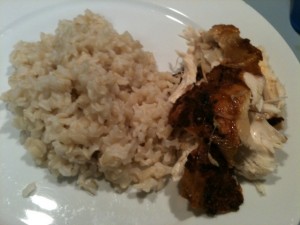 Robyn brought over salad fixings.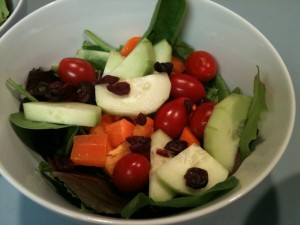 It was so nice hanging out and having some girl time. I also had a nice surprise waiting for me when I got home. If you remember last week I mentioned I'd be doing a product review for CSN stores. Check out what I ordered!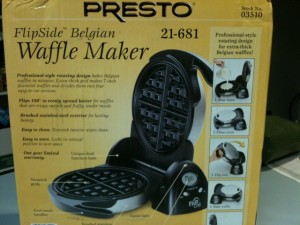 A waffle maker!! Oh my god I am so excited. 🙂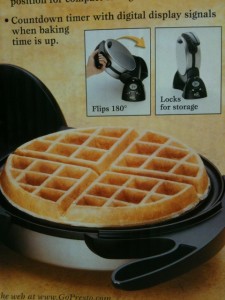 This weekend Michael and I will be making waffles. Yippee!
On another note, I've gotten some really good questions and emails from readers lately.
Beth emailed me and asked:  "I just recently started reading your blog and noticed the cute green Polar watch you where when exercising. I love green and your watch seems like just what I need to monitor my stats when exercising. I tried to find it online, but failed. Can you please tell me more about the watch, and where I can get one?"
I have the Polar Heart Rate Monitor, model F6. I love having it. It really changed how I workout. It especially changed how I run! With the HRM I learned how to pace myself and run within my optimal zone.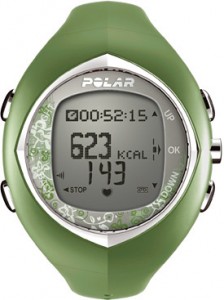 It's easy to use. Here is a quick guide: Once you enter your pertinent info (age, sex, weight) it calculates how many calories you burn. In the above photo the 623 are the calories. The 143 is the heart rate. The little heart underneath the 143 means you are working out in your target zone. If you work out too hard, a little arrow points downward saying to slow down. If you're not working hard enough, an arrow points upward.
It was given to me as a birthday gift a few years ago but I know it runs about $100 depending on the model. My HRM does NOT calculate mileage–the only downside. It also can be worn in the water. I wear it swimming once in awhile.
Esther asked: "I am curious, do you do that same lifting routine every day? Or do you do some like, Mondays, Wednesdays and Fridays and the rest on the other says? I only ask because I personally was advised against working the same areas every day simply because I needed to give those areas time to rest."
Good question! No, I don't lift weights every day. I lift weights 2 or 3 days a week only and I split it up. For example, this week my schedule is:
Sunday – Swim
Monday – Weights
Tuesday – Rest Day
Wednesday – Weights
Thursday – Rest Day
Friday – Swim
Saturday – Weights
I definitely cannot lift weights every day. I'm not as sore after weight lifting like when I first started a month ago, but I'm definitely all for giving my muscles a rest. 🙂
QUESTION: When you're in need of a Girl Night (or Boy's Night) what do you usually do?