In my last post, I described the post-operation life. It was kind of a fog of pain, pain pills, healing, sleeping….carbs! I didn't go crazy. It wasn't like I could really eat a ton anyways. But I did eat carbs for about a week and a half.
But then after my post-op appointment with my surgeon, I was feeling better getting the stints out of my nose and decided to get back to the diet. It was a pretty easy transition back to Keto. I went to the grocery store (my one activity of the day! Still taking it easy) and got the essentials and then I was back on the plan.
First day back, I had scrambled eggs with cheese and Canadian Bacon and my coffee with MCT Oil, Stevia and heavy cream. Lunch was sautéed kale, andouille sausage, and smoked gouda. Afternoon snack was raspberries. Dinner was zoodles with Alfredo sauce and meatballs. Dessert was dark chocolate with strawberries. My first day back I was at about 1400 calories and 35 net carbs (because of all the fruit I had I guess). But I'm happy to be back at it!
As for exercise, I am not cleared yet. My surgeon said in about two weeks I can start getting back to easy cardio. I will start with the elliptical since it's low impact. I'm kinda afraid to try running so I'll wait a full month to try that.
For swimming and weight lifting I have to wait a full month post surgery.
I can't smell or taste much. It's better with the stints out but it feels like I have a very bad cold or something! It's kind of a bummer but I know it will get better.
For dinner the other night, I made this recipe: Kofta Ground Beef Bowl . I used cauliflower rice. Topped it with the kofta beef. Then used Trader Joe's Tzatziki and crumbled feta. I added grape tomatoes and cucumber slices.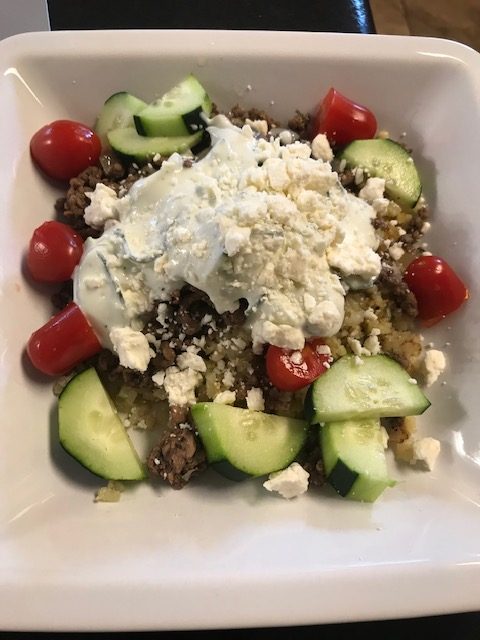 Since I can't taste much, I have to go by what Michael says and he said it's a keeper. 🙂 He said it would be better with lamb and more garlic, but overall it was good!
I got back to work on Monday. It will be good to get back into the routine and back to "real life", modified as it is. But it has been nice being home for two weeks taking it easy, healing, resting, catching up on TV and just not having a schedule!