I vowed to bike to work on Thursday–rain or not. Enough of this stalling! I woke up on Thursday and saw that it was overcast but dry so I happily got ready to ride. I had a new route I wanted to try too. It would make my commute longer, which is what I need.

I parked Michael's car at a nearby Park N' Ride. It would give me about an extra mile or two to my commute. There was a sign that said "Transit Parking Only" but I think I should be ok. I was literally parking and riding right? I set off on the bike on the side street next to the highway that looped around to the busy highway. It connected to a trail that led up to the Springwater Trail.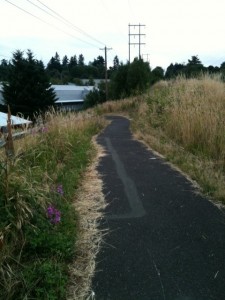 This is a new route for me and I nervously hoped it wouldn't add too much time to my ride and make me late to work (it didn't). I was also pretty excited to be able to ride further. I bike across the highway on the Springwater.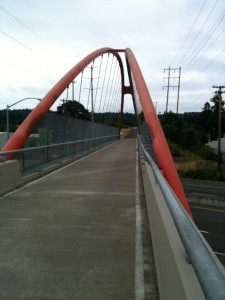 I biked through Sellwood and connected back to the Springwater using the new street to avoid SE Tacoma. It worked great! I think the gloomy weather scared off the rest of the bikers because the trail was empty. I breezed along the waterfront toward downtown and then came to a screeching halt. I saw this: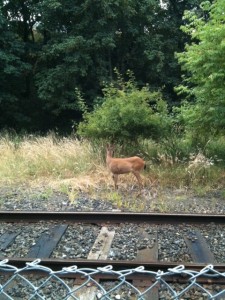 A deer! The little guy and I stared at each other for a long time. He wasn't scared of me at all and I took some pictures before he scampered back into the trees. Some runners went by and told me that he'd jumped over the fence earlier.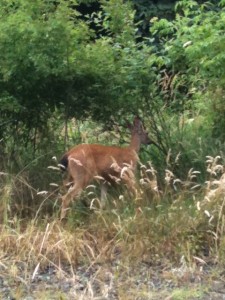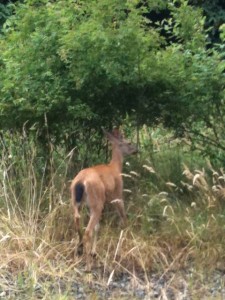 I biked along the Esplanade to the Hawthorne Bridge and crossed over to the west side of the river. The rest of the ride was uneventful and I arrived at work without being rained on.
Time: 39 minutes
Calories Burned:  334
Distance: 7.52 miles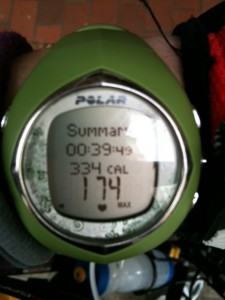 I was so happy to be back on the bike! I have Friday off from work so I'm thinking I might bike to the gym to go swimming. We'll see if that plan works out. 🙂
QUESTION: What critters do you see out when you are biking, hiking or running?