Saturday night was the potluck dinner. There was so much food there and honestly we had been eating all day (fresh crab and clams earlier). I had a spoonful of many things, but not all. I wasn't starving and my tooth still hurt. There were many different kinds of salads.
And my aunt and uncle made Homemade Brisket–one of their many specialties. It's amazing! I got a bunch of that because it's so good.
More salad:
My plate: one scoop of what I wanted to try. Lots of Brisket, two different pasta salads, some regular salad, my salad, mac and cheese and a very cheesy roll.
Later was the dessert potluck. My mom made her famous brownies (which I will post a recipe of later), there was cheesecake, cookies of all kinds, rice krispie treats, and carrot cake.
Dessert was always my weakness at any events–even more so at the family reunion. I remember as a kid eating TONS of the desserts. There were just so many and I wanted to eat one (or two or three) of everything.
My No Bake Cookies were a hit! They were gone faster than anything else. And a bunch of people said "Oooh Christmas Cookies!" I had no idea they were also known as Christmas Cookies. But everyone loved them and I had no leftovers.
I was good and had one of my own cookies, half a piece of cheesecake (small, maybe two bites worth) and one of my mom's brownies (the smallest one I could find). I am proud of myself for being able to resist the other sweets. We sat around the campfire and people roasted marshmallows and made s'mores. My aunt had brought humongous marshmallows–bigger than I've ever seen. They were probably the equivalent of four or five regular marshmallows. I had one with a graham cracker but it was too much and after a few bites I tossed it into the fire. It's amazing how sweets just don't appeal to me anymore.
One of my cousins made something called "S'mores Nachos." He's so funny! He takes a cast iron pan and lines it with foil, then places the graham crackers on the first layer. Then sprinkles mini marshmallows and chocolate and peanut butter chips on top.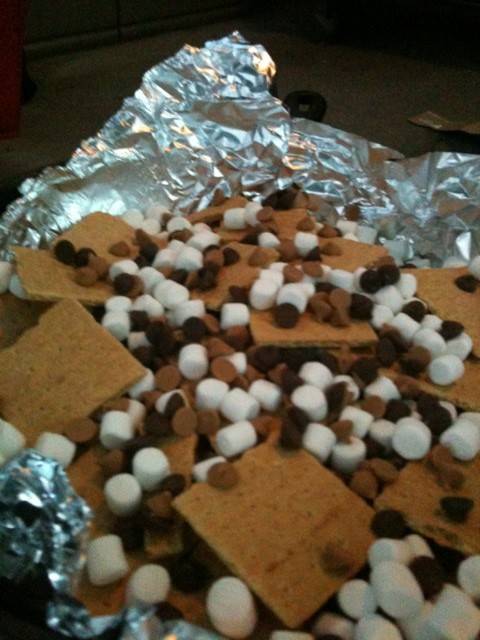 Cook over a campfire and you've got "s'mores nachos".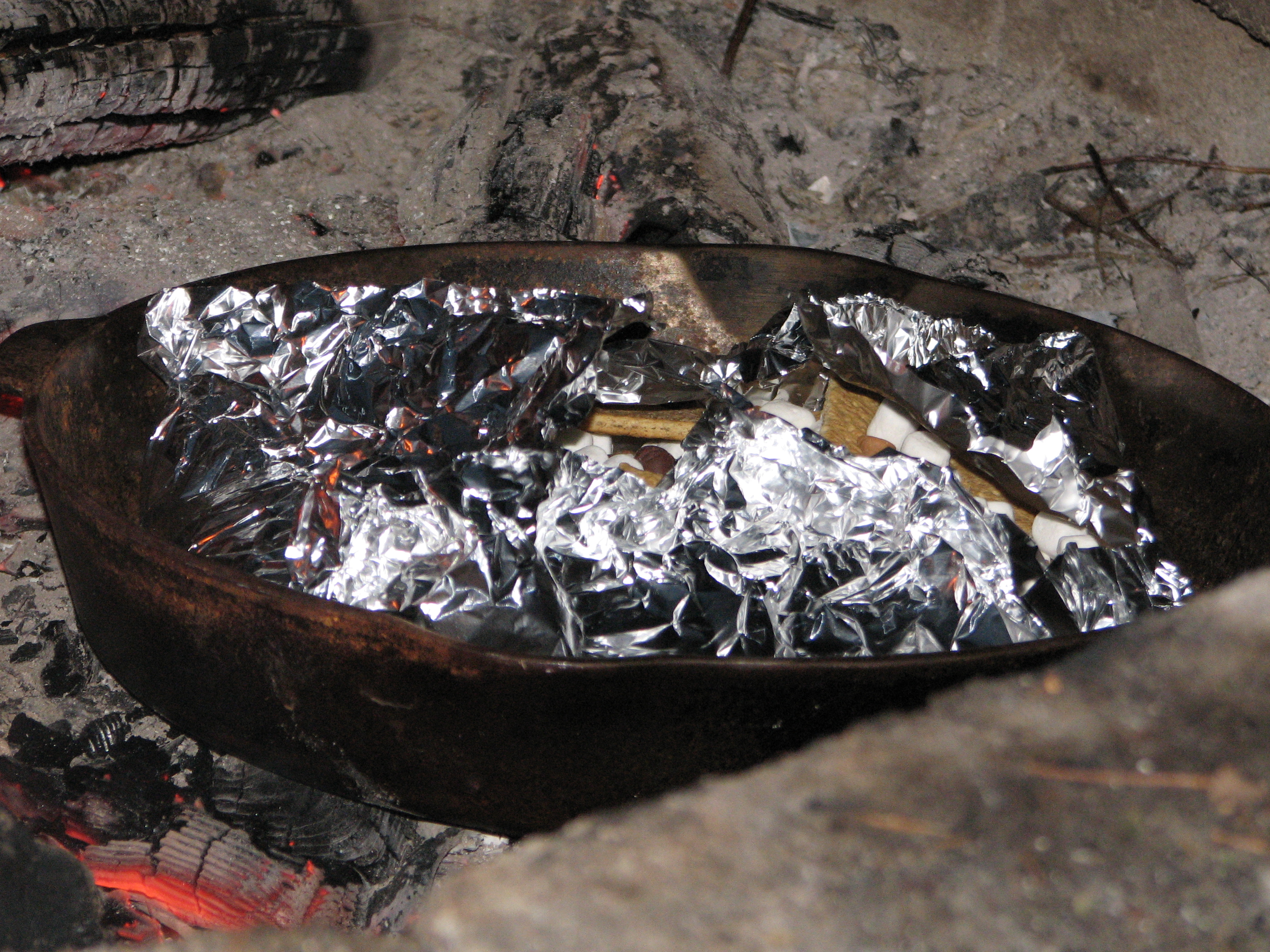 It was very good. I only had one bite to try it. The campfire was fun. Some people brought their guitars and there was a banjo. It was relaxing! Michael and I didn't stay up nearly as late as the night before. We were tired from lack of sleep, traveling, bike ride, and a day of sitting in the hot sun.
QUESTION: Do you have any campfire tricks?