I used to do SO WELL eating vegetables. Even when I was 250+ pounds, I still ate veggies. I loved a good salad. Having been in maintenance mode for nearly 6 years now, my diet has evolved a lot and a typical dinner became a steamed vegetable, a protein and a salad. Basically, I got my veggies in!
Well in December of this past year I got lazy. So lazy. And this rolled over into January, too. Our wholesome meals we were used to eating fell by the wayside. Stress, holidays, laziness, depression, being too busy to make an effort….a million reasons for the lack of green in my diet. We were going for easy and lazy dinners. Homemade nachos, pizza from Papa Murphy's, sandwiches…basically "junk" food that didn't require much effort or cooking. My body felt it, too. I just didn't feel great not eating in a healthy way. I was craving vegetables and fresh food. Eating fruit has never been a struggle for me. I usually have a mid-morning snack of an apple or whatever is in season. At least THAT healthy habit didn't go away in December!
So how can we all eat more vegetables? And no, I don't think drink more Bloody Mary's count. But they should….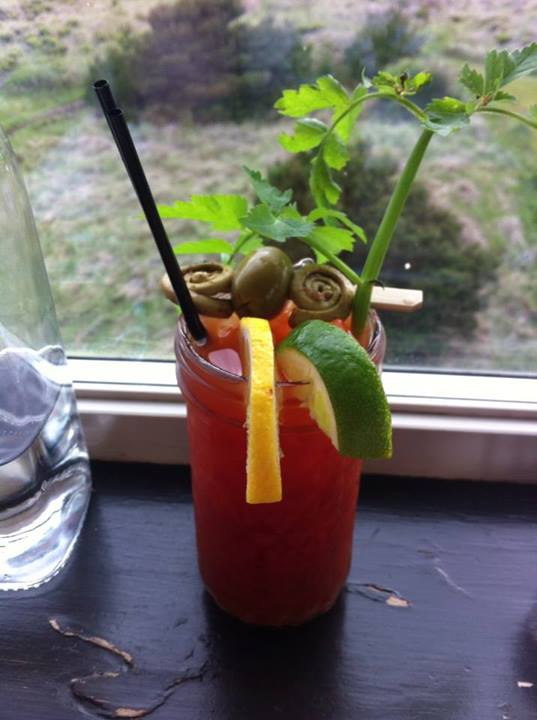 One of the biggest tips I can share is to prep your veggies as soon as you get back from the grocery store. I don't know about you but if I buy a bag of carrots or celery and just stick in the fridge, I'll never eat it. I'll open the fridge craving a snack, take one look at the bag of veggies that needs to be cleaned, peeled and cut up and I'll choose something else for a snack– like chips or cheese.
On Sundays I clean and peel and dice and chop. I put the diced green onions in a tupperware, same with the strips of peppers and the celery and carrots. I wash the broccoli or cauliflower and lettuce and let it air dry before putting it away. This has helped me tremendously.
7 Days of More Veggies
Day One – I had a quickie dinner of Thai noodles but I cooked a can of mixed veggies (carrots, corn, lima beans, okra, peas and green beans) and added that to my ramen. With a little srichacha it was great! Sure it wasn't as wholesome as I was hoping, but it did the trick.
Day Two – For lunch I had a bratwurst (without the bun) and some spicy ground mustard. Instead of chips I had raw broccoli with ranch dressing instead. Same savory crunch as a chip but healthier.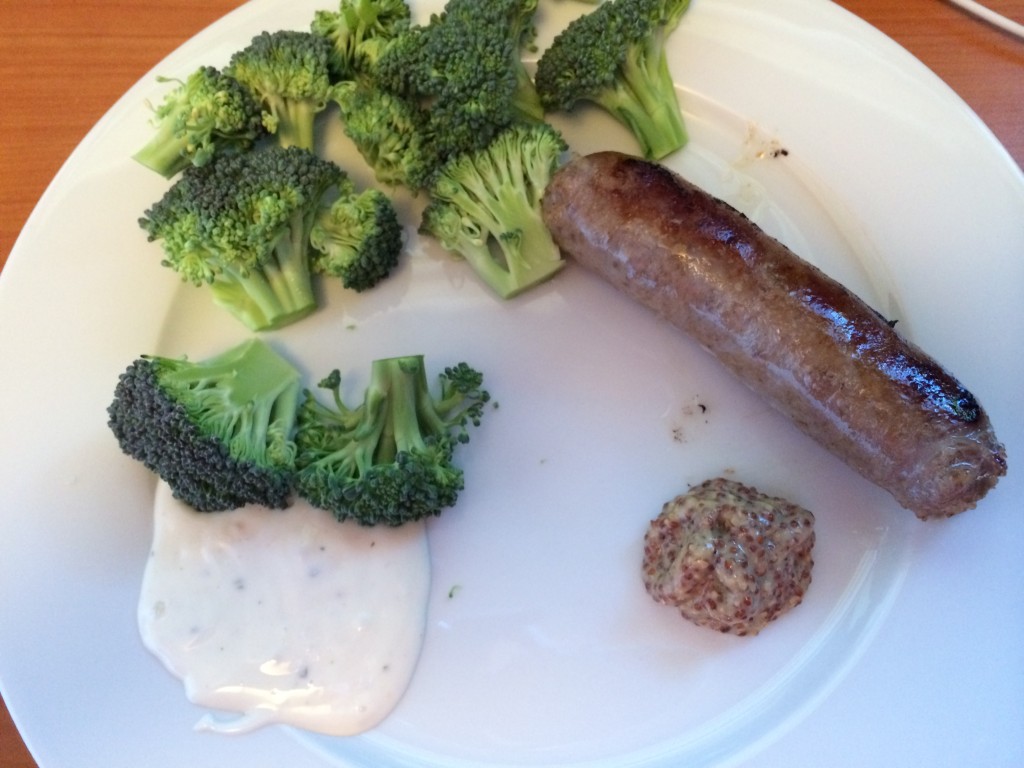 Day Three – For breakfast I was having some egg muffins that I made recently that I packed with veggies. It's an easy way to get more vegetable in your diet! Quiche, omelet, scramble–add some greens!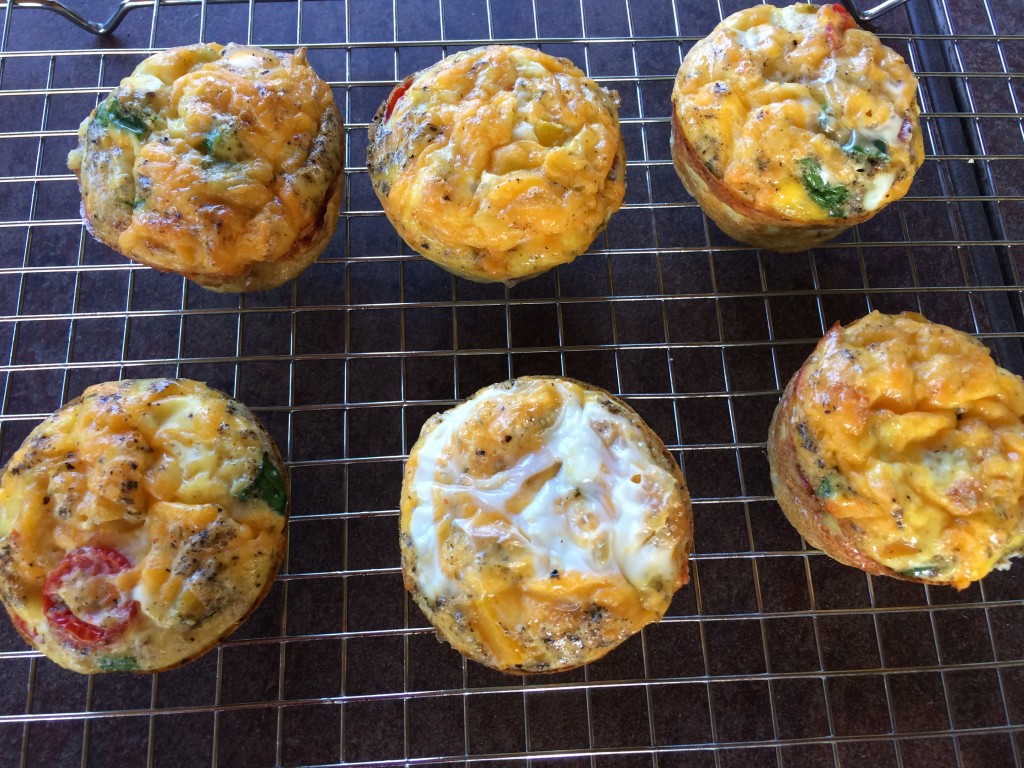 Day Four – I added a green salad to my soup lunch. This was the easiest way to get some greens in on this day.
Day Five – For a snack I skipped the usual apple and had celery and hummus instead. It was around the same calories and I felt good getting in some celery (which is sometimes hard for me to eat).
Day Six – Today for lunch I had the last of the leftovers from that casserole I made over the weekend. It had peas and corn in the casserole. I added a side salad of baby spinach to it for my lunch. My pre-gym snack was some carrots and hummus!
Day Seven –  Another snack of celery and hummus! For dinner I had a big salad and topped it with leftover chicken, orange and yellow peppers, broccoli, diced celery and some cottage cheese on the side. Sometimes dinner just needs to be quick and easy.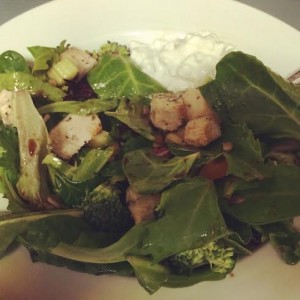 Eat More Veggies
Move your fruit and vegetables out of the fridge drawer and on the top shelf. This is a great tip. Out of sight, out of mind can be a bad thing. If I SEE the veggies out there, I'm reminded I need to eat them before they spoil.
Prep the veggies as soon as you get home from the grocery store. This is a trick I've used for awhile and it makes a HUGE difference for me. If I spend 1 hour prepping food on a Sunday, I am more likely to eat those things. But if I just leave a whole bunch of celery, unwashed and uncut, in the fridge, I'll never eat it. It's too much effort. (I know, that's terrible.)
Adding veggies to breakfast is super easy! When I was on a scrambled egg kick I was doing my eggs with broccoli, peppers, or spinach and onions. I loved it! I need to get back into making my veggie scrambles.
Having some raw veggies with hummus or guacamole is a healthier alternative to chips. I'm so-so on this. Sometimes I just crave the salty, crunchy corn tortillas. But I do love raw celery or carrots with hummus.
Add vegetables to spaghetti sauce. This is something I never thought of until a friend told me she always adds carrot to her homemade spaghetti sauce or homemade tomato soup. Her reason? The carrots were a substitute for sugar! How smart! And a great way to get some carrots in the diet. Also, chop up some zucchini and mushrooms to your spaghetti sauce to make it richer.
Make a smoothie. This is something I struggle with. It's a GREAT way to get the green in your diet but I just don't crave smoothies in the winter. I make them in the summer time, but….yeah. If it works for you, great.
Remember those sandwiches I was eating for dinner in December when I was feeling lazy? Why didn't I add some vegetables to that sandwich? Or as a side dish? Adding some peppers to a grilled ham and cheese sounds like a great idea to me!
How do you add more vegetables to your diet?