I saw my ghost at the pool last night. She was a bit heavier than I used to be but she was there swimming. Just like I did way back when. She had a similar suit as I had– the kind with a skirt attached (I was embarrassed by my thighs).
She was swimming in the lane next to me. I think she tried to smile at me but it happened as I went under water. I was conflicted. I wanted to say something to her– encourage her to keep swimming. But I stopped myself. I knew what I looked like to her– a skinny girl swimming faster than her, a skinny girl who didn't have to rest after each lap.
She doesn't know I used to be her.
And how do I even start that conversation?
If someone had commented to my old self I'd be offended. I'd feel like they were judging me. I never want to make someone feel like that. So I kept quiet and silently said "good job. Keep swimming!" and I swam by myself.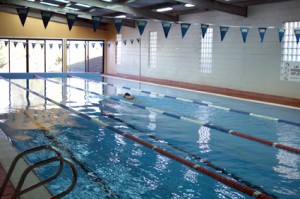 I ever see her at the pool again, maybe I will say something encouraging. Maybe.
My own swim routine went well last night. I didn't do much of the breaststroke. While my knee wasn't hurting me, it did not feel quite as wonderful as it did on Thursday. I decided to take it easy and just do Freestyle. I had great time and swam fast.
When I got home, Michael was blackening some salmon.
I still had to eat soft-ish food because of my tooth. He also made cheese ravioli as the side dish.
I made a side salad. I'd been craving fresh veggies all day.
Dinner turned out great.
I ended up eating only half of the salmon because it was a bit too much food.
We watched an episode of Anthony Bourdain last night too. This episode was about Spain–somewhere I'd love to go! But then he proceeded to talk about food like tripe and the hoof of a bull. NO THANK YOU! Talk about unappealing.
Our dinner was much better. And I even have leftovers for lunch now!