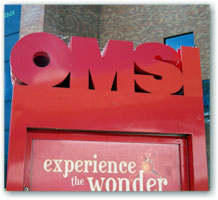 Wednesday night after work Michael and I went to OMSI (Oregon Museum of Science and Industry) for "OMSI After Dark." It's a really cool event that happens about every other month or so. The museum closes it's doors at 6pm to all kids and it's open to adults only! And with a BAR! Even better! 😉

The website says: "Sample tasty snacks and sweets along with beer, wine, and craft soda, and talk to regional food and beverage artisans about the science behind them." PLUS you can explore the entire museum and the featured exhibit–which is currently "Einstein: The World Through his Eyes."
The last time I was at OMSI was for the Bodies Exhibit last summer. That exhibit was amazing and so informative. I also saw the CSI Exhibit–another fun one.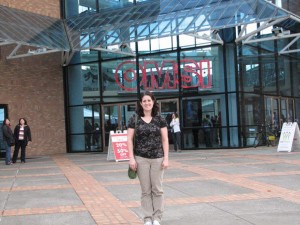 We got there about 6:15 and it was already packed. Since I had the Groupon, we were able to bypass the ticket line and go right in! The first thing we did was go to the Einstein exhibit.
I was surprised at what I learned. Granted it's been years since I was in school but I realized that most of my Einstein knowledge was about his math and science discoveries.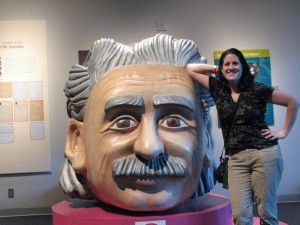 There was so much more to him. He was a civil rights activist, a Jewish advocate, world traveler and pacifist.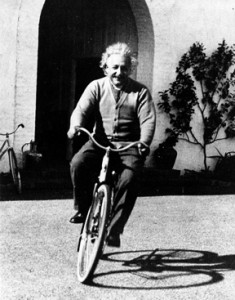 We saw his diaries, journals, his passport and even his Nobel Peace prize at the exhibit! It was so cool.
Did I mention OMSI After Dark is alcohol friendly? Michael and I lucked out and got drinks early–before the lines were 60 people deep.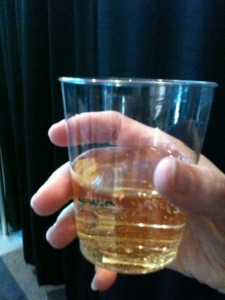 I got a glass of white wine and we checked out the space exhibit.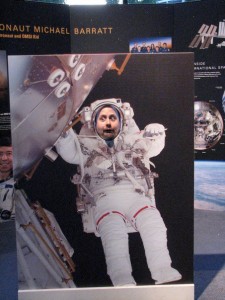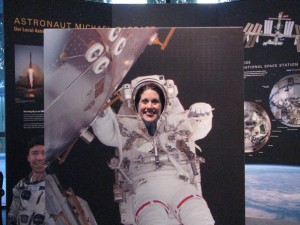 After the Einstein exhibit, we went to the dinosaurs. Our favorite. OMSI has the Samson T-Rex permanently in the museum. Samson is the third most complete dinosaur ever discovered.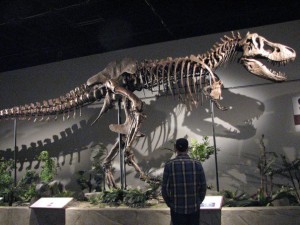 They have 56% of the skeleton. Samson is pretty cool in person. I've loved dinosaurs since I was a kid. In fact, this morning when Michael and I didn't want to get out of bed and go to work he suggested we call in sick and stay in bed watching Jurassic Park. 😉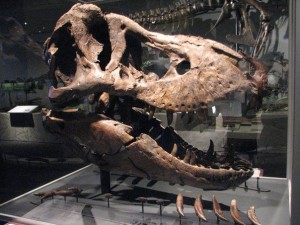 After the dinosaurs we checked out the other exhibits and then headed back downstairs to go to the technology room. That room also happened to have food and drink samples! Yay!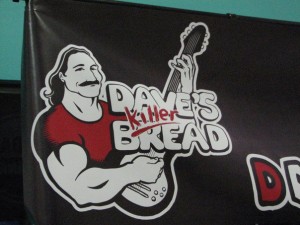 My favorite local bread company, Dave's Killer Bread, had samples of all their bread. So tasty.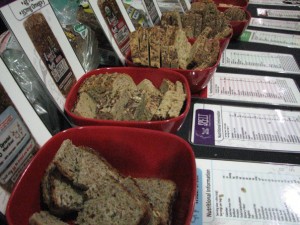 Rheinlander, the local German restaurant, had a booth and was giving samples of sausage and fondue.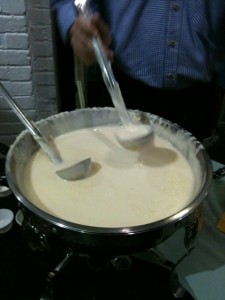 Man do I love fondue.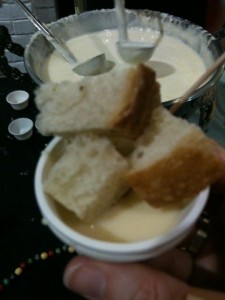 There were also samples of chocolate from a local company and samples of ice cream sandwiches (those were amazingly good). There was a local distillery giving samples of vodka and gin. I had two samples of the vodka–good stuff!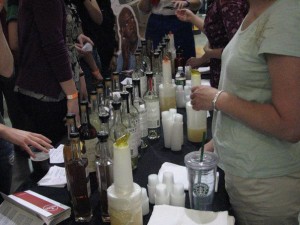 It was getting close to 8pm by then and we were hungry–and I was eating too many samples. The fondue made me want to go to Gustav's for dinner. So Michael and left OMSI and headed over to Gustav's.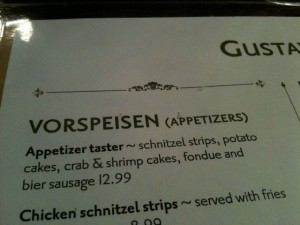 The samples filled me up a little bit so went for a lighter dinner. The Appetizer Taster: schnitzel strips, potato cakes, crab cakes and fondue with sausage. The fondue was excellent!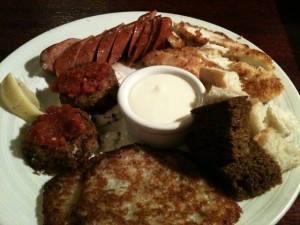 I guess the "fancy German names" distracted me from the fact that it was all just greasy, fried bar food. Oh well, it wasn't much.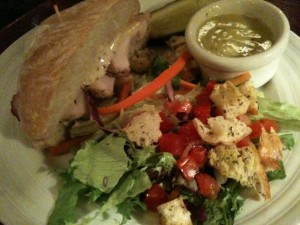 We also order the half sandwich and side salad. Michael ate the sandwich and I ate the salad. It came with a creamy mustard dressing that was excellent. I'm now in search for a recipe to make my own.
I had a really great night. OMSI was a blast and it was a cool and DIFFERENT thing to do on a Wednesday night.
QUESTION: Does your city have a science museum? And what's your favorite exhibit?