This post includes a few great recipes I've tried lately. I've wanted to get back into trying new recipes because we've honestly been really lazy with dinners. I like cooking (especially making soups and stuff in the crockpot) and it was time to try something new.
Beef and Barley Stew
I don't know that this would qualify as a "Fast" dinner but it was fairly easy. I found several recipes for the crockpot but didn't get around to trying them. I had a free evening last week and decided to give it a try.
[amd-zlrecipe-recipe:103]
I didn't have celery so I added frozen peas instead. The recipe was actually quite delicious. I loved the flavors of the soup and the barley was fantastic. It might be new favorite thing. I've never had barley before and it went great in a soup. The meat, however, was tough. I wasn't a fan of that and would probably make this recipe again but leave out the steak. I think it would be great as a simple barley and vegetable stew.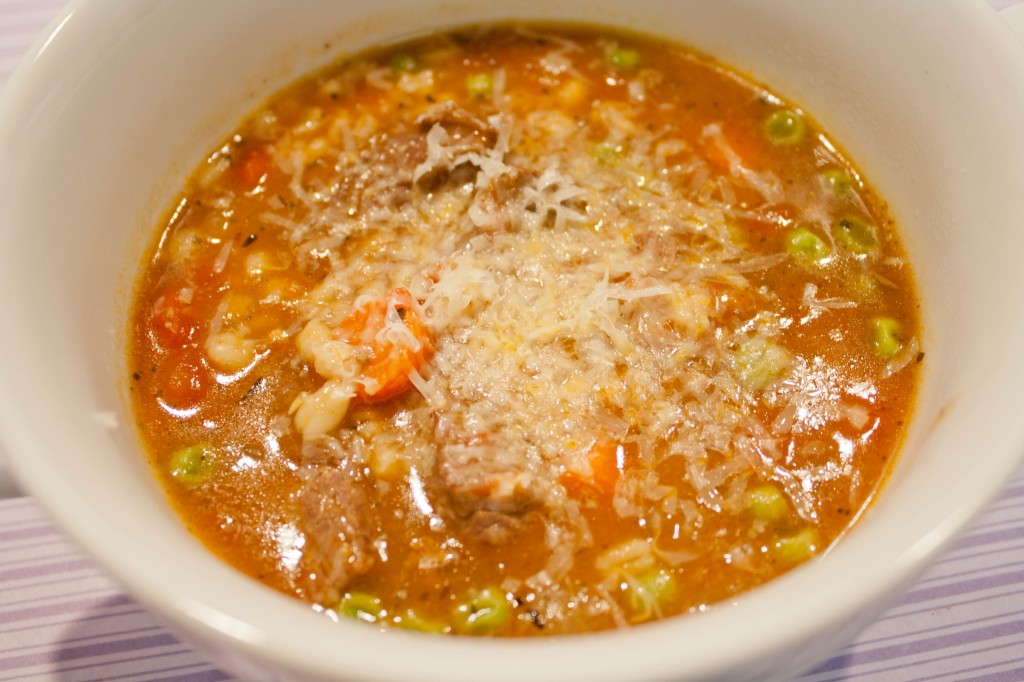 I topped the stew with some shredded Parmesan cheese. The dinner was super filling and felt nourishing and homey.
Baked Salmon
This is nothing new on the blog. Salmon is a basic meal in our house; we eat it probably once a week. Michael blackens the salmon in the skillet and we often have that with steamed veggies or on top of a green salad. Another method I use is to mix together Dijon mustard with brown sugar, pour it on top of the salmon and bake it. That's a great one!
This method is just as easy and quick and it tastes great. I spray foil with some coconut oil, lay the salmon down and season it with Lemon Pepper seasoning, a little salt, regular pepper, dried dill, fresh chopped rosemary from the garden and put lemon slices on top. I loosely wrap the foil around the salmon and depending on the thickness of the cut I bake it at 350 degrees for 15-18 minutes. Perfect salmon every time!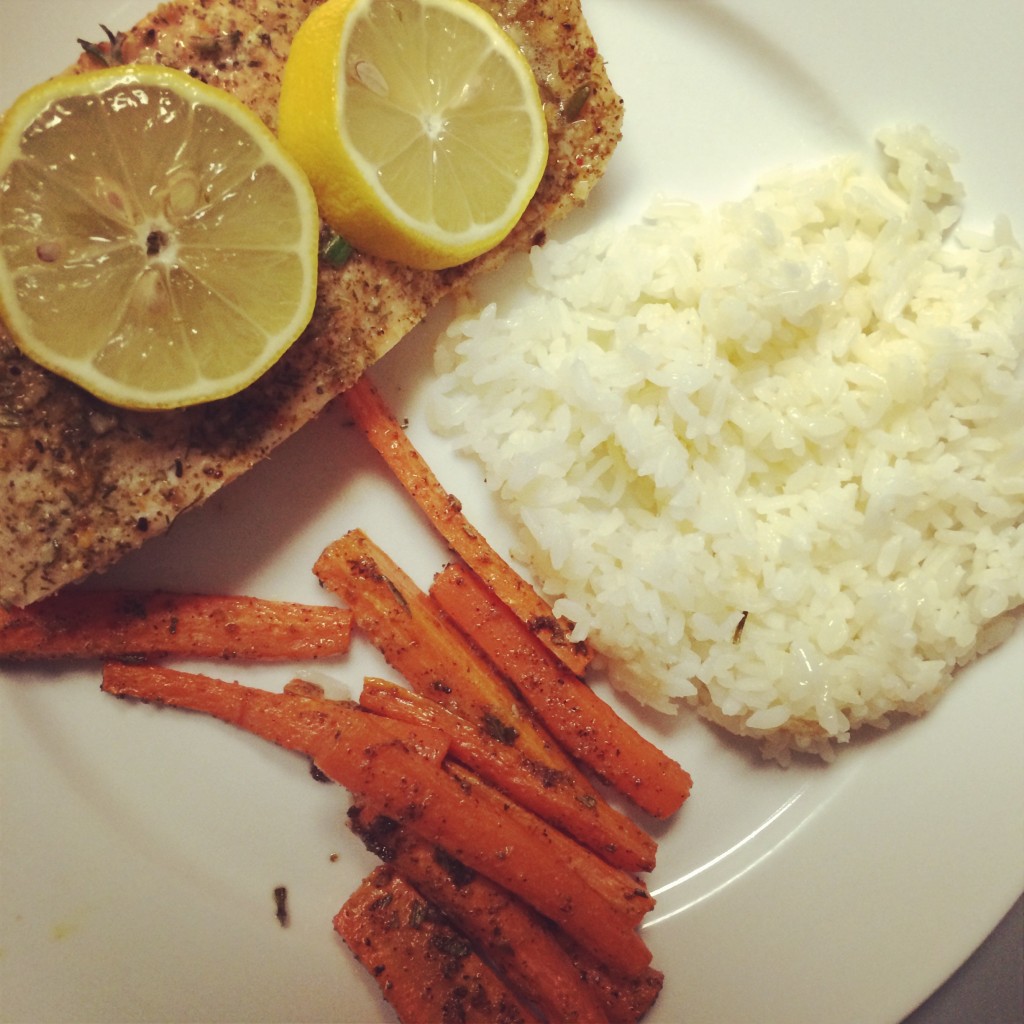 I love the combination of dill, rosemary and lemon. This time around I cooked some jasmine rice in the rice cooker and I also roasted some carrots. For the carrots I sprinkled some grapeseed oil on them, seasoned with salt and pepper, a little of the Costco seasoning and fresh rosemary. I baked the carrots about the same time as the salmon. Everything came together at the same time and was absolutely delicious! The best part: the whole meal was around 600 calories.
Taco Soup
I have a book of soup recipes that I've been slowly working my way through. I wish I could say I've tried a bunch but somewhere between last winter and this one, I've slacked off and only cooked about 5 or 6 of the recipes. There are so many in there to choose from. Of the handful I've made, most were pretty decent. The good thing about this book is that it's broken down into chapters according to the protein and there could be several variations of a similar recipe you can choose from.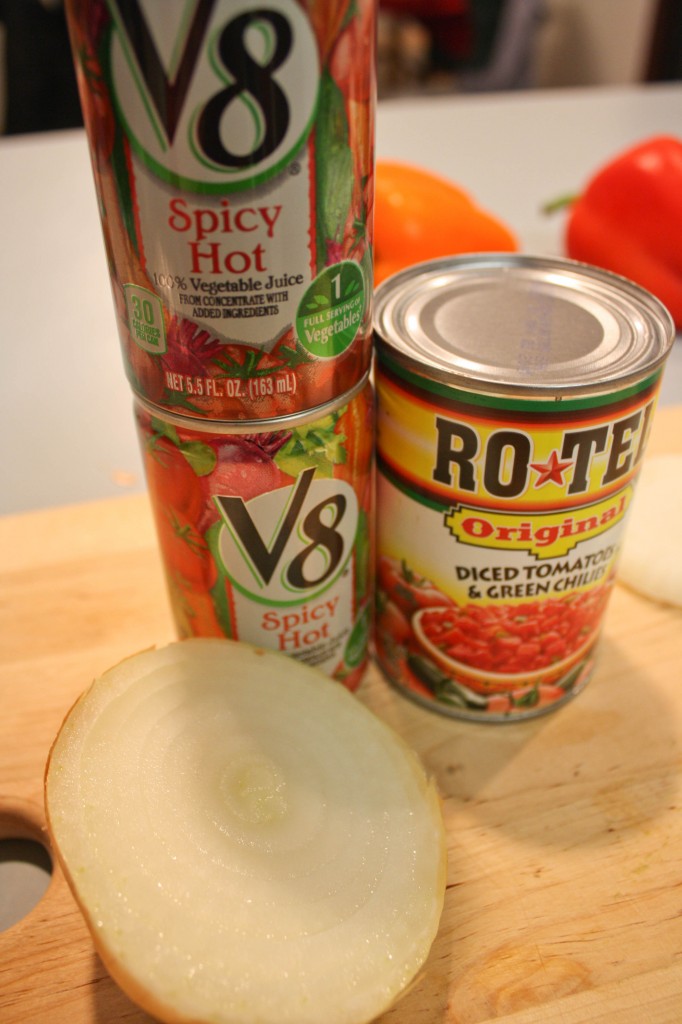 For example, this recipe came about because of what we had on hand. I had 1/2 a pound of ground beef I had to use up and looked at the 4 different beef taco soups in the book. I ended up picking this one because I had almost all of the ingredients it called for.
[amd-zlrecipe-recipe:102]
I didn't have green peppers and I didn't have enough V8 (only 2 cans were left) so I added a can of Rotel. It made up the difference on missing 1 can of V8 juice and it also had diced chilies in it. It worked! I wasn't too concerned about the spicy V8 being too spicy. It's the V8 I use when I make my Bloody Mary's and it's fantastic.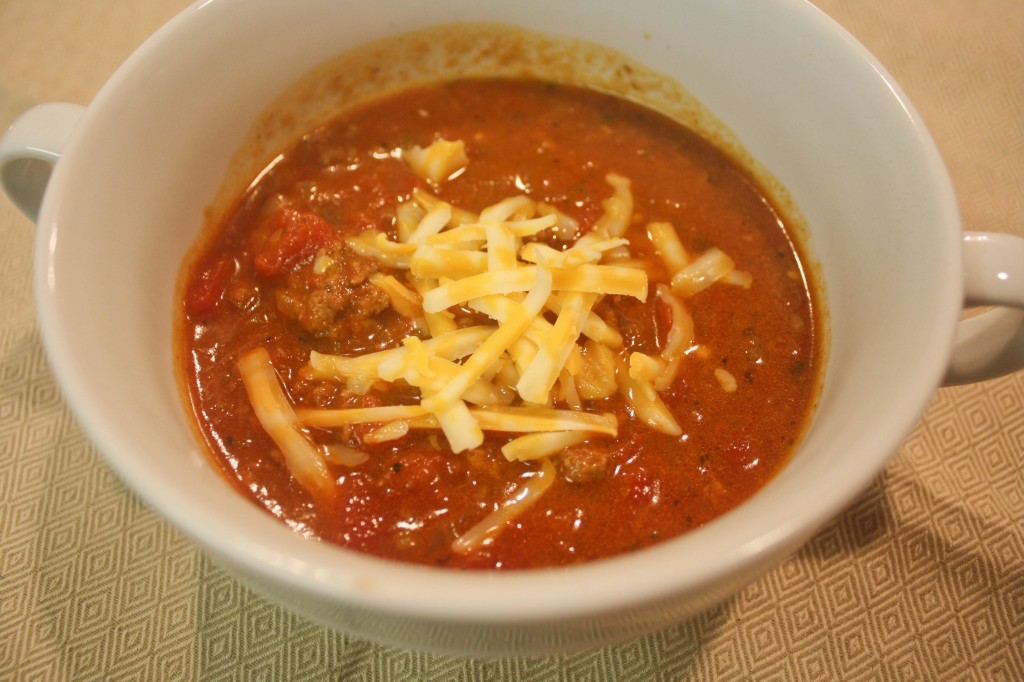 But…yeah, two cans of spicy V8 is pretty damn spicy! I told Michael I hoped it was edible and not too spicy. I followed the recipe's instructions and served it up with some shredded Colby Jack cheese, a spoonful of sour cream and some corn tortilla chips.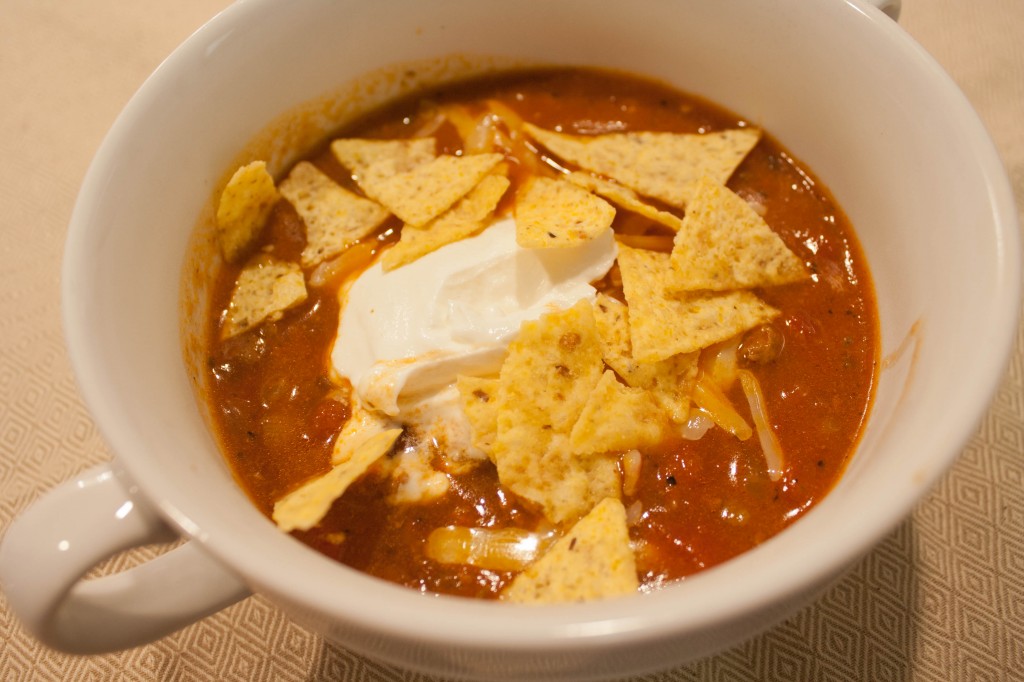 It was indeed edible and the sour cream and cheese helped to offset the spiciness. The dinner was delicious! I was glad it turned out and marked it as a winner in the cookbook to definitely make again. Even better: it's less than 500 calories for the soup and toppings!
I will make the taco soup again and probably VERY soon, too!