Flemish Beef Stew

From EatingWell

Per serving: 272 calories; 9 g fat (3 g sat, 4 g mono); 72 mg cholesterol; 17 g carbohydrates; 0 g added sugars; 27 g protein; 2 g fiber; 359 mg sodium; 609 mg potassium.
8 servings
Total Time: 8 3/4 hours
Ingredients
4 teaspoons canola oil, divided

2 pounds bottom round, trimmed of fat and cut into 1-inch cubes

3/4 pound sliced cremini, or white button mushrooms

3 tablespoons all-purpose flour

2 cups brown ale, or dark beer

4 large carrots, peeled and cut into 1-inch pieces

1 large onion, chopped

1 clove garlic, minced

1 1/2 tablespoons Dijon mustard

1 teaspoon caraway seeds

3/4 teaspoon salt

1/2 teaspoon freshly ground pepper

1 bay leaf
Directions
Heat 2 teaspoons oil in a large skillet over medium heat. Add half the beef and brown on all sides, turning frequently, about 5 minutes. Transfer to a 6-quart slow cooker. Drain any fat from the pan. Add the remaining 2 teaspoons oil and brown the remaining beef. Transfer to the slow cooker.

Return the skillet to medium heat, add mushrooms and cook, stirring often, until they give off their liquid and it evaporates to a glaze, 5 to 7 minutes. Sprinkle flour over the mushrooms; cook undisturbed for 10 seconds, then stir and cook for 30 seconds more. Pour in ale (or beer); bring to a boil, whisking constantly to reduce foaming, until thickened and bubbling, about 3 minutes. Transfer the mushroom mixture to the slow cooker.

Add carrots, onion, garlic, mustard, caraway seeds, salt, pepper and bay leaf to the slow cooker. Stir to combine.

Put the lid on and cook on low until the beef is very tender, about 8 hours. Discard the bay leaf before serving.
Since the stew had to cook in the crockpot for over 8 hours I started the stew early Sunday morning and then headed to the pool. It was fairly easy to make the recipe. Since I'm not a fan of mushrooms I skipped that step and I think that changed the amount of liquid in the stew. Because of that I added some beef broth.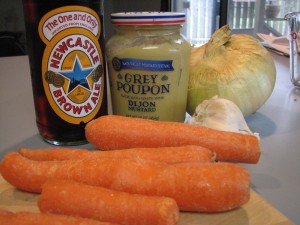 First I chopped the onions and carrots and garlic. I wanted all of that stuff done before I started browning the beef. I knew that would be time consuming.
I browned the meat in vegetable oil. It didn't take too much time to brown it.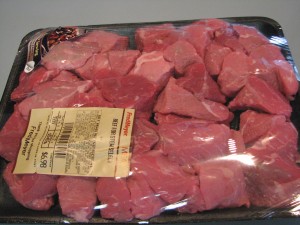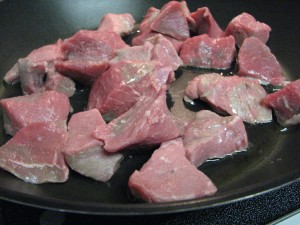 I put the browned beef into the crockpot and then started "gravy."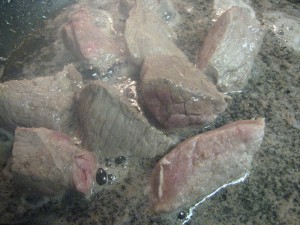 I skipped the step with the mushrooms but I saved the fat from the meat.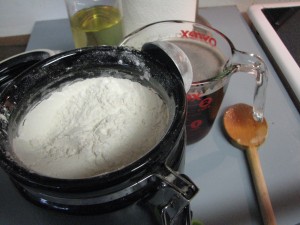 I poured the beer and flour into the skillet, stirring it constantly with the whisk. The recipe called for a brown ale but NOT a stout. I picked up a Newcastle Brown Ale, not too strong in flavor.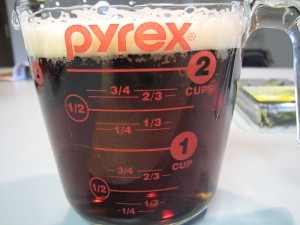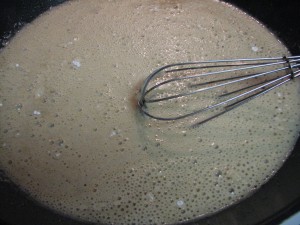 The beer made it froth and foam. I whisked it constantly to get rid of the lumps from the flour. It thickened up nicely.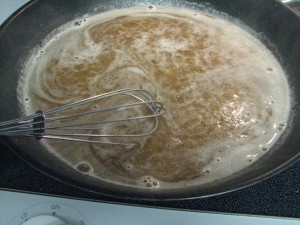 Once it was done boiling and was thicker I poured it into the crockpot over the beef chunks.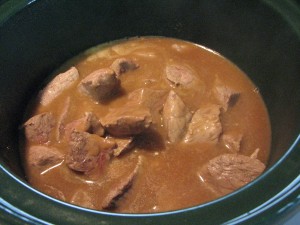 It definitely smelled delicious. I followed the rest of the recipe and added the onions, carrots and garlic.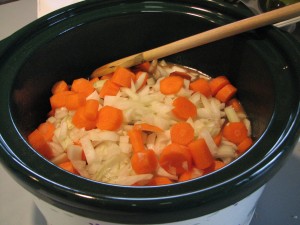 I mixed it all together and then added the Dijon mustard, salt, pepper and caraway seeds.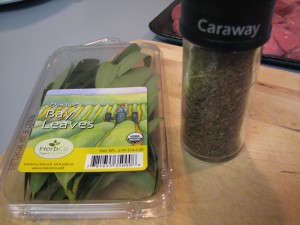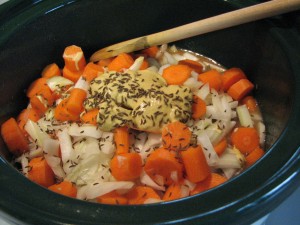 I mixed it all together until it was creamy. I could tell right away there wasn't enough liquid (because I skipped the mushrooms step). I decided to add a little bit of canned beef broth to see if that helped. I didn't add much (I decided I could always add more later but it would be hard to remove liquid).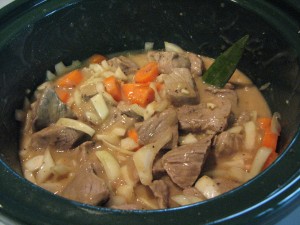 After the pool I checked the stew and it seemed to have enough liquid so I did not add any more beef broth. I checked the recipe online to read the comments to see if anyone else had a problem with not enough liquid…no mentioned it but a few DID mention that the stew was really bitter. I started worry about those comments and tested my own stew. It didn't taste bitter to me. Perhaps they chose the wrong beer? I think the Newcastle Brown Ale was mild enough to not be bitter. I also read that the caraway seeds CAN become bitter if cooked too long and that they should be added closer to the finish time. Dammit. Would have been nice to know that little fact before I added the seeds. Oh well, there was nothing I could do but wait and see.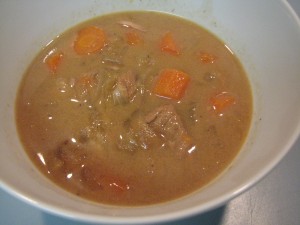 The stew turned out really well. I was happy with the flavor. Despite the reviews of the stew being bitter I did not experience this. But if I made this stew again I'd wait until the last 30 minutes to add the caraway seeds.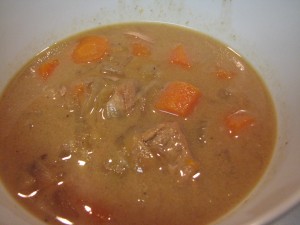 I would also add more beef broth to it so there was enough liquid for all the leftovers. And somehow my soup looks nothing like the website's soup (picture above). Funny.
Dinner was delicious and felt hearty and warm on a winter night. Win!
QUESTION: Did you create something yummy this weekend?