Do you have certain foods that you try to ALWAYS have on hand? Recently I wrote a post about foods I don't buy at the grocery store anymore. Most of it was what you'd imagine: stuff from the bakery, junk food, juices, and processed crap I don't eat anymore. Well, what about stuff I always buy?
This post is about the food I try to always have on hand. It's stuff that we eat all the time. I've said before that our meals are pretty boring. My snacks are a daily rotation of whatever fruits are in season and dinners are a protein + seasonal veggie. Having something basic like that makes it easy to always have healthy things available. NOT having junk food in the house makes it easier to choose a healthy snack if that's the only option!
Foods I always have on hand:
CANNED
One of the things the Slow Carb diet taught me (or reminded me of, either way) was how magical beans are. They are so filling, healthy and really versatile. I love having a variety of beans in our pantry because in a pinch, I always have a meal I can make. Our "Mexican salads" are a favorite (salad, veggies, black beans, salsa), quick and easy black bean quesadillas or burritos or enchiladas are also an option. I went through a phase where I put chickpeas on my salads every night. There's just an endless number of things I can do with beans.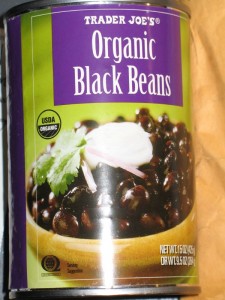 I also have soups available. This works great for me when I'm running late and want to grab something quick and easy for lunch. Tomato soup is my favorite, so I always have a few cans.
Canned pineapple of various types are always in my pantry, too. I like to add some chunks of pineapple to my plain Greek yogurt for a snack. Or as a homemade pizza topping!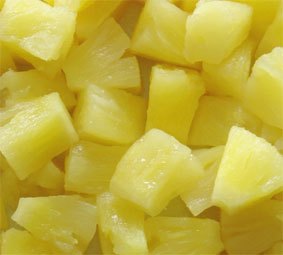 Tuna is also in my pantry because I like it (Michael never eats it). I either make tuna salad sandwiches or I add the plain tuna on top of salads for some protein.
Did you see my tip about pickles? Such a good snack to have available!
FRUITS and VEGGIES
We buy our lettuce or spinach at Costco. It's a huge vat of greens and most of the time we eat it all before it goes bad (sometimes we're not as good at that). Salads are often my go-to dinner when I'm home alone and don't feel like cooking, or for a quick lunch at work.
I tend to always buy broccoli. I don't know why that's the veggie I always buy but we nearly always have some in the fridge. Dinners are a protein + salad and + steamed veggie (and yes, it's usually broccoli!).
I'm especially looking forward to Brussels sprouts being back in season again, soon. That's my new favorite thing. Winter is approaching, so the veggies I am starting to buy and keep handy are things like squash and cauliflower.
For the fruit, I buy whatever is in season. Berry and cherry season is my favorite!
PROTEINS
There are a few things that we always have on hand. In terms of seafood, we ALWAYS have salmon, shrimp and tilapia in the freezer. It works great having something healthy we can quickly defrost and fix for dinner.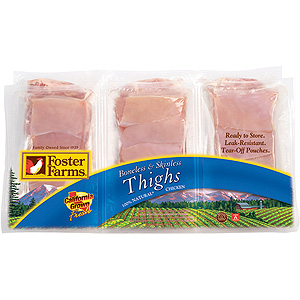 Michael buys our chicken, ground turkey and pork chops at Costco and puts them in the freezer. Those usually take some planning to defrost but it's nice having a complete meal always available. It means we're less likely to say "dang it, let's just get pizza." Tip: the pork chops at Costco are humongous, so cut them in half lengthwise to make a proper portion size AND double the amount of chops you have! The ground turkey is good for turkey burgers (pre-make the patties and freeze them for easy cooking later), taco night, taco salads, enchiladas or turkeyloaf.
OTHER
Some other things we buy at Costco because we eat a lot of it and it's cheaper to buy it in bulk are eggs, string cheese (easy snacks), plain Greek yogurt and hummus.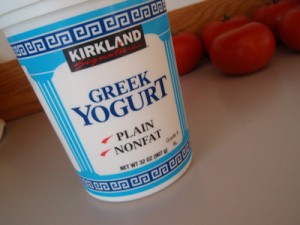 Make it Easy For You to Make Good Choices
I can't stress enough how much it has helped me NOT having trigger foods in my house and always having healthy options around. This is not to say there are not days when I grab some tortilla chips instead of Greek yogurt and fruit, but I do my best. When you get used to having healthy foods in the house, it becomes a habit and not really a hard choice to grab that apple or string cheese.
QUESTION: What are some things you try to always have available in your house?