It's been awhile since I've posted about my food. I figured the new readers would be interested to see what a typical day for me in maintenance mode would look like. To be honest it doesn't change a lot. I found things that worked and stuck with it. I try to add some variety to it here and there but honestly, this post is pretty typical of what I eat each day.
Breakfast
Lately I've been obsessed with hard-boiled eggs. I used this recipe to make perfect hard-boiled eggs and I've been doing a batch on Sunday nights for the upcoming week's breakfasts. I like it because it's a change from my normal two fried eggs and toast breakfast and it's also pretty filling.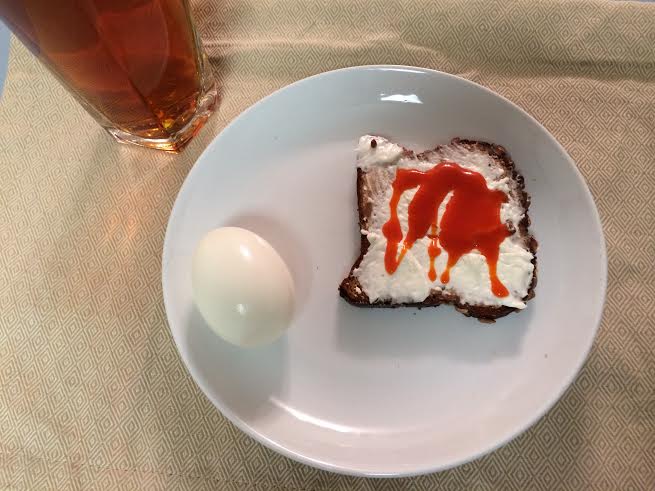 Breakfast lately has been 1 hard-boiled egg and a piece of gluten-free toast. Sometimes I put jam on the toast, sometimes cream cheese. Today it was a hard-boiled egg, the toast with cream cheese and a little buffalo sauce drizzled on top (don't judge, it's SO good). I have a glass of homemade, unsweetened iced tea with breakfast and then a cup of coffee with creamer when I get to work.
Total Calories Today: 331

Morning Snack
My mid-morning snack doesn't change much. It's usually an apple. I find that satisfies my sweet tooth and curbs the hunger between meals. The fruit changes with season. In winter it's either satsuma oranges or apples. Summertime is fresh, seasonal berries.
Total Calories Today: 70-80 calories depending on the size of the apple
Lunch
Lunch during the week is routinely leftovers or my old stand-by meals: salad, soup and crackers, leftovers from dinner the night before, sometimes frozen meals when I'm in a rush (the Trader Joe's Indian food lunches are fantastic!).
Today for lunch I brought a salad. I've been craving veggies and while the house is currently low on vegetable options, I made it work. I had a mixture of green leaf lettuce, spinach, roasted sunflower seeds, red onion and broccoli. I topped it with half of a can of tuna fish.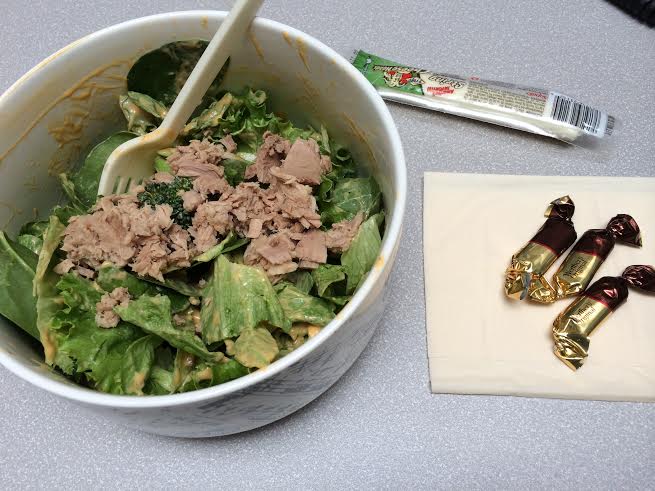 Because this isn't super filling, although the tuna helps, I added a string cheese to my lunch. I had a few pieces of candy, too.
Total Calories Today: 400
Afternoon Snack
This is a pre-gym snack. I've tried a whole lot of different things to figure out what works best. I need something to take the edge off my hunger without filling me up too much so I can hit the gym after work. Pre-swim snack is usually some plain Greek yogurt with raisins or fresh berries.
Other snacks have been 1 graham cracker with peanut butter on it, or hummus with raw veggies. These seem to be my go-to snack because everything else I've tried failed. Bananas are TERRIBLE–they leave me a starving, shaking mess.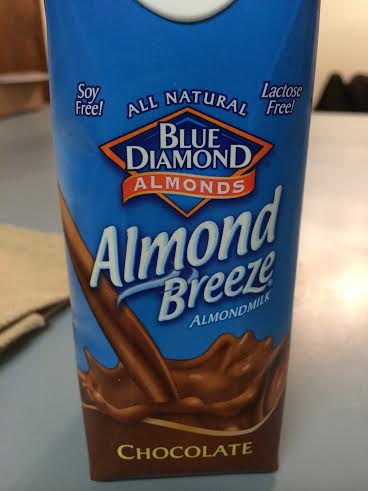 This day I had a graham cracker with half a serving of crunchy peanut butter and topped it with a few Craisins. I had about 1/3 of an Almond Milk to wash it down. It was a little higher in calories than I normally have for a pre-gym snack.
Total Calories Today: 220
Dinner
Dinner was a quickie-type meal. We don't eat a ton of pasta but lately we've been having it more often because it's quick and easy and we found some gluten free pasta that actually tastes really good. I measured out the dry penne with a kitchen scale so there were two exact servings–which was weird because even though the servings were correct, when everything was cooked it seemed more like three servings of food instead.
While the penne was cooking, I browned some leftover spicy pork sausage in the skillet and then added two handfuls of baby spinach to it until it was wilted. Then I added Four Cheese Pasta Sauce from a jar (totally not creative but did the trick for a fast dinner). I poured the al dente penne into the skillet with a teeny bit of the pasta water to cut the pasta sauce and mixed it all together.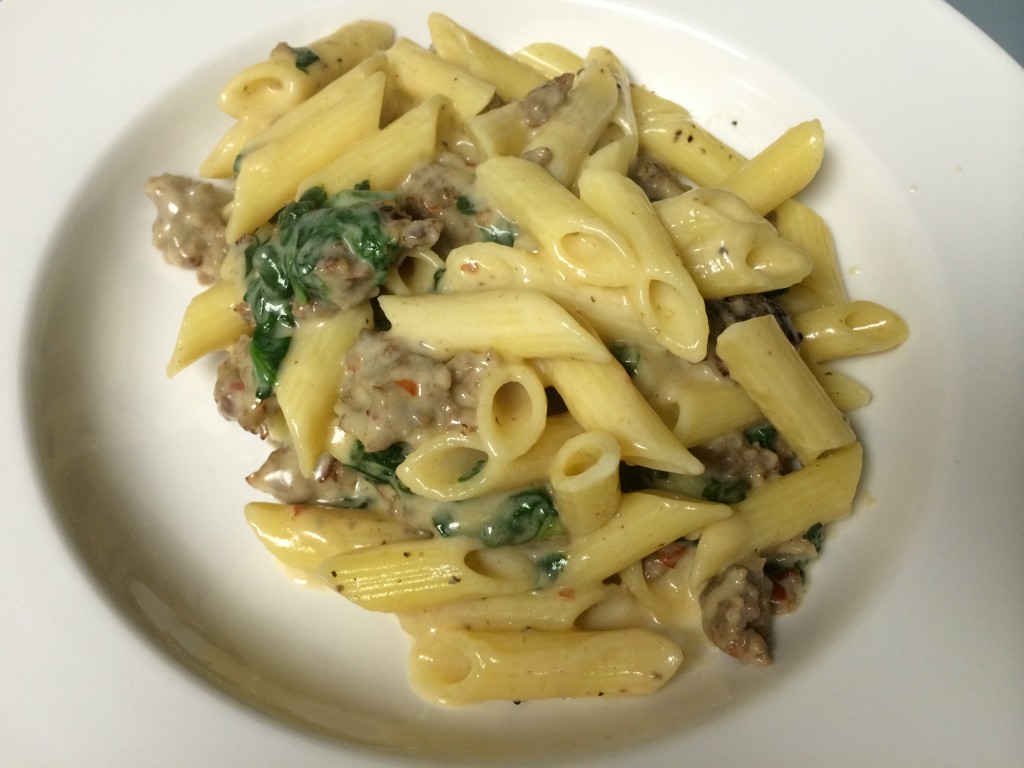 I wasn't a huge fan of the jarred sauce but at least it was so mild that I didn't really notice it. The flavors of the spicy sausage and spinach were what I tasted primarily. I'd make this easy dish again but I'd probably use a red sauce next time.
Total Calories Today: Around 650 
Dessert
Dessert is a must for me. I TRY and limit it to 200 calories or less but sometimes I splurge. We have a freakin' huge bag of M&M's from Costco that we've been working through. That was dessert for me!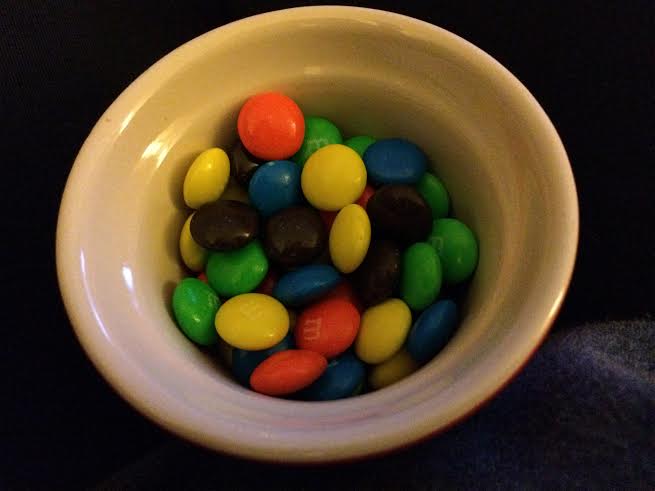 A serving size is 1/4 of a cup. I always measure it out. It's easy to eat much more than a serving when you just grab a handful.
Total Calories Today: 230
Fitness
Michael joined me for a workout at the Warrior Room! He bought the Groupon and even though he's been doing kettle bells on his own at home for years, I think it's great he checked it out. He got some tips on his form and he LOVED the gym! I'm happy to turn him on to something fun and new.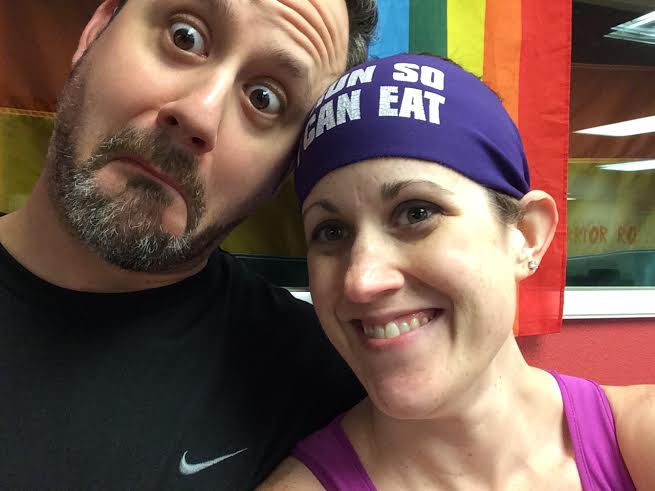 It was weird working out together. While we do activities together, we don't really workout together. He cycles (and is faster than me) with me and we hike together (I'm faster than him) and that's about it.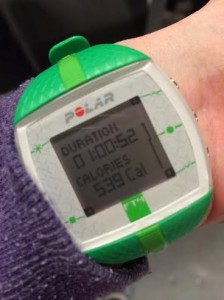 Total Calories Burned Today: 539!
The Totals
It was a decent day of eating for me. My calories for each meal in this post is pretty standard for most days, just the type of food varies from day to day. So how was the total breakdown?
Calorie Goal for the day: 1700
Calories eaten for the day: 1901
Calories burned for the day: 539
Calorie Total After The Gym: 1362
I'll admit that I probably ate healthier on this day because I was taking pictures of everything. Where would I have gone "wrong"? Probably having random bites of candy at work after lunch. That has been my downfall for a long time. It's hard to resist the candy when it's right in front of you. Chewing gum helps me a lot. Overall I'm happy with the calories for the day. If I want to lose any weight, I need to take a look at the carbs and sugar I'm eating AND create more of a deficit in my calories. Even 50-100 calories can make a big difference!
How are your eats lately?