In the spirit of Michael and my new Pantry Challenge, we are working our way through the pantry/freezer.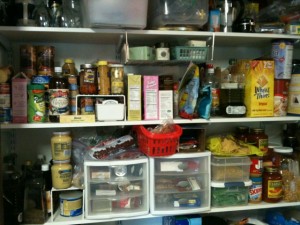 Monday Night's Dinner
It was an easy one: Turkey Burgers. Michael buys a bunch of ground turkey at one time and makes the patties before freezing them. They are just as tasty defrosted as they are when we make them fresh.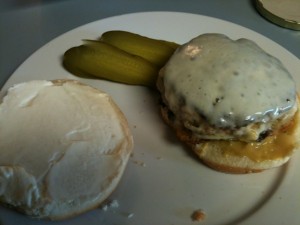 Spicy crunchy pickles were our "side."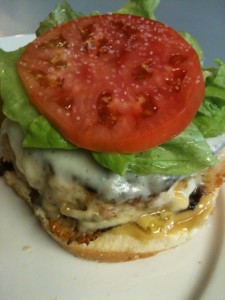 We used Havarti sliced cheese–awesome.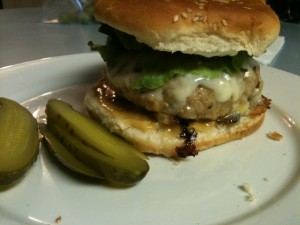 Score one for emptying the freezer!
My throat has been hurting all week so I justified eating ice cream for dessert to soothe my throat. 😉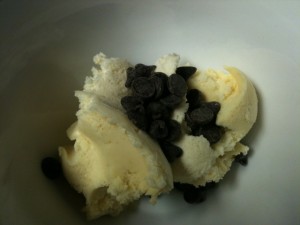 And I was also drinking a lot of tea: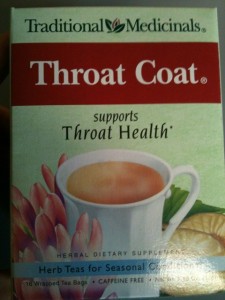 Tuesday's Dinner
I went to the gym Tuesday after work and did my weights.  I also signed up for one personal training session next week. I want to learn how to use some of the weight machines I've never used before.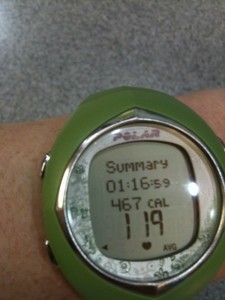 Gym Stats:
Time: 1:16
Calories Burned: 467
Workout: Weights only
I was on my own for dinner. And I realized two flaws in the Pantry Challenge. The first: we need to add dairy to list of "things we can go to the store for." I realized we were out of sour cream.
The second flaw: it kinda sucks having to go home and make diner after spending over an hour in the gym and not getting home until almost 7:30pm. I am determined to complete this challenge and I can suffer for the next month. 😉
I grabbed the ingredients I was going to use: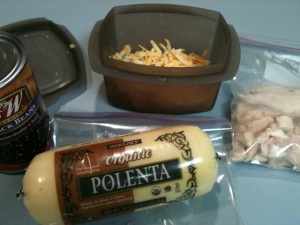 Leftover chicken, shredded cheese, black beans, green onion and polenta. I cooked the polenta slices for a few minutes.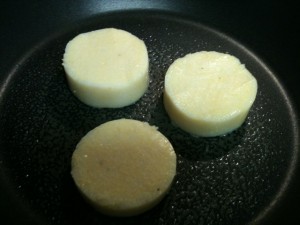 While the polenta was cooking (I flipped them once) I heated up the black beans. I sprinkled some chili powder into the pot and mixed it all together.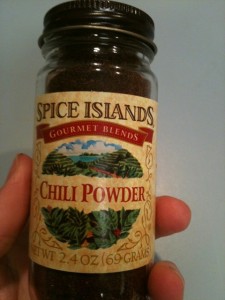 Next, I topped the polenta with cheese and chicken and microwaved it for a few minutes–just long enough to melt the cheese.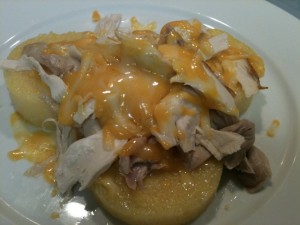 Topped it with black beans and the onion.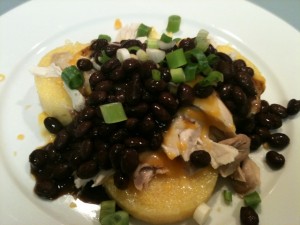 Next step: add the goodies! Like salsa, sour cream and some tortilla chips.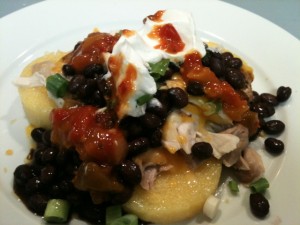 It looks like a mess but trust me when I say it was awesome! I always forget how much I love polenta.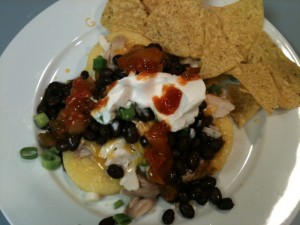 It looks like a lot of food but it really wasn't. I used polenta and black beans from the pantry and the rest were leftovers from the fridge. Makin' progress!