Whenever I bake anything that calls for pumpkin I think of Thanksgiving and Christmas. I do a lot of baking around that time of year and I usually default to pumpkin because I love it so much. Over the weekend my house smelled like Thanksgiving–full of Moroccan cinnamon, nutmeg and pumpkin. I loved it!
It was a rainy weekend with splashes of sunshine and blue skies mixed with hail and downpour. The kind of weather that makes you want to stay inside where it's warm and dry. So that's what I did. I did some baking for my man:
[amd-zlrecipe-recipe:63]
Despite my last terrible failure with gluten-free baking (it was so bad I didn't even share the recipe on the blog), I decided to give it another try. It took me a long time to find a gluten-free recipe for pumpkin bread that didn't have a bunch of odd ingredients.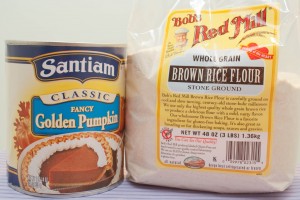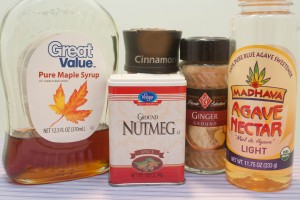 The recipe called for almond flour but I had brown rice flour. I'm still not sure if all the gluten-free flours are interchangeable but it seemed to work…I used 1/4 cup of maple syrup and 1/4 of a cup of Agave Nectar. I also didn't have cloves so I used nutmeg. Who knows if that was an okay substitute but it tasted great!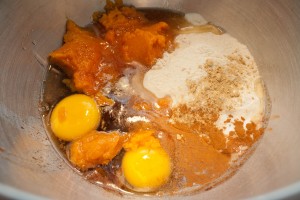 It took no time at all to throw it all together. The recipe said to bake it for 45 minutes. It took mine 40 minutes to be all the way cooked and honestly, I probably could have checked it at 35 minutes and it might have been done. (I'd also added a handful of chocolate chips and a few crushed pecans.)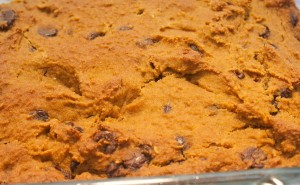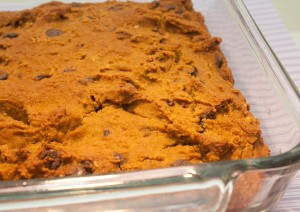 It was a little dry but not so dry that it was awful or anything. The flavor was good, the texture was ok…I'm still not used to the way gluten-free things taste. The consistency in this was pretty close to regular pumpkin bread, just not light and fluffy. It was denser.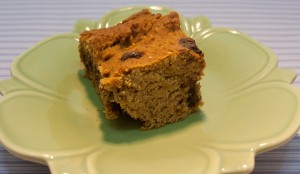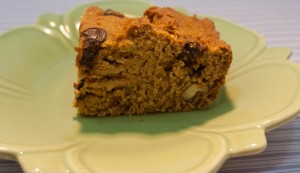 You can see some of the chocolate chips and a few pieces of the pecans. It was a really good addition. Honestly, I think the bread would be a bit boring had I not added some "fun" things. 🙂 A few days later when we had a piece it was a little dry but I heated it up in the microwave and that did the trick. Michael also tried it with cream cheese slathered on it and said that was awesome.
For dessert I had a piece of the pumpkin bread and a scoop of butter pecan ice cream. It went well with the ice cream!
You know you want a piece! So even though I want to try making the bread recipe again with applesauce to see if it makes it moister, I think this recipe is a keeper in my gluten-free recipe rotation!
QUESTION: How do I moisten up this bread?