Sunday morning I awoke begrudgingly at 7am. Michael and my dad are both early risers so they woke up and headed to Eastmoreland Golf course to play a "quick" 9 holes (uh huh…"quick" is a relative term for guys! 🙂 ) Anyway, I was up and awake and decided I should probably head to the pool to get in a swim before they got back.
The pool was almost empty and it was quiet. I think when I fell yesterday I hit my shoulder too because my arm was really sore: it felt like a bad bruise in the soft muscle of my upper arm. I don't see a bruise (yet) but it hurts. A lot. I sucked it up and got in the pool. It was the temperature of a warm bath. Normally I'd think it was too warm for lap swimming but after two swims last week in ice cold water–I'm not picky. And it was really relaxing to swim in warm water this morning.
I was slow today. Not my usual self, for sure. But I just let my body go at it's own pace this time instead of trying to push it. I did my normal routine and then basked in the hot tub for awhile.
Growing up, French Toast was my favorite breakfast to get at restaurants. It became kind of the family joke. Since my parents were in town this weekend, Michael and I wanted to take them to our new favorite breakfast joint: Hash. I've written about Hash before. Last time I got an amazing omelet. This time? I was DYING to try their fancy homemade Brioche French toast.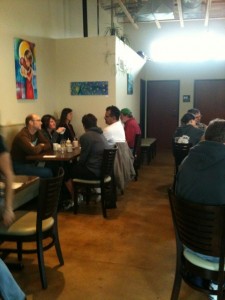 Since we got there later than planned, there was a bit of a wait this time.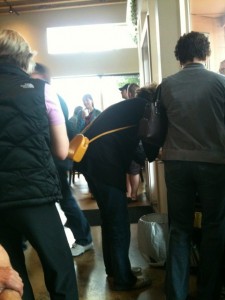 Luckily, we got there before the huge rush. I got some coffee while we waited.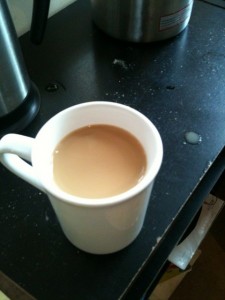 Yes I am a coffee wussy. I need lots of cream and sugar in my coffee for it to palatable! It also helped stave off my hunger. I was trying to keep the Cranky Hunger Monster at bay.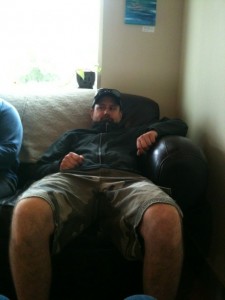 It's funny — seeing Michael and my Dad together I can totally see that I am Dating My Father. 😉 Can we say Electra Complex?? 🙂 It's so true. Michael and my father have a lot of similar personality traits and similar hobbies (sports, golf, etc). Save me!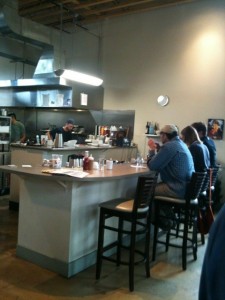 We were finally seated and I knew immediately what I was going to order. To Die For French Toast.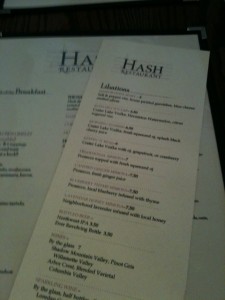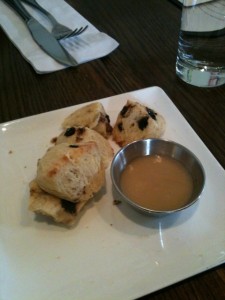 They brought the mini scones with applesauce to the table. I ate two of the mini scones. I noticed that the art was different this time. I think they rotate the collections every so often. It was cool to see some nice art on the walls with vibrant colors.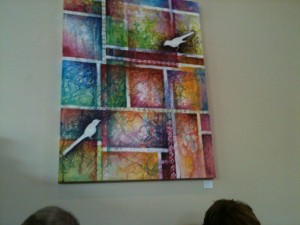 The French Toast arrived. It was homemade Brioche with Grade B maple syrup (not much) and a fruit syrup too.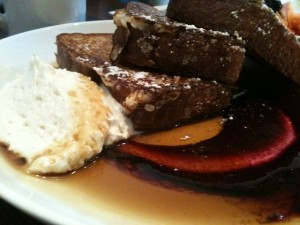 That white stuff on the plate is NOT butter–it's fantastic creme fraiche! My breakfast was amazing. Not the best French Toast I've ever had — Michael's is by far the best — but the best I've had at a restaurant!!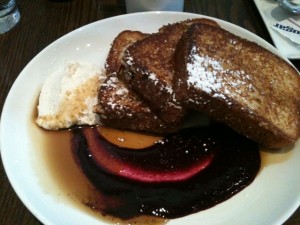 It came with fresh seasonal fruit too.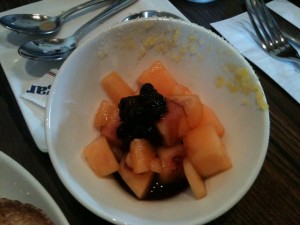 The bowl had lemon/orange sugary zest on it. It was tasty. I don't know what the berries were on top of the cantaloupe but they were delightful. I ate all of my French Toast. It was fantastic!
QUESTION: What's your favorite breakfast food?