I feel like I've been writing a lot of "how to" posts lately, and less of the "I'm a real person doing fun things, struggling with temptations and working out" type of posts. It's been a busy few weeks. I have a ton of humongous projects looming over my head, mostly good things.
The first, and biggest, is the editing and rewriting of my book. Specifically, I am entering a small part of it into two different writing contests and the first deadline is fast approaching.
Having the writing bug again is exciting and exhausting. It's like going into a manic phase or something–I'm suddenly too excited and amped to sleep or sit still. I just want to be writing and researching. If I didn't have to get up at such an ungodly hour to go to work each day, I'd probably stay up until midnight every night writing.
The second big project is more tedious. I have to go through our iPhoto library on the computer at home and delete all the "outtakes" from the library. Our computer is dangerously close to being full. That's my fault. It's going to take an entire weekend to go through like two years of photos in iPhoto. It's exhausting just thinking about it.
I've been working out like normal and thankfully the gym hasn't been too miserable with overcrowding. I've been going to that killer spin class on Wednesdays after work that I LOVE. The instructor is intense and the workouts are always a challenge. I love that I found a class that I like and that kicks my butt. Check out the most recent class stats: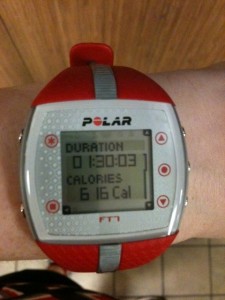 Pretty good if you ask me. I've also been swimming like usual, still loving it even though it's not challenging. I've increased the amount of squats and lunges I'm doing at the gym, as well as the amounts of the free weights. I always have Suzanne's voice in the back of my head now. 🙂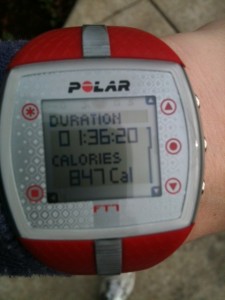 That was last Saturday's workout. Those squats and lunges left me crippled for about four days. Oooof.
I've also been obsessed with Brussel Sprouts lately. I don't know why. They aren't something I'd ever had before until recently and I enjoyed them so much I wanted to make them myself at home. We had the lovely New Year's Eve Dinner with sprouts and I had tons left over. One night after work Michael and I made shrimp and brussel sprouts.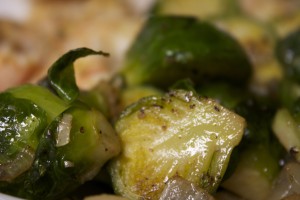 Kind of a "throw everything on the plate" dinner but it was delicious, and less than 500 calories for dinner.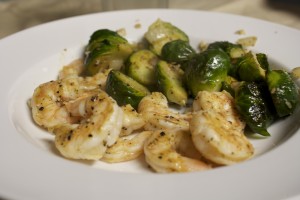 Hmmm… what else can I put brussel sprouts in?? (#obsessed) Michael also surprised me by making French Onion soup from scratch. There is really nothing better than coming home from the pool to the aroma of French Onion soup cooking when you are famished!
So that's what I've been up to lately.
QUESTION: What's new with you?