Long Beach boasts being the longest beach in the world at 28 miles. It's on the Washington coast just across the Columbia River from Astoria.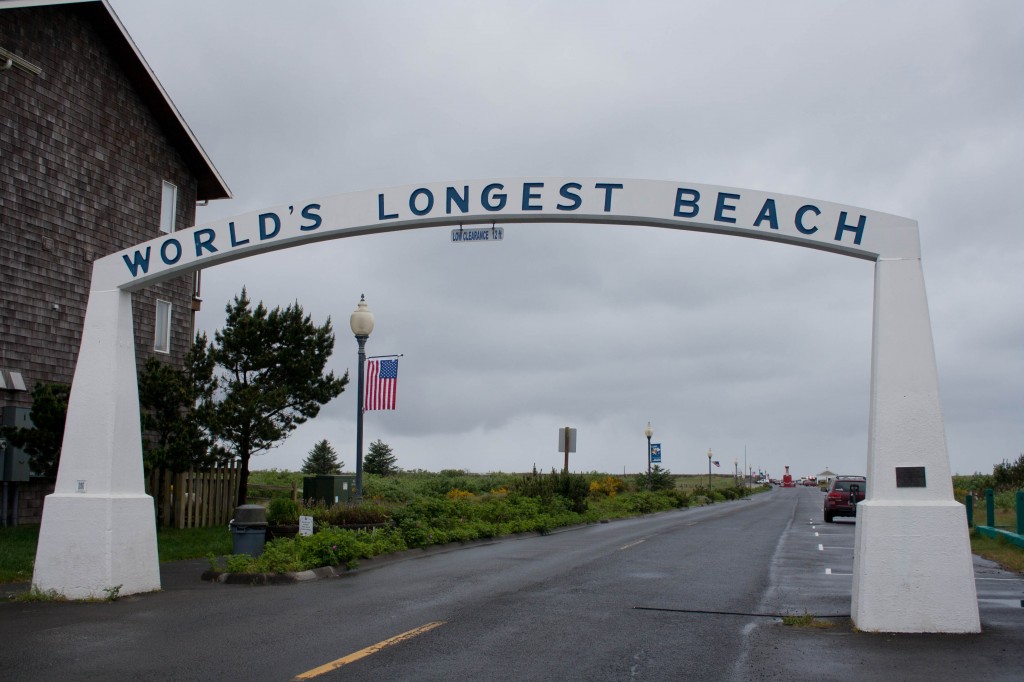 When I left off at my last post, I teased that I'd had a dinner that was out of this world. It was such a FUN experience and the food was really good that it made everything shine. The restaurant opened at 4 and I think we got there at 6. We snagged one of the awesome seats facing the ocean, right at the window.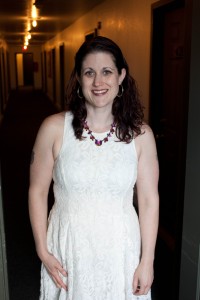 I got dressed up in a new dress (I'm still kind of on the fence on whether or not I like the dress) and we made it a nice date night. I loved that we got a table facing the ocean. It was still a gray evening so there wasn't much of a sunset to be had, but it was still romantic.
I started with a drink: a Bloody Mary. It was excellent! Not the best I've ever had (that would be the spicy as hell one I had at that Mexican restaurant in Portland) but up there. It was topped with a green onion, two  fern fiddleheads, a lemon a lime.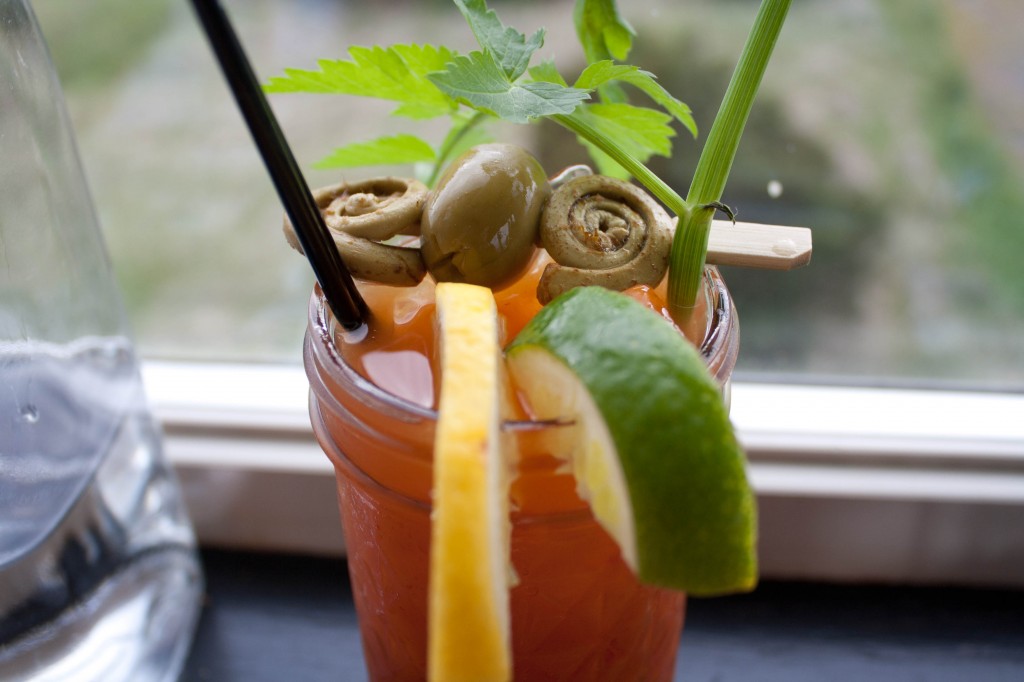 I loved that we ate our meal in courses. Neither of us were starving and wanted to just chill out and enjoy the view. So we ordered the first round of drinks and then the meat and cheese plate, which we could choose what to get.
I ordered the salami, prosciutto, Oregon Rogue Smoky Bleu cheese, the raw goat cheese, and the cheddar. It came with spicy mustard, dried cranberries, pinenuts and thin, crispy crackers.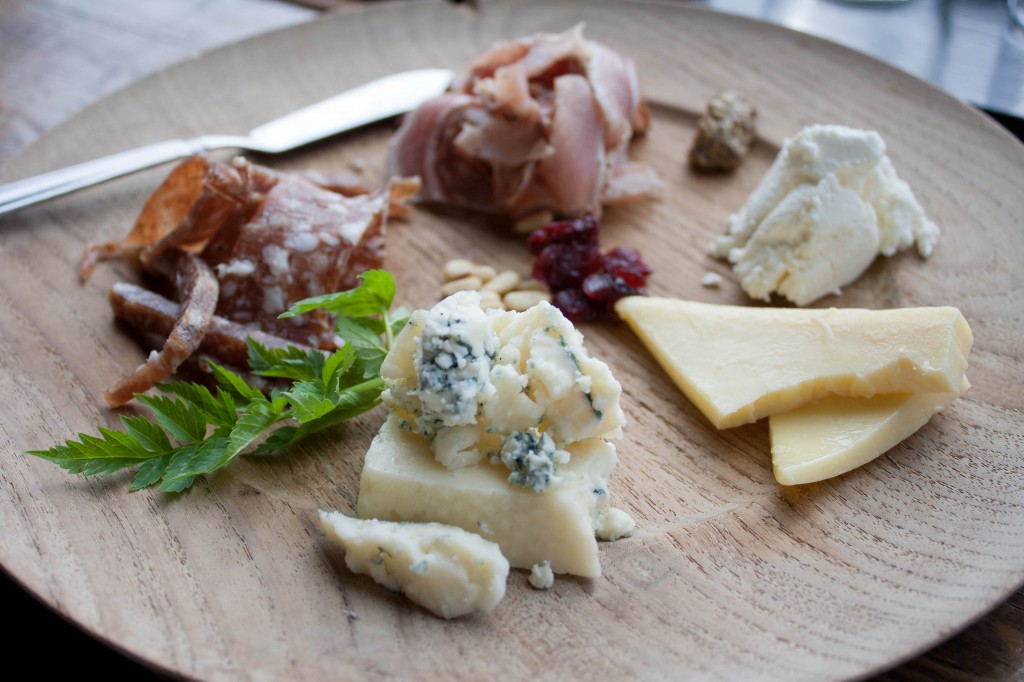 A little while later, we were done with the meat and cheese plate and debated on what appetizer to order next.  I really wanted the sauteed green beans wrapped in bacon, so Michael finally agreed. I think it was the bacon that convinced him. There was crumbled queso fresco and a spicy aioli sauce on the side.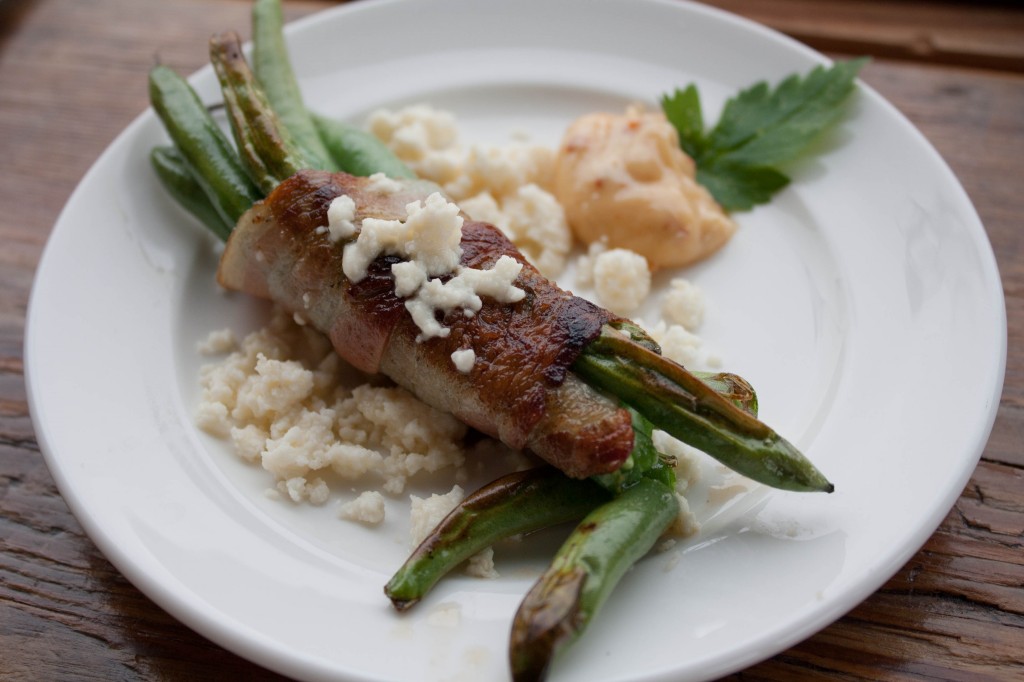 I wished there were two! Michael and I split it.
I liked the Bloody Mary but I was craving something else. I ended up ordering the "Seabass" (I'd been eyeing it since we first got there). It was Starvation Alley Farms cranberry, lemon, Crater Lake Vodka and orange bitters served in a small goblet. It was tart and sweet and I ended up ordering two that night! Three drinks! That's a lot for me. I enjoyed it all, though.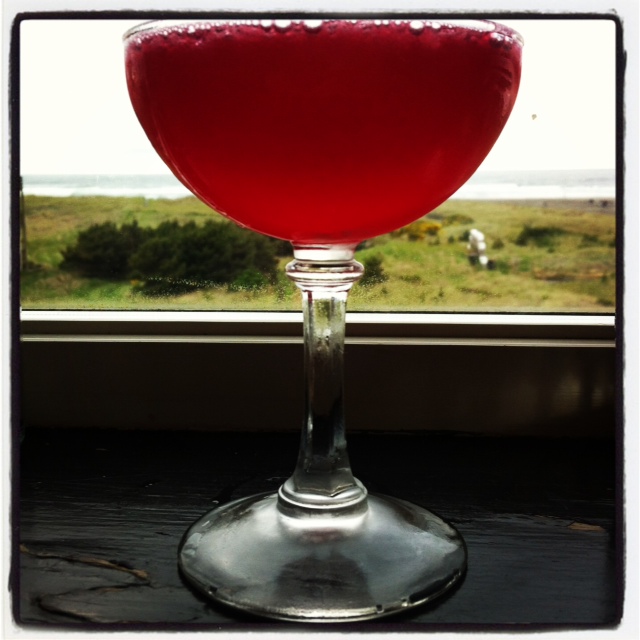 Finally it was time to order an entree. I got the clam chowder–it was supposed to have diced potatoes and local celery with pork belly in it. The chowder was decent. The sweet brioche toast on the side was a tad strange. The sweet flavors didn't go well with the savory clam chowder.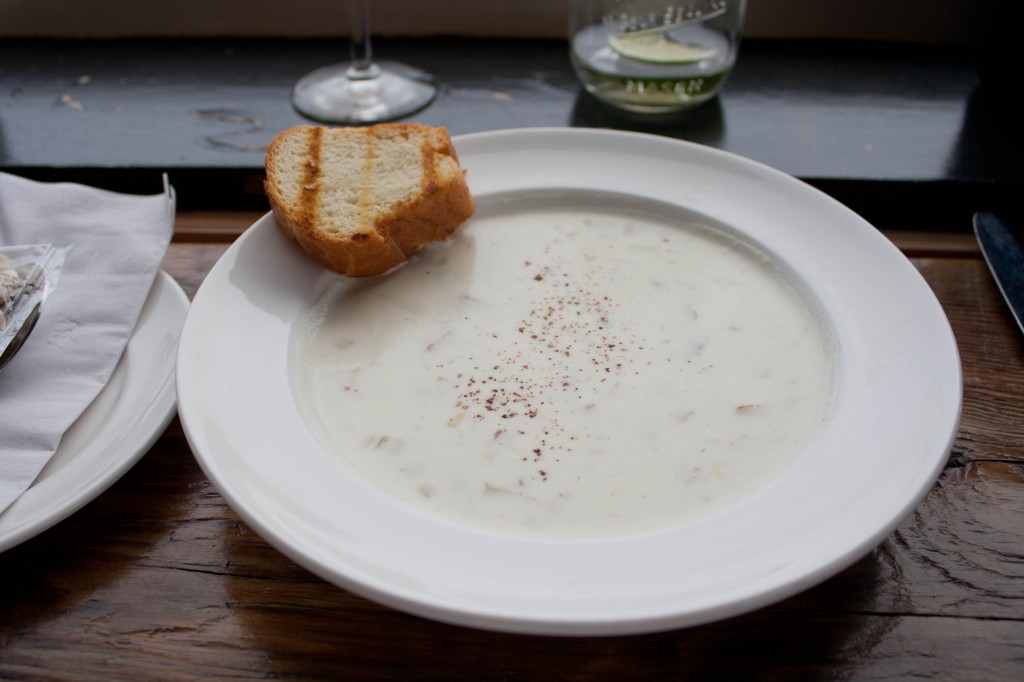 Michael got a burger with house made chips. The flavors were really strong and delicious but the bacon was the show stopper. Wow! I don't know what kind of bacon they used or how they prepared it but the flavors were perfect and the texture was just how I like it: slightly chewy with some crunch.
We stayed at the restaurant for over two hours enjoying our courses and finally called it a night. The restaurant was completely packed and we were done eating so we decided to leave. Besides, we had complimentary cupcakes at the room waiting for us. 🙂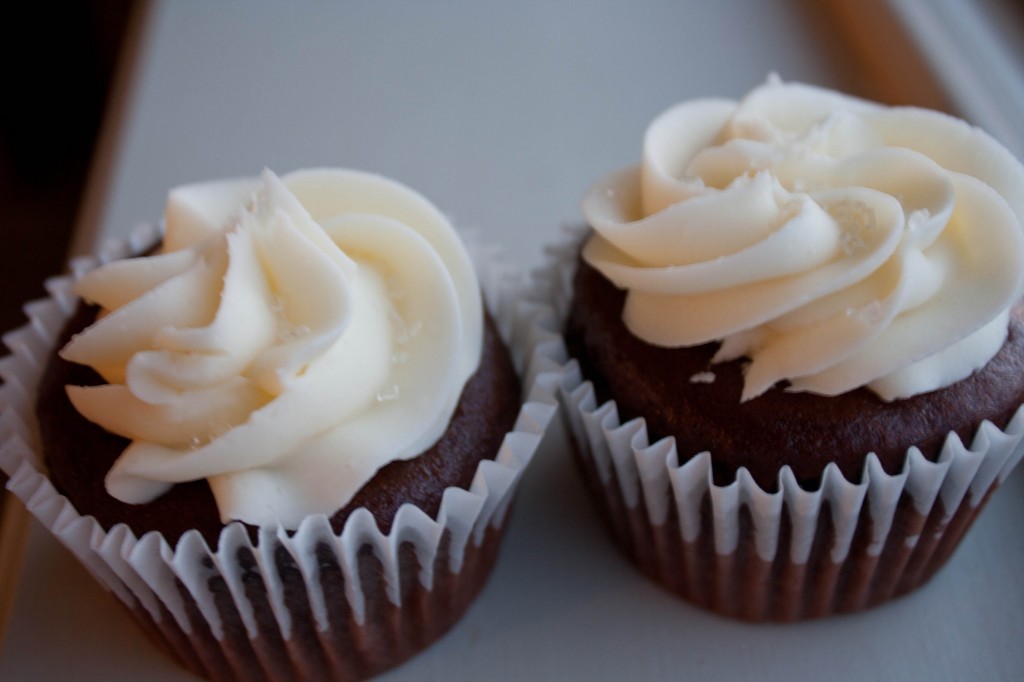 Sunday we checked out fairly early and went for a walk on the boardwalk. It was finally dry! Yes, still gray, but not raining. The walk was nice and I showed Michael the skeleton of a gray whale that Lewis and Clark discovered.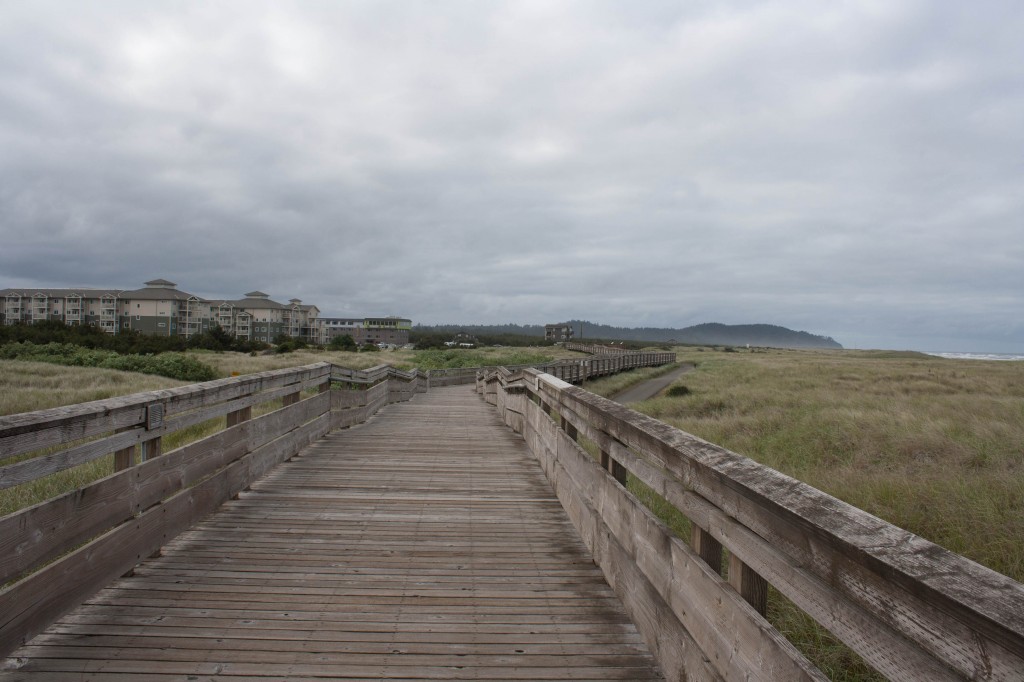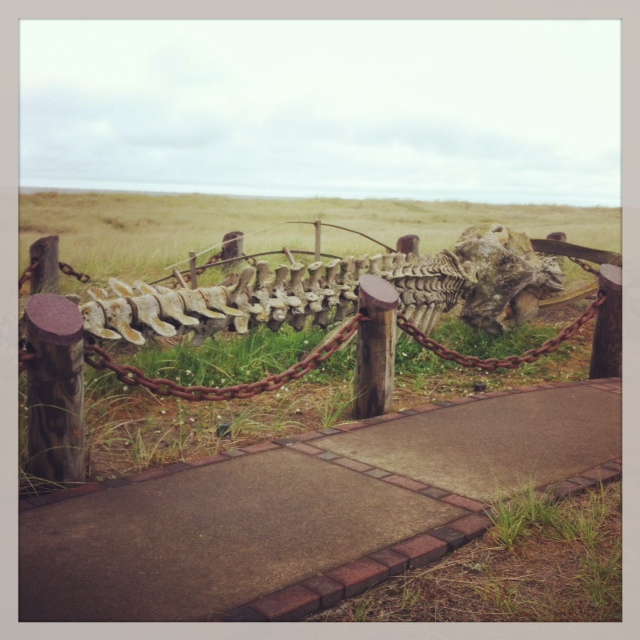 There is so much history, everywhere you look, in Oregon and Washington. I am forever amazed at the feat that Lewis and Clark accomplished.
Breakfast was had in Astoria. It wasn't a very far drive from Long Beach and I figured it would have more options. We ended up at the Astoria Coffee House and Bistro. What a cute little place! It was trendy and hip, with a coffeeshop on one side, complete with comfy couches, and small bistro on the other side.  The service was friendly and it didn't take long for our food to come out.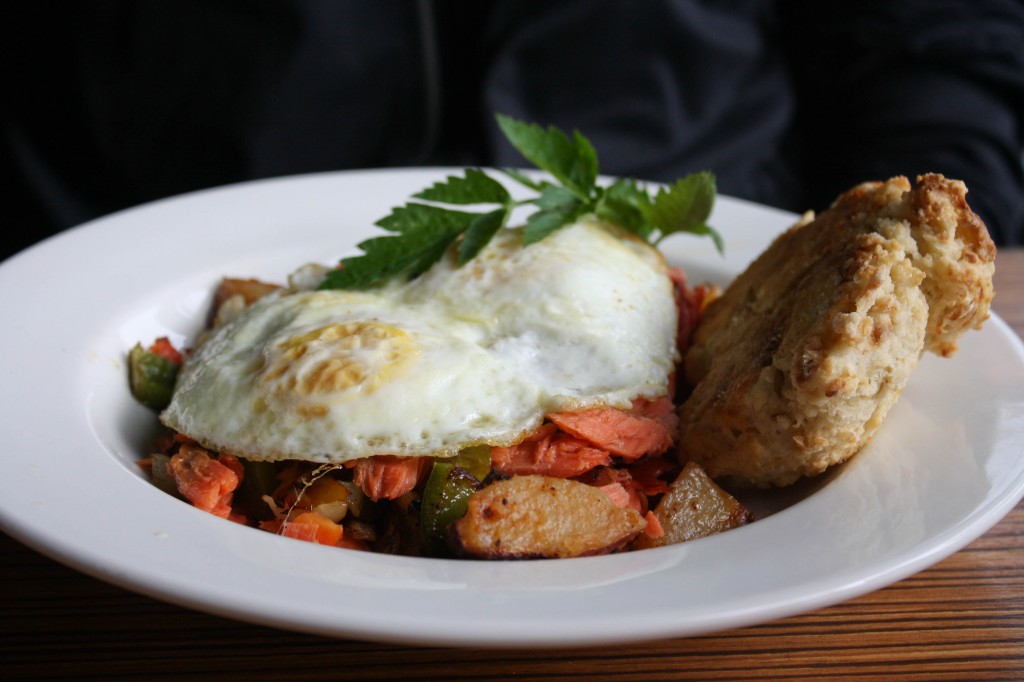 He won at breakfast on Sunday. His was the best! It was a smoked salmon hash with two eggs on top and a homemade biscuit on the side. I had a bite of his and the salmon was absolutely perfectly cooked. It was much more flavorful than the salmon I'd had the day before.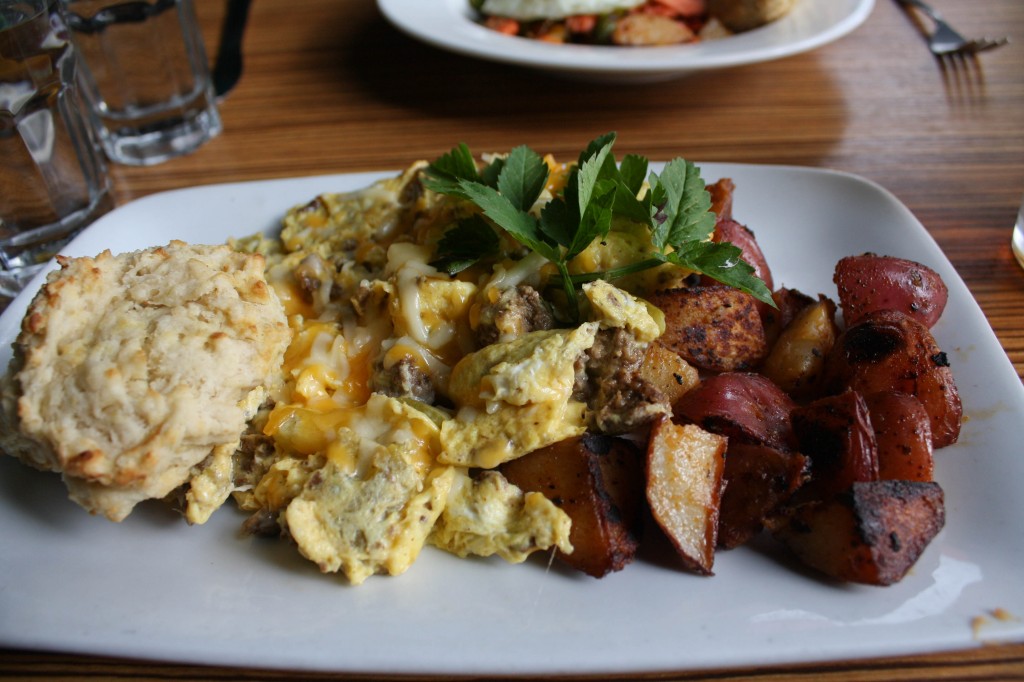 My breakfast was the chorizo scramble with green chilies and pepper jack cheese. It was decent but it needed some flavor. Maybe some spicy peppers instead of the green chilies? Where this place really shined was their biscuits. They were fluffy and buttery and probably the best biscuit I've ever had. Also, they make their own ketchup and it was so much better than anything I've gotten out of a bottle.
After breakfast we had two more stops before driving back to Portland. The first was to Fort Clatsop to see the replica of the winter camp that Lewis and Clark lived in from 1805-1806. I'm always blown away by what the early explorers and pioneers went through to settle on the West Coast.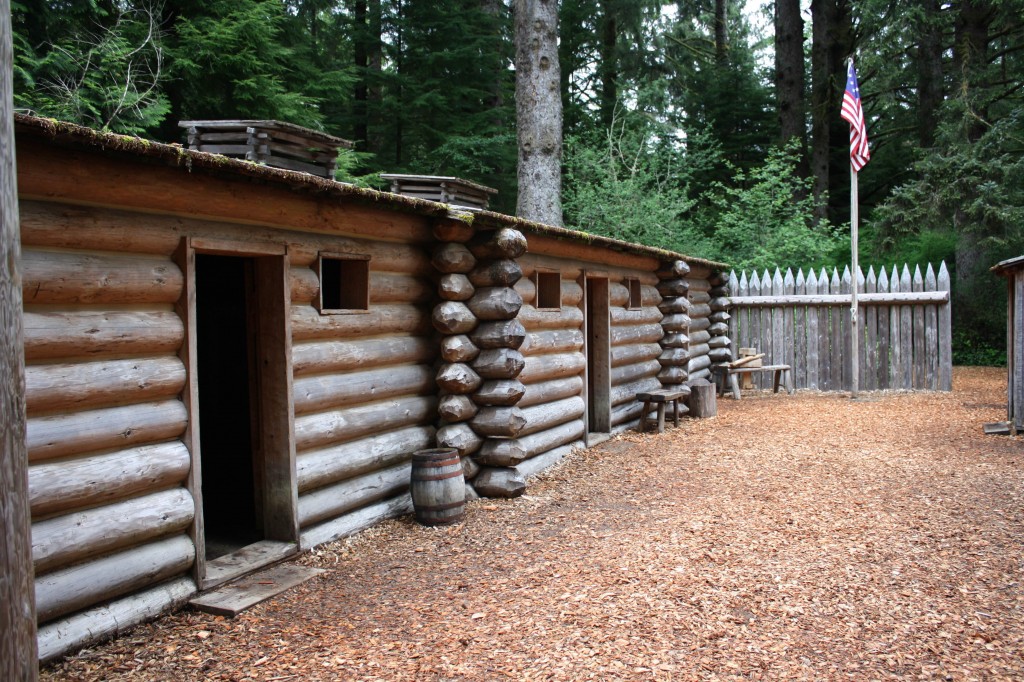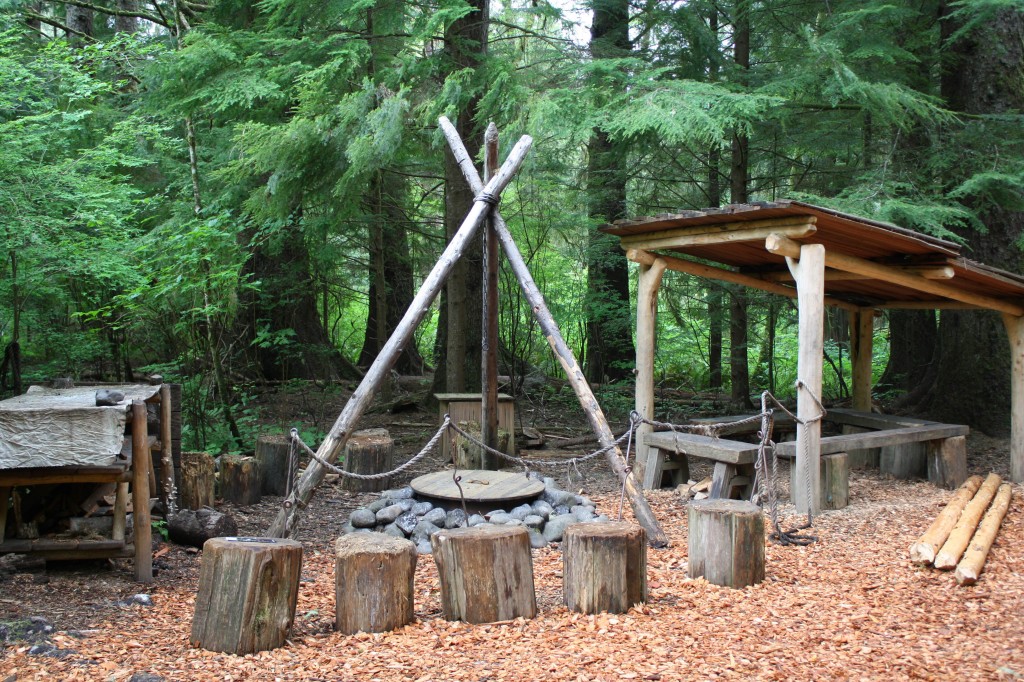 The hardships they went through! They had to build 10 canoes in 15 days and everyone on their crew was sick. The boats sprung leaks. The weather was terrible. Along the river were so many mosquitoes Lewis said "gathered around my face so much so I could not see." There were hostile natives (understandably), illness and disease…and yet it was also one of the most historic accomplishments that the United States had seen. Their impact was great–their expedition marked the beginning of the end of the Native Americans, they discovered and settled new territories and most importantly–new biology and ecological discoveries. They named species of plants, trees, berries…and recorded everything.
Anyway, the Fort is a cool trip into the past and there is a museum with movies that replay throughout the day. It's worth a visit if you're in the area.
After Fort Clatsop we made one last stop. Anyone recognize this house?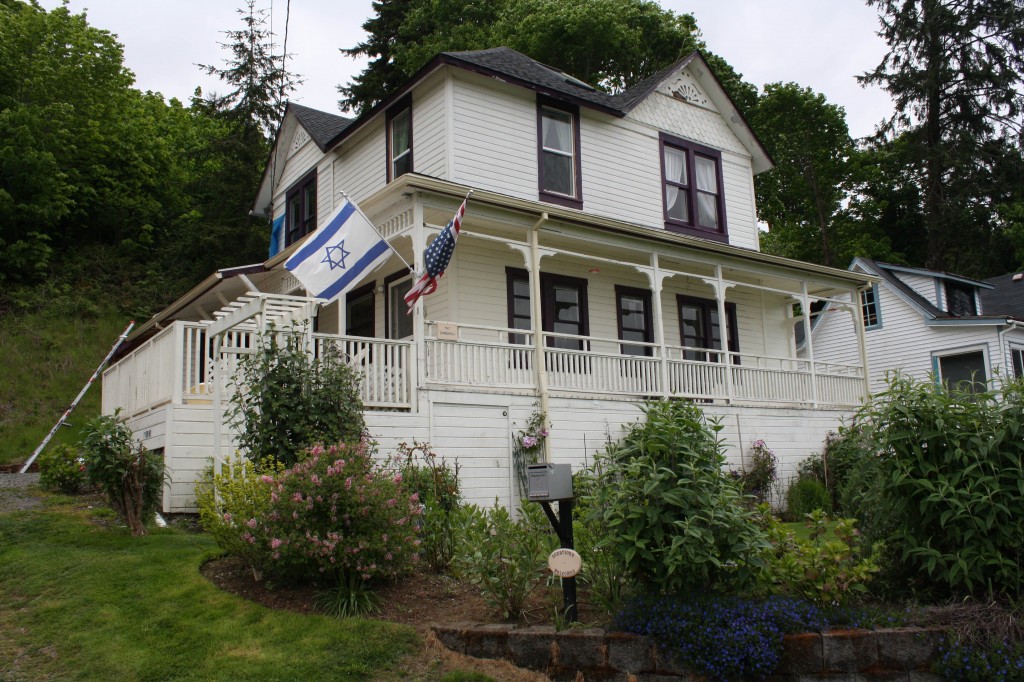 It is probably an easy one considering I mentioned we were in Astoria…..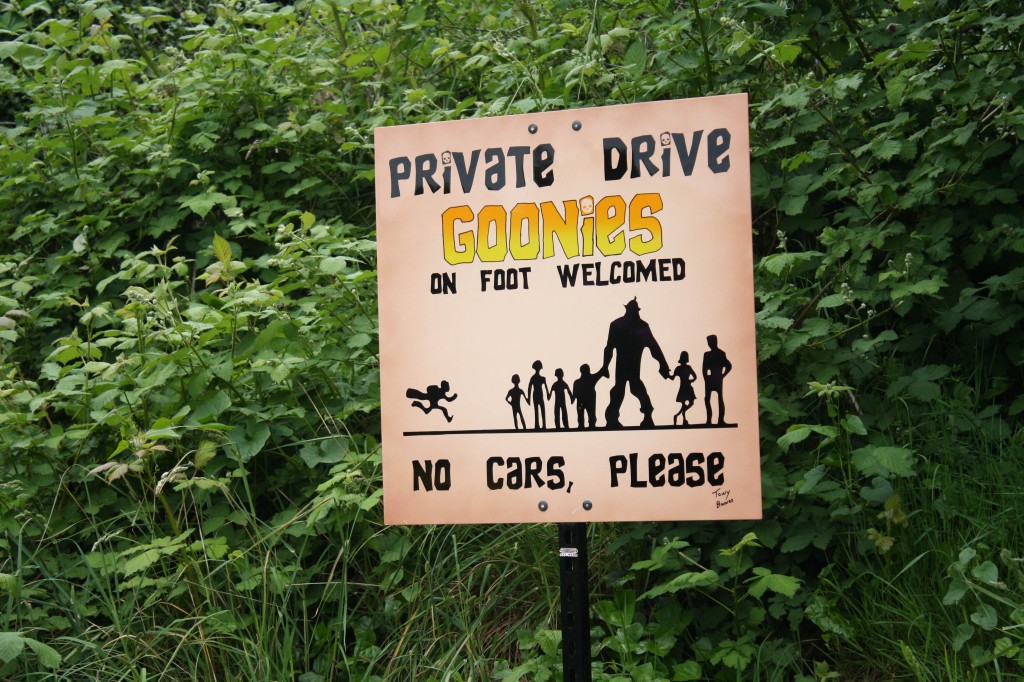 It's the Goonie's House!! Michael and I may be grown-ass adults but we were giggling like little kids when we saw the house and of course, Michael proceeded to recite the lines from the movie as we drove out of Astoria. Come on, everyone saw that movie, right? It's a classical kid flick. If it's been awhile, here is a short video for your viewing pleasure:
It was a nice weekend filled with good food, good book reading, beach time, a walk down memory lane and of course awesome history. Thanks for taking the time to read the recap. 🙂