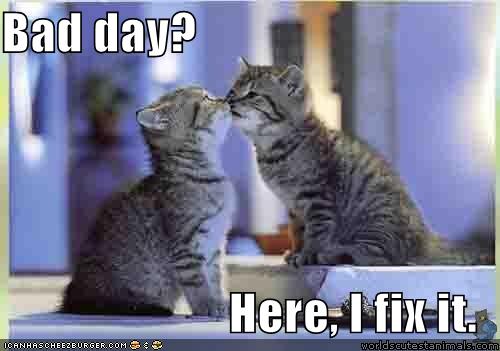 If only it were THAT easy!
Well, sometimes it is that easy. Fat Kitty is the King of Cheering Mom Up. Nothing makes me happier than pulling into my driveway to see his little face perk up in the window, then disappear because he's running into the kitchen to greet me with his belly exposed for rubs. Seriously, that's what I walk in to every day and I love it! Fat Kitty gets belly scratches before I do anything else.
He's really good at sensing when I'm stressed out or upset and he perches himself on my lap, his paws on my shoulders, looking up at me adoringly and purring happily. It's hard to be upset or sad when you look down and see this:
So my question for you: how do you deal with stress, anxiety, sadness, anger, etc? Basically, how do you COPE? And has that changed now that you are trying to be healthier?
I ask this because my coping mechanisms have changed dramatically since I was 250 pounds. In the past, my way of coping with any kind of emotion or stressor in life was to turn toward food. Specifically, ice cream. I could go through a huge tub of ice cream in just a few days.
The other way I dealt with stressors was escapism. My preferred method of escaping was watching TV or movies. It wasn't uncommon that I'd have a weekend marathon of Law & Order episodes on USA. Escaping was so much easier than dealing.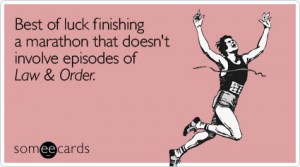 Unhealthy Ways of Coping with Stress
(source) These coping strategies may temporarily reduce stress, but they cause more damage in the long run:
Smoking
Drinking too much
Overeating or undereating
Zoning out for hours in front of the TV or computer
Withdrawing from friends, family, and activities

Using pills or drugs to relax
Sleeping too much
Procrastinating
Filling up every minute of the day to avoid facing problems
Taking out your stress on others (lashing out, angry outbursts, physical violence)
Do any of those ring a bell? They sure ring a lot of memory bells for me!
So change the situation. Get the temptations out of the house. Get yourself out of the house. Try another way to deal with stress than any other method that has "worked" in the past. I use quotes for worked because while binge eating and escaping into TV land was unhealthy, IT WORKED. There was something inside of me that WAS feeling better, a need was being met, until it became painfully obviously that it wasn't really working (i.e. gaining 100 pounds).
How is my coping different now? It's pretty drastic in its differences. First, I normally don't turn towards food. I'm not 100% cured of that urge, but I do pretty well most of the time not turning toward food or alcohol to dampen emotions that are uncomfortable.
Second, exercise. Instead of spending my entire existence on the couch, lost in other people's lives instead of dealing with or living my own, I use exercise to calm unhappy emotions or get nervous energy out. Sometimes when you're mad, there's nothing better than going for a run! Exercise fixes so much!
Maybe using exercise to cope with stress is just another form of escapism, but at least it's a healthier one. Because you know those TV marathon escapism sessions included binge eating! They went hand-in-hand. It's kind of hard to binge-eat ice cream while you're on a treadmill. 🙂
It's all a learning process. Where are you in this learning process? How do you cope? And how is different now than before?