Can you believe that I've never made lasagna from scratch? I've wanted to. Many times. But then I look at all the steps of a recipe and feel overwhelmed about how involved lasagna is to make and end up getting something frozen.
I was recently challenged to make a recipe that was the MESSIEST, stickiest, gooiest thing I could by Finish. What is the messiest recipe I could make? Lasagna. Even though it was an involved recipe to take on, I knew it would put their new cleaning product to the test.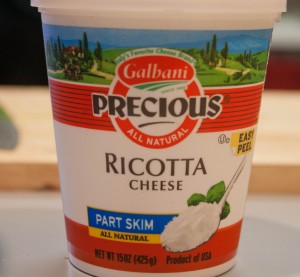 Sunday afternoon, Michael and I made this recipe:
[amd-zlrecipe-recipe:48]
What was the challenge? To make a messy recipe for dinner and then let the dishes sit overnight. No rinsing, no cleaning, just let it sit overnight. The OCD habits in me made this a challenge for sure. I am the type to clean up dishes immediately, but I followed the rules.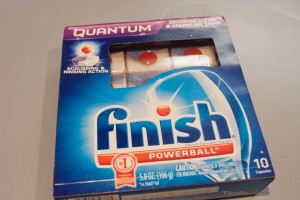 This recipe boasts that it's the "best lasagna recipe in the world." It also takes several hours to make. To skip a step, I bought lasagna noodles that did not need cooking. They worked out really well and saved some time boiling water and cooking the noodles. Despite that, the whole process was still really long.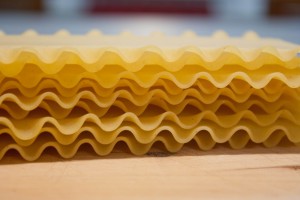 We used organic ground beef from Costco and I got Johnsonville sweet Italian sausage. The best part of the recipe was the meat sauce. Even if we don't have time in the future to make this lasagna again, I will most definitely use their sauce base to make homemade spaghetti sauce. It was delicious!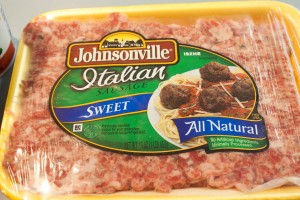 The sauce smelled heavenly! It was tomato sauce, cooked ground beef, onions, garlic and spices. It smelled so great. It was kind of torture waiting for it to be ready.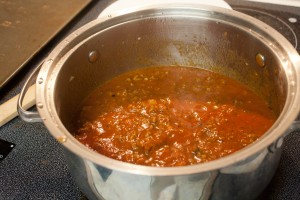 We used almost every bowl, pot or dish in the kitchen, it seemed. Goodness! And it was very very messy.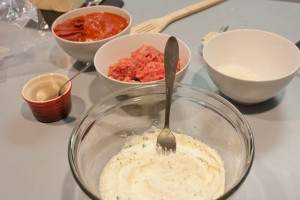 While we waited for it to simmer, Michael and I sat at the kitchen table and played Gin and Gin Rummy. It's been years since I've played but it came back to me really fast. It was fun just playing cards, smelling dinner cooking, and listening to the pouring rain outside. Finally it was time to put the lasagna together. We halved the recipe to make 6 servings instead of 12. I used a smaller dish as a result. I layered the ricotta mixtures, pre-cooked noodles and sauce. I had three layers (with 6 noodles total).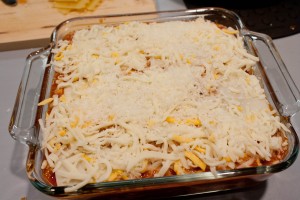 We impatiently waited for the lasagna to cook and then it was finally time for dinner. While I didn't take a picture of my dish because it was a big mess, here is the finished product: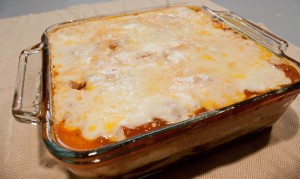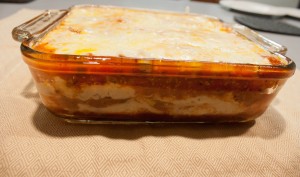 So was it the "best lasagna in the world"? Pretty darn close! It was so flavorful but could use a little more garlic. It was also a real mess. It looked like slop on the plate, so next time we make this recipe we'll bake it at a higher temperature. And maybe add more egg to make it stick together? Not sure how to do that yet.
I let all our plates and dishes sit in the dishwasher overnight, no rinsing. The baking dish sat in the sink overnight too.
The next morning, the sauce and cheese was dried on the pan and the plates. I put in the Finish Quantum soap and crossed my fingers that I wouldn't have to scrub it after the dishwasher ran. And I didn't! It was perfectly clean, no spots were missed and I didn't have to scrub anything. I was really happy about that. The challenge was fun to do.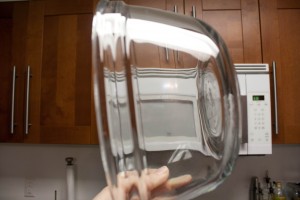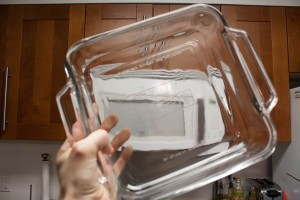 Crystal clear! Not even a spot. I even let a bowl with guacamole remnants sit overnight in the dishwasher from another meal and it was clean, too.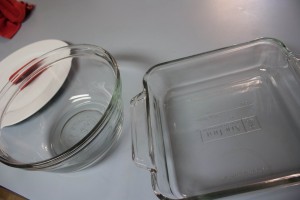 Finish claims that the new formula is so powerful, there's no pre-rinsing needed. If you want to give it a try yourself, go to their Facebook page to get some free samples! Or take the challenge yourselves, then share their experiences with the hashtag #FinishRevolution.
QUESTION: What's the messiest recipe you've ever made? Do you have a favorite lasagna recipe?
DISCLAIMER – WHILE THE PRODUCT WAS PROVIDED TO ME FROM FINISH, MY REVIEWS AND OPINIONS ARE ENTIRELY MY OWN.