I have to admit, I've had this recipe for awhile now and have failed to make it for a lot of reasons. The biggest reason is that is seemed like it was going to be really involved. In reality, it wasn't that involved, just time consuming.
[amd-zlrecipe-recipe:9]
I didn't make 6 of these. Instead, Michael and I split one squash so I altered the recipe to make just the one.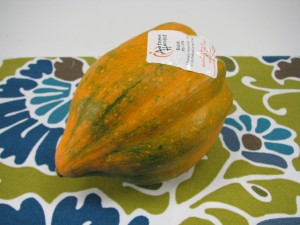 Michael cut the squash in half and I baked it in a shallow dish in water for about 40 minutes. While it was cooking we watched the Dexter finale (holy crap!).  After the show was done Michael cooked the ground turkey meat in the skillet. I chopped and prepped everything.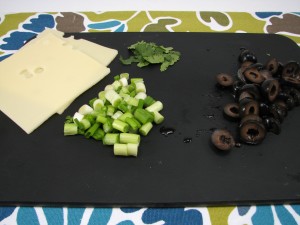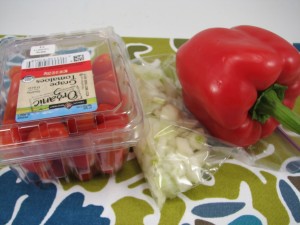 The actually preparation of this dish didn't take very long and was pretty easy. The thing that took the most time was cooking the squash ahead of time.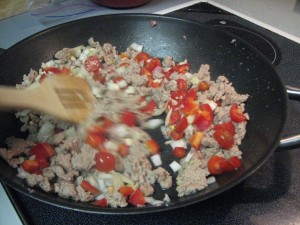 I realized pretty quickly that we'd made too much of the meat mixture. Oh well–leftovers! The squash was done. I flipped them over and prepped them for the meat mixture.
I used a ladle to spoon the mixture into the squash. It was messy. Then I added some fresh cilantro and topped it with the Swiss cheese.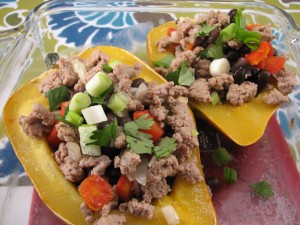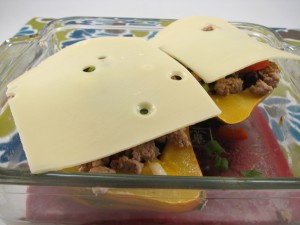 I used slices of cheese instead of shredded. It worked great. Save time and just use a slice. (It also saves on calories because you won't overdo it with using just one slice.) I put the squash back into the oven to bake and we enjoyed salads while we waited.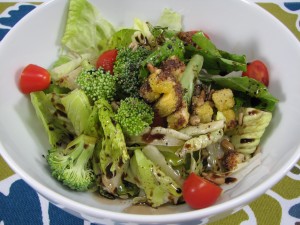 Dinner was finally done and it smelled homey and delicious. The cheese was melted and oozing over the side of the squash. I put black olives on top (I forgot to put them inside the squash).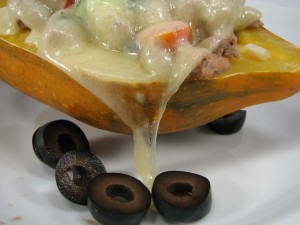 The dish was difficult to eat and very messy. I suggest using a spoon. But other than that it was a decent recipe. We needed to add more spice to the meat mixture because it was rather bland.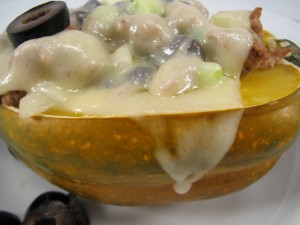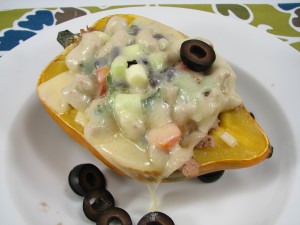 I liked the idea of stuffing squash with things, though. I would make this again but with more seasoning.
QUESTION: What's your favorite stuffed squash?