This time two years ago Michael and I escaped to wine country.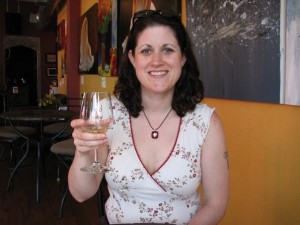 But a month prior to our weekend getaway I surprised Michael for his birthday by kidnapping him, driving him to the Columbia Gorge for a surprise hike and picnic (all food and snacks from Trader Joe's), then to Hood River for wine tasting. Neither of us had ever been wine tasting before and I thought it would be a nice birthday surprise. His birthday gift from me was hiking boots from REI.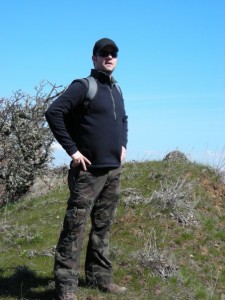 It turned out to be a total hit. And it started our love affair with wine tasting. So a month later we went away for the weekend in the Willamette Valley. It's packed with wineries (more expensive wineries than the Gorge though). We stayed at the McMenamin's Hotel Oregon for the weekend.
We arrived (it's about an hour drive south of Portland) and immediately had happy hour food and drinks on their rooftop bar. It was a nice day but with clouds looming in the distance.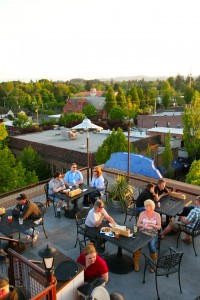 It was so cool up on the roof. Very romantic. After that the rain started and it rained off and on most of the weekend. Which was fine because we weren't doing a lot of hiking.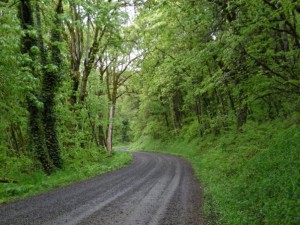 Oregon is rich with vineyards. Wine tasting is a popular past time here.  It can be as cheap or as expensive as you make it. We learned pretty quickly that while we love wine tasting, we both have a low tolerance so often by the end of the tasting excursions we pay for one tasting ($5-10) and split it. It works well.

The great thing about wine tasting is the lack of commitment. If you don't like one of the wines–don't drink it. In fact, you can spit it out in a bucket. 🙂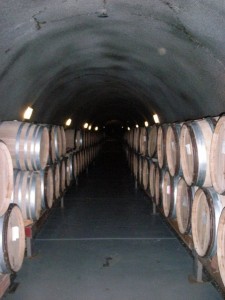 The good thing about tasting is that for (usually) $5 you can try a handful of different kinds and discover new wines you'd never think of trying. For example, I always thought I disliked white wine. Then I had some really amazing Pinto Grigios and was converted.
McMinnville is the middle of farm country here in Oregon. There were lots of farms amidst the vineyards.

After sampling wine during the day and doing shopping, we retreated back to the hotel room where Michael tried to teach me how to play poker (first attempt of many) and we opened a bottle of one of our newly procured wines.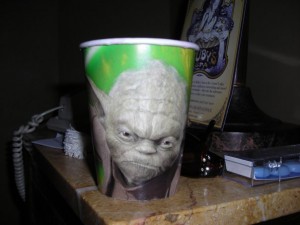 Only the finest stemware used for the best wine. 😉 Later dinner was at a nearby tapas restaurant.
We also stumbled upon an olive oil store out in the middle of nowhere offering samples! Yum.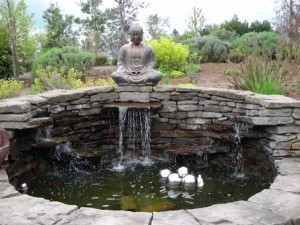 There were gardens and this beautiful fountain too. We had a great time and it just confirmed our love of wine. 🙂
Want to try wine tasting? Watch the movie Sideways and then read a few websites on how to adopt a snooty upperclass accent and memorize some pretentious phrases…then enjoy! 🙂
QUESTION: What were you doing this time last year?