I don't really cook food of the Asian persuasion very often and I wish I did. It's so healthy and delicious. The problem I face is that I often don't know what certain ingredients are, or how to use them. This recipe was relatively simple and had ingredients I was able to buy at my local grocery store. When it came time to make it, I admit I had to google "how to cut bok choy".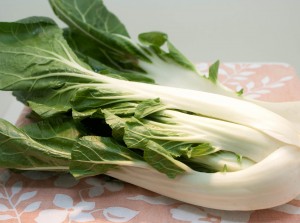 I still don't think I did it right, despite watching a video. Oh well, it tasted the same. (I think.)
[amd-zlrecipe-recipe:60]
Two things I should point out: this was not a soup recipe like I thought it was and it could have been spicier. I also think I bought the wrong tofu. I rarely cook with it and it kind of fell apart instead of cubing when I cut it. Tips? Tricks?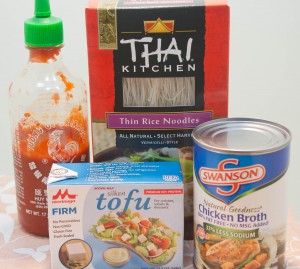 It's odd when you have a picture of the final product in your mind and it was completely different. Like I said, I thought it was soup. So when I was adding the noodles at the very end, I panicked. "Oh my god! It's soaking up all the liquid!" I added some more chicken broth and it soaked that up too. Then I realized, oh maybe it's NOT soup…I think because I added more liquid it diluted the Sriracha.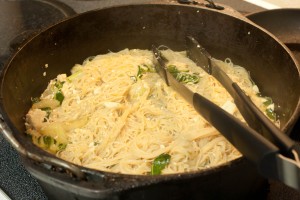 Despite my mistakes in making this recipe, it turned out really well. It was a noodle dish and despite diluting it with chicken broth, it still had some bite to it.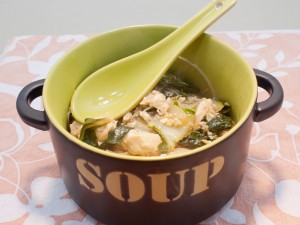 It was also gluten-free and dairy-free. I would definitely make this recipe again and I'd add a lot more sriracha to it. If you aren't a fan of tofu, you could easily substitute chicken or shrimp and I think that would be fantastic. The recipe says it makes 6 servings but I got about 7 out of it.
Before we got home from work Tuesday night, Michael and I stopped at New Seasons (kind of like Whole Foods) here in Portland. We picked up some too-expensive GF and DF items.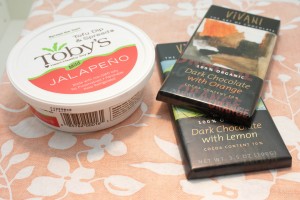 We found dairy free chocolate! And it was divine. I got two flavors: dark chocolate with orange and dark chocolate with lemon. Michael and I ate the whole thing for dessert between the two of us. The dark chocolate was rich and the hint of orange went well. It was much more satisfying than those gluten and dairy free cookies I bought earlier this month.
Above you can see we also got a tofu jalapeno spread by Toby's.  I was reluctant to buy it. It was spendy and I was nervous about committing to it in case it was disgusting. It wasn't. It was…odd…but not gross. It tasted like a cross between guacamole and egg salad. Odd, right? I had a few bites to sample it. I don't think I'd buy it again but it will work for this challenge.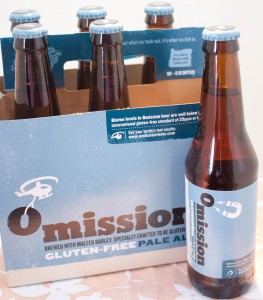 The big win of the night was GLUTEN FREE BEER! Woohoo!!!! I am happy to report that it was REALLY TASTY. Surprise, surprise. I was resigned to giving up beer for the month of February and was okay with it. Michael really wanted to try Omission and I'm glad we did. It was a decent substitution to the rich IPAs I like.
I'm really happy to report that there are lots of decent alternatives if you are gluten-free. It really isn't as bad as I thought it was going to be.
QUESTION: Do you cook Asian food very often? Any favorite recipes?