Sunday was going to be the first 40 mile bike ride of the season for me. Michael had done it many times in the last few months since he's out of work right now. I've been relying on my commutes to work to get my mileage up. But it was time. Now or never. The event is a month away.
Looking at last year, our first 40 mile ride took us 4 hours (different route) and then our first attempt at this 40 mile loop took us 3:44. How would this year go?
We started the morning off with watching Tour de France and eating breakfast. 1.5 scrambled eggs, 1 turkey sausage link, black beans, unsweetened iced tea and strawberries. We were about to get going when Michael discovered he had a flat tire. At least it happened in the house and not 20 miles from the house.
Our start was delayed and we didn't actually get on the bikes until after 11:30. And the temperatures were rising steadily. I slathered on the sunscreen and I also wore my new cycling jersey. I bought it for $30 (regularly $80!) and it fits great. For snacks I brought dried apricots and GUs (which I never ate), water and a water mixed with energy powder.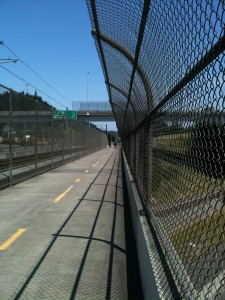 Michael and I set out on the I-205 bike path north which is essentially an uphill climb for about 15 miles. It really is uphill almost the entire time. Sometimes it's a gradual grade, sometimes it's a steep climb. I was actually feeling okay on the hills! I think riding to work has gotten me better at it.
There wasn't really much to see or report on the 205 path. We connected with Marine Drive and were then biking the next few miles into a wall of wind. At least the wind felt nice on the hot, hot day.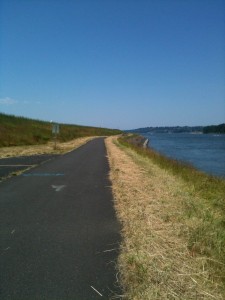 We rode along the water and then eventually stopped to help a guy out who had a flat. He borrowed my bike pump and then was on his way.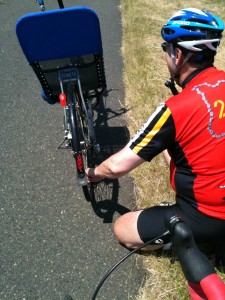 I got two compliments on my new cycling jersey–the first from the guy with the flat and the second from another cyclist who came up along side me and said "I love your jersey!" Too funny! I thought for sure I'd get compliments from women, not guys.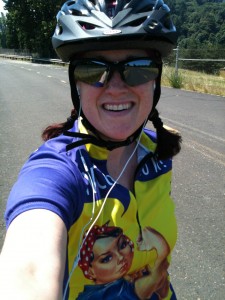 We left the trail and picked up the bike lanes through North Portland, taking Dekum to Vancouver. We stopped briefly at a convenience store, resting in the shade. Michael got himself a Pepsi and I got a Gatorade. I drank half and put the rest in my empty water bottle. I also had a snack of dried apricots before we pushed on.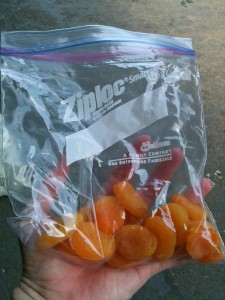 Dekum did not have bike lanes but there wasn't much traffic there. Vancouver has super wide bike lanes and I love it! At this point of the day it was very, very hot, almost 90 degrees. I was starting to really feel the heat. The heat makes me feel slow on the bike and there wasn't much of a breeze to cool me off.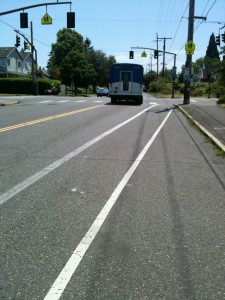 We rode by the Rose Garden and then picked up the Esplanade downtown. The rest of the ride was basically my commute home. The Springwater Trail was very crowded because it was so nice out.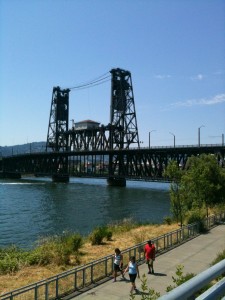 The first 25 miles felt fantastic! My body was good, I felt light on the bike, my legs felt strong, my back was comfortable–no complaints at all. The next 5 miles were slightly uncomfortable. My lower back was getting fatigued. The last 10 or so miles were brutal: I was tired, I was thirsty and what I brought was not helping and it was disappearing quickly, my neck hurt, my back hurt, my FEET hurt (next time wear thicker socks for padding) and I was just ready to be off the bike.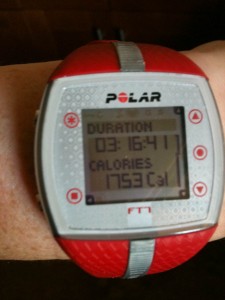 Stats:
Time: 3:16
Calories Burned: 1753
Mileage: 36.6 miles (almost 40, not sure where you shaved off 3 miles)
Michael and I shared a recovery protein drink and I happily showered the grit, sweat, sunscreen and bike grease off my body! We went to Little Big Burger in SE Portland to grab one of their small burgers as a lunch/dinner. I like that place because the burgers are the size of sliders and they are oh so good! We split an order of truffle fries.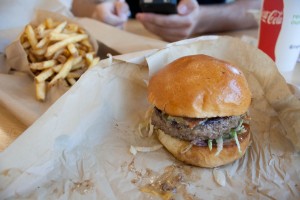 Even though I burned over 1700 calories, I oddly wasn't that hungry. I blame the heat. It was a good first long ride but it did make me doubt whether or not I'll be ready to do 100 miles in a month's time….
In good news: the next day I felt completely normal. My recovery is awesome! That is really good news!
QUESTION: What's a summer fitness goal you're working towards accomplishing? How is it going?