I psyched myself out for a few weeks.
My physical therapist actually told me to try running about 3 weeks ago. I dragged my feet and didn't do it. Then I got sick and took a week off. Once I was better, I knew I had to give it a try but I was anxious. Nervous. Scared. I hadn't run in two months but I had to give it a try. My doctor and I needed to know whether or not the physical therapy was working.
I was anxious about giving it a try but I finally did it. I ran one mile at the gym. The treadmill speed was set to 4.9 and I ran for exactly one mile without walking. I had zero pain while I ran, didn't have any pain immediately after I stopped, and the next day I woke up still pain-free.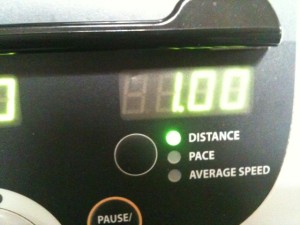 I did feel one "twinge" a few hours after my run but the discomfort didn't stick around. I'm happy that I was able to run without any stabbing, throbbing pain. Progress! Perhaps the taping has been working!
My PT explained the taping more- you stand with knee flexed 5-10′. Invert foot, Tape wrapped diagonally so it crosses just under patella and wraps around thigh. It stabilizes in an incredible way and helps femoral patella problems! And it did for me!
My stamina was pretty good but not like it used to be when I was running on a regular basis. I think all the other fitness and swimming I do helped me maintain my cardio level.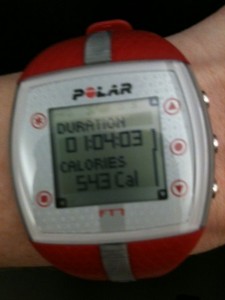 It was encouraging to be able to do something I was scared to do and not feel pain. I've sort of come to terms with the fact that running will always be a struggle for me–and now I know why. The simple mechanics of my legs and knees set me up for injuries and I know that now. That means I probably won't be running any half marathons in the future. I've made peace with that. I will be happy to be able to simply run 5 miles at a time and just be able to ENJOY it pain-free.
I've also been worried about snowshoeing this winter. It's starting to snow on Mount Hood, and while we're still probably a month out before Michael and I head up to try snowshoeing, I REALLY want to be able to do it this winter. I will be tremendously disappointed if I have to skip it this season due to my knees. 🙁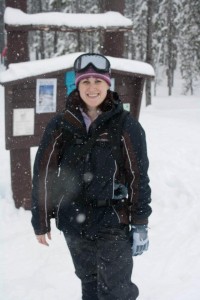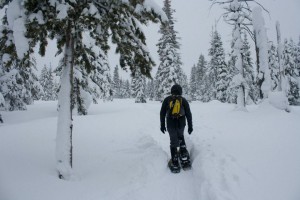 After the gym and my successful run, I came home to a lovely dinner prepared by Michael. It was a variation of our "Mexican salads" that we often do on nights that cooking sounds like too much work. He baked two chicken breasts and then chopped them up to put on the salad. The salad also had black beans, black olives, avocado, a homemade lime vinaigrette, cheese, salsa and sour cream. I also added some of the pickled jalapenos from our garden–boy oh boy were they spicy this year!!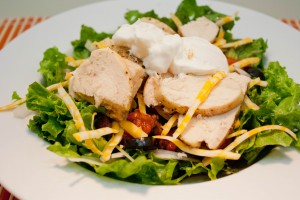 I love that dinner. It's a good substitute when we're craving Mexican but don't want to go out. While we ate dinner we watched Top Chef: Seattle. Is anyone else watching it? I love Top Chef and I'm even more excited that it's in Seattle–my hometown!
QUESTION: Is there anything you are avoiding right now because you're psyching yourself out?