Lisa: "I had a bad day at work. I'm cranky and hormonal."
Michael: "I'm tired. I really don't feel like cooking tonight."
Solution = DINNER OUT.
I was sold. I was cranky and hungry and it didn't take much convincing on Michael's part to get me to go out. Michael picked Nuestra Cocina over on SE Division.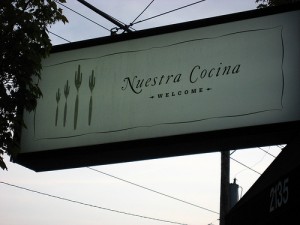 I used to drive by the restaurant every day on my way home from work. I'd been wanting to go there for ages. It's a really cute restaurant, stylishly decorated and typical Portland-hipster.
We were seated immediately and our waiter, named Michael, was a rockstar. I find that I'm really sensitive to bad service in restaurants and he was a very pleasant reminder that there ARE some good restaurants in Portland that have good service. He was upbeat and friendly and had excellent food and drink recommendations.
ANTOJITOS Y ENSALADAS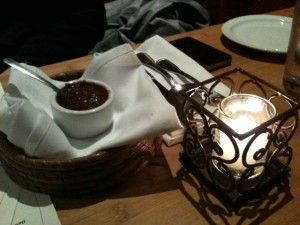 The waiter immediately brought warm, freshly made mini tortillas with salsa. They tasted like fresh corn and sun. The waiter recommended the special of the day and it was a winner: pork tamales with tomatillo sauce.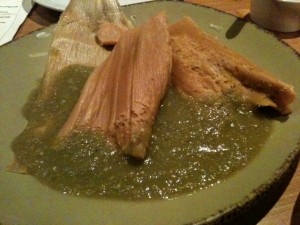 Amazing! The sauce was spicy too–like clear your sinuses spicy. It made me excited about our upcoming trip to Arizona. Mmm tamales…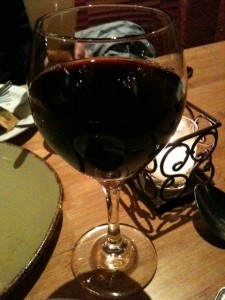 The waiter's suggestion for my glass of wine was also a great one. Valserrano Rioja. It was full-bodied and bolder than what I would normally order but I thoroughly enjoyed it.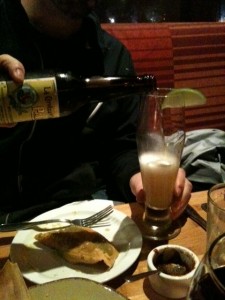 Michael had a beer. When we go back I want to just order off their tapas menu. I love the idea of sampling several appetizers as a meal.
After the tortillas and tamales I wasn't as hungry as I was when I first walked in the door but I still ordered an entree. Luckily it wasn't oversized.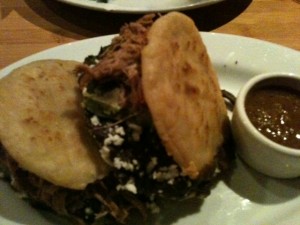 My dinner was GORDITAS RELLENAS: Stuffed tortillas, black beans, avocado, roasted Poblano chiles & cheese and pork.
Michael's dinner was: Grilled half chicken in achiote rub with Guajillo mole & braised greens (I think it was Kale).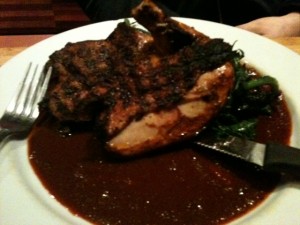 My dinner was great. I LOVED the pork. (Shredded pork seems to be my new favorite thing to order at restaurants). I had a bite of Michael's chicken and it was perfectly prepared. He marveled at how the chicken also remained piping hot until the very last bite.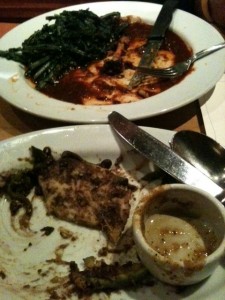 I was stuffed. Pleasantly so. The waiter returned with dessert menus and I said no…but Michael twisted my arm and we go dessert. 😉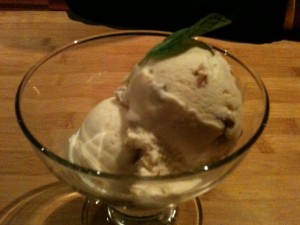 Caramel Almond Ice Cream. Oh my god was it fantastic! Two seconds later….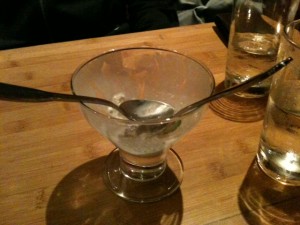 I firmly believe that ice cream and/or Mexican food cures all that ails you. So does Chobani. Which was waiting for me when I got home.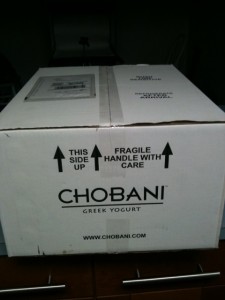 I won a box from Erin recently and was so excited to see it arrived!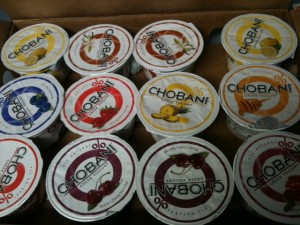 I can't wait to try the new flavors. I'm really excited about the pineapple. Today for my pre-swim snack I brought the Black Cherry. Yum!

Fat Kitty immediately declared it was his box.
I loved all the comments on yesterday's post about the Evergood sausages. I think it's hilarious that the guy chose to respond in such an unprofessional way…and Brie made a good point: who responds representing a company with a ton of ??? and !!! That's just tacky. Another friend of mine, who is a lawyer, said I should just respond with "Objection. Non-responsive." That cracked me up!
QUESTION: Do you have a three day weekend for the holiday? How are you going to spend it?