My weekend was pretty uneventful. Saturday morning I went for a really hot, sweaty run. Michael and I also went over to some friend's house to hang out. It's been 95+ degrees in Portland since Friday. Luckily we have central air in the house, so I really only feel uncomfortable when I leave the house. Our friends were hanging out in their backyard resting their feet in the kiddie pool. POOL PARTY!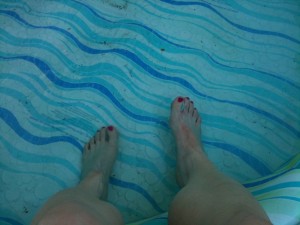 Sitting in the shade with our feet in the cool water was surprisingly comfortable! It was a comfortable afternoon and very relaxing!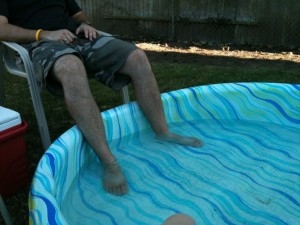 They all drank PBR. I am not a PBR kinda girl. I drank white wine instead. 😉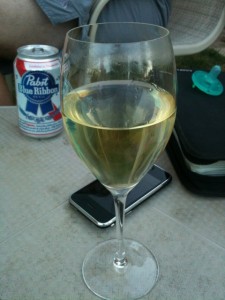 The boys went to pick up pizza and I had three slices. Since I'd burned an insane amount of calories that morning during my run, I felt no guilt having that third piece of pizza!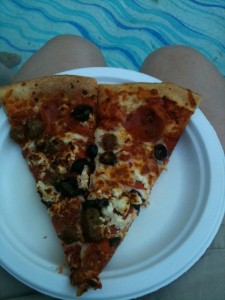 The boys went to rent a movie and surprised us with ice cream cones for dessert! That was a totally awesome surprise and just wanted I needed! One scoop of vanilla ice cream and one scoop of chocolate chip cookie dough. Heavenly.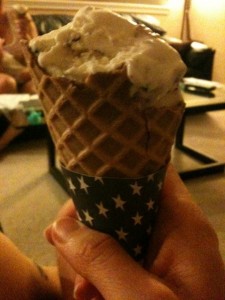 The movie we watched wasn't that great. "The Green Zone" had it's moments of really exciting action, and of course Matt Damon. But all in all it wasn't a great movie.
Sunday morning Michael woke me up at 9:30 and surprised me with breakfast in bed. Scrambled eggs, 2 pieces of bacon, and half a bagel. So good! Sorry the picture is so dark. I wasn't quite awake yet.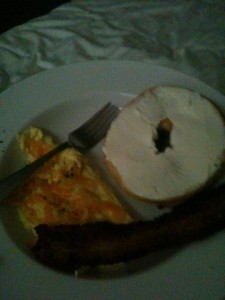 After breakfast, I went to the pool and enjoyed a really nice, quiet swim. I love it when I have the pool to myself. While I don't think I made poor food choices this weekend –and I balanced them all out with exercise– I still didn't eat the best food. But once in awhile, it's kinda nice to eat "bad" food. For example, Michael and I made nachos for lunch on Sunday: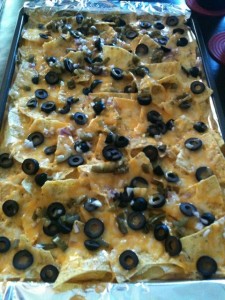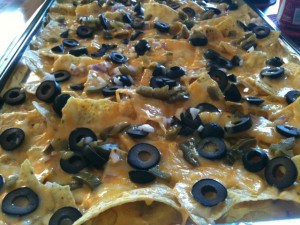 And they were pretty darn good! Sliced black olives, chopped jalapenos, chopped red onion and lots of Colby Jack cheese. Bake it in the oven for about 5-8 minutes. The only thing missing? Fresh guacamole…oh well, next time!
Also trying to silence the voice in my head reminding me I need to do my monthly weigh-in this week….YIKES…….It might not be a very good number after a month of eating.
Michael watched the golf on TV, I sat next to him alternating between reading my book and taking a nap. Clearly, that's what my body needed today!
NOTE: If you are reading this post in your

Google Reader

, please take a moment to check out my actual site. Michael did a FANTASTIC job creating my new header on the page! It looks fantastic and I couldn't have done it without his help. 😀 THANKS SWEETIE!