You've all heard those guys at the gym. The grunters. The screamers. The yellers.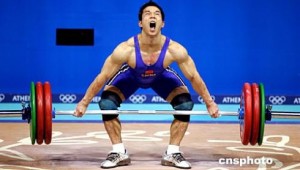 They are the guys that lift so much weight they scream. My question is: does screaming make the weights lighter? I'm seriously curious because I see/hear it so often.
Now that I'm working out in the gym more often, and specifically using weights, I'm around these guys all the time. The guys that lift ridiculous amounts of weight, the guys that pump iron as fast as they can and scream while they do it.
It's really distracting. Just last night I was at the gym and this guy had a session with one of the personal trainers. He was screaming as he used one of the weight machines. A weight machine I use often (but at a reasonable weight for me me, which is about 45 pounds). It works the biceps and the sides of the body (love handles).
The entire half of the gym turned to look at this guy. A few other people were snickering to each other about it. Then the guy continued to scream. Was he trying to draw attention to himself and the fact that he was lifting weights? If that was the case, it sort of backfired on him because my first thought was, "If he has to scream that loudly, maybe he shouldn't lift so much weight."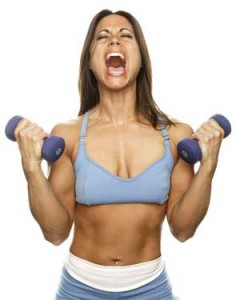 I don't think I've ever been compelled to scream or grunt while lifting weights. Is this something I should be trying to work towards? Clue me in. 😉
Ashley from Fashionably Fit asked me if I ever listed my weight routine. Well, just off the top of my head here goes:
My Weight Lifting Routine
SHOULDERS
Side Shoulder Raise Machine – Deltoids
Shoulder Press Machine
Overhead Press Machine
ARMS
French Press Machine -Triceps
Triceps Dips
Bicep Curl
Lat Pull Down
CHEST
Chest Press Machine
Inclined Chest Press Machine
Pec-Fly Machines (front and back)
BACK
Seated Row Machine
CORE
Ab Crunch Machine
Planks
Oblique Twists (Russian Twist)
Crunches
(Unweighted) Ab Crunch Machine
There are some more machines that I use that I can't think of right now. So that's essentially what I do when I lift weights. That's what I did last night after work, and then I went to the part of the gym to work on my core and my strengthening exercise from the Doc.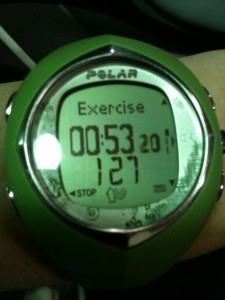 That first part of the workout took 53 minutes and I burned 371 calories.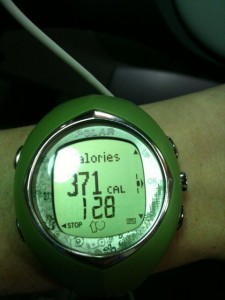 After that I went downstairs and found the one free treadmill to work on my Return To Running Plan. I attempted to turn the speed up just a fraction compared to Saturday's workout. Previously the Walk Portion speed was 1.2. This time I did it at a speed of 2.9. It was a comfortable pace for a slow walk.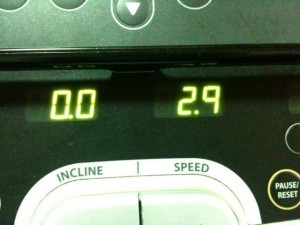 I walked for 1 minute at that pace and then jogged at a speed of 4.0 instead of Saturday's 3.5.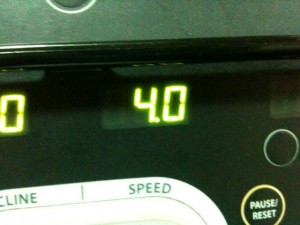 It was also a comfortable jog pace. I could actually walk fast at that pace so I know it wasn't too fast. Walk, Jog, Walk, Jog, and so on. It was much faster than Saturday's rehab jog for one mile.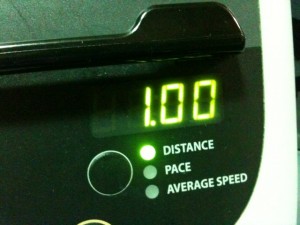 I finished up with a bunch of stretching and hurried home to drink my chocolate milk before fixing leftovers for dinner.
Gym Stats:
Time: 1:18

Calories Burned: 539

Workouts: Weight lifting, core, strengthening exercises, Walk/Jog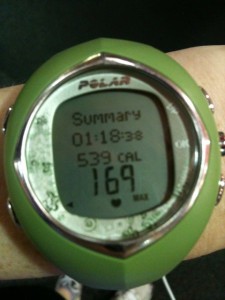 I was a good little rehabber and was sure to do more stretching, foam roll, and ice when I got home.