I was recently asked to be an ambassador for the OohLaLa Wines. (Of course I said yes, wine? SIGN ME UP!) I hadn't heard of the wine before, but I was intrigued. It took awhile, but a month or so later I finally started to see the OohLaLa wines in my local grocery store. I was looking forward to trying it after wondering what it was like for so long.
I had a recipe I wanted to try for dinner, so I stopped by the store to get the few ingredients I needed and a bottle of wine. I chose the Pinot Grigio because I thought it would pair nicely with the salmon I was making.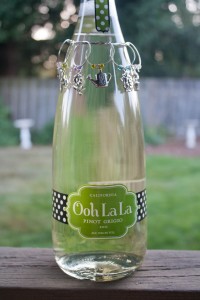 Obviously, they are marketing their wines exclusively to women. The label is pretty and girly and I admit, it appealed to me! It looks hip and cool.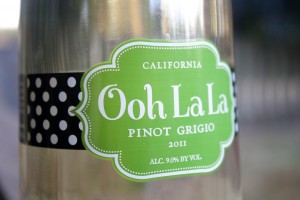 I settled in with my music and my glass of bubbly wine while I made dinner.
[amd-zlrecipe-recipe:44]
I made us green salads to go with dinner, with fresh tomatoes from the garden. This dinner was super easy and super fast to make. I prepped everything: chopped the onions, apricots and cashews and then mixed up the yogurt sauce. I used plain Greek yogurt and that made it a little bit thicker, which turned out to be great. Michael and I both LOVED the sauce on the salmon.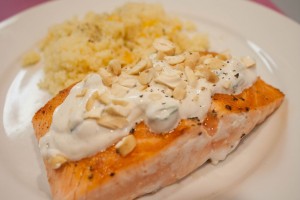 The couscous had some green onion, minced ginger and the chopped apricots mixed into it before it cooked. I liked adding things to the couscous but neither of us were particularly impressed with the couscous. It paired with the salmon dish really well but as a stand alone it was kind of blah. I need to add something else to the couscous.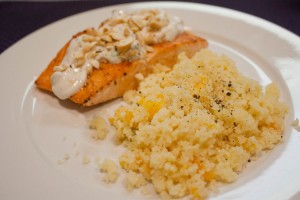 I loved, loved, loved the salmon and the yogurt sauce. I will most definitely make it again. The flavors were so nice together. There was a little bit of a bite in the yogurt (I'm guessing the cumin) and the crunch of the cashews added great texture to the dish.
Now, how was the wine? It turned out to be a sparkling wine! I had no idea. I usually don't like sparkling wines. I don't know why…I guess I just think if I want sparkling I'll drink champagne. But I was pleasantly surprised by the refreshing bubbles and the Pinot Grigio had a zip to it. It was crisp and not sweet and balanced the rich salmon dish nicely.  I did well with this meal. 🙂
QUESTION: Have you tried the OohLaLa wines yet?